ND Woman Plans Halloween Trick: Letters, Not Candy, for Obese Kids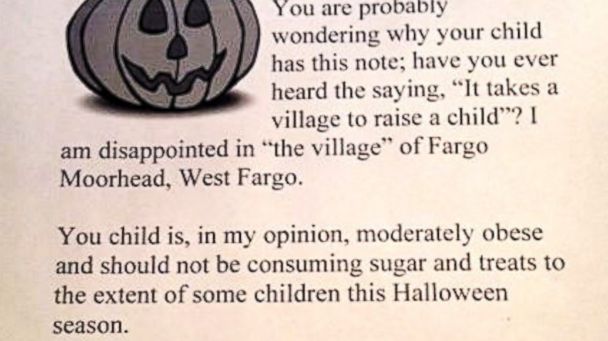 A Fargo, N.D., woman is causing quite a buzz over her intent to hand out letters instead of treats to children she deems "moderately obese," on Halloween- and that's no trick.
The admonishment to parents is speckled with grammatical errors and states, "You child is, in my opinion, moderately obese and should not be consuming sugar and treats to the extent of some children this Halloween season."
The letter surfaced after a woman, known only as "Cheryl," called in to a local Fargo radio station, Y94 and said she hoped other parents would take her lead. "Really, I just want to send a message to parents of kids that are really overweight. And, you know, it's just these these kids…. I could see them and they are struggling just to stay healthy," she tells the station. "I think it's really irresponsible of parents to sort of send them out looking for free candy just 'cuz all of the other kids are doing it."
Y94FM posted the letter on their Facebook page, sparking a fury on social media.
"Cheryl's" identity has not been authenticated, nor has the letter. But in its content, written on letterhead that includes a jack o'lantern with a devilish smile, "Cheryl" also lashes out at the community over the child-obesity epidemic, "It takes a village to raise a child [and] I am disappointed in this village of Fargo Moorhead, North Dakota."
In a Facebook post, Wendy James notes, "I love this city so much…. It's just the "Village Idiot" who decided to take it a step further and voice her "opinion." And @dmbrown111 tweets, "Leave the parenting to actual parents!"
The radio station radio DJ who took the call, "DJ Zero," says the community is outraged by "Cheryl's" "Trick or Treat" plan. "It has been absolutely nuts. Locally we've been hearing from a lot of people that basically equate it to an adult bullying a child and they certainly don't take too kindly to that," "DJ Zero" tells ABC News.
ABC News' chief health and medical editor, Dr. Richard Besser, agrees that the unidentified woman's approach is extreme. "This is an act of cruelty," Besser says. "Choose not to participate in trick or treating if you have a problem with the focus on candy, or hand out healthy snacks instead. To stigmatize a child in this way is simply cruel. "
DJ Zero says his radio station is in touch with "Cheryl," and they hope to have her back on their morning program in the coming days to continue the debate. "We actually had our radio station anti-bullying campaign when school started," DJ Zero tells ABC News. "And it's kind of ironic that following that, we have what is supposed to be a role model of a woman in our community that's just so misguided and essentially is bullying children."