Cherry Blossom Centennial Celebration 2012: How the Cherry Trees Came to Washington, D.C.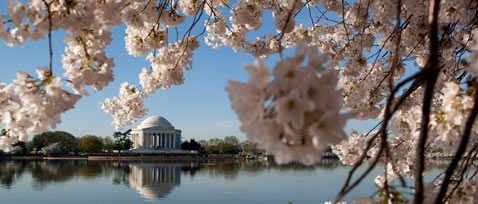 (Andrew Harrer/Bloomberg via Getty Images)
One hundred years ago, before the age of the automobile and shortly  after the invention of the airplane, a group of Yoshino cherry trees  were forced to bid adieu to the land of the rising sun and start anew, like so many other immigrants had, in a new land.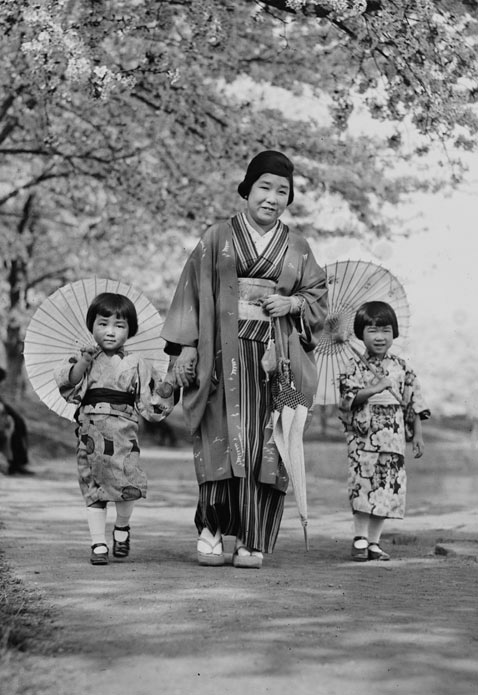 Madam Hiroshi Kawamura, the wife of a diplomat and her children, walk beneath the Cherry Blossoms in Washington, D.C., in 1925. (Getty Images)
The bid to get the cherry trees, sent as a gift of friendship from the city of Tokyo, to Washington,  D.C., had begun almost 25 years previously, by one woman, Eliza Ruhamah Scidmore (below, right).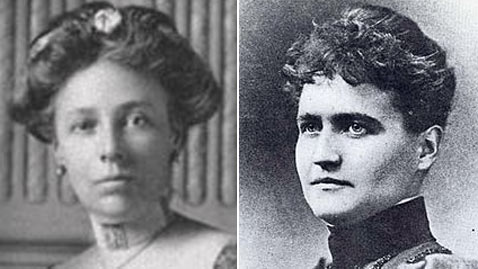 (Courtesy Museum Resource Center, National Park Service)
A world traveler, and the first female trustee of the National Geographic Society, Scidmore fell in love with the cherry blossoms during a trip to Japan and became determined to line the Potomac waterfront with the trees. In 1885, Scidmore pitched the idea, but  with no luck. It took more than two decades of  petitioning each new administration, until finally her request came to first lady Helen Herron Taft (above, left)  in 1909.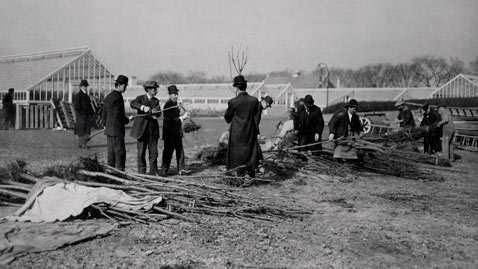 The trees are inspected upon their arrival. (Courtesy Museum Resource Center, National Park Service)
Taft, who had lived in Japan herself, loved the idea. Shortly thereafter,  Jokichi Takamine, a Japanese chemist, was in Washington  and upon learning of the plan to bring a group of cherry trees to Washington, asked the first lady if she would accept an additional 2,000 trees as a gift from the city of Tokyo. She agreed, and the rest, as they say,  is history.
A soldier takes a photo of his wife in 1942. (Ed Clark/Time Life Pictures/Getty Images)
For a century now, visitors and residents alike have been enjoying the beautiful pink blossoms that only stay open for a few weeks each year before falling from the tree. This year's National Cherry Blossom Festival will be held March 20 - April 27, 2012.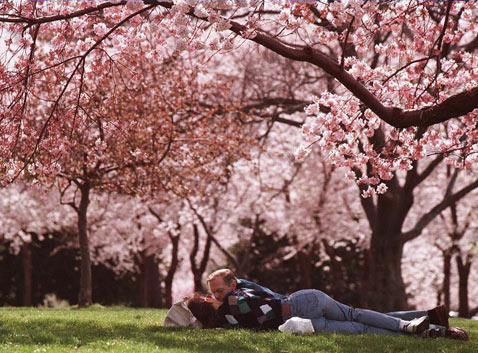 A couple kisses beneath the trees in March 28, 1997. (Jamal A. Wilson/AFP/Getty Images)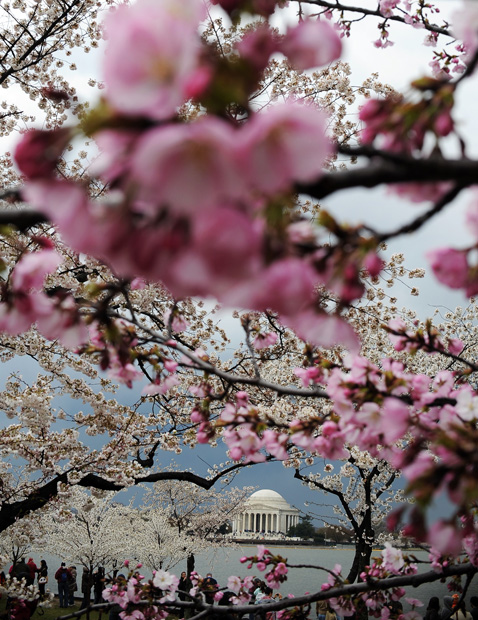 Visitors walk under the Tidal Basin adorned with cherry blossoms in Washington, D.C.,  April 2, 2011. (Jewel Samad/AFP/Getty Images)