Rhino Wars: The Violent World of Poachers and Black Market Medicine
This story was prepared from an excerpt of "Rhino Wars," an article in National Geographic's March 2012 issue.
Rhinoceros horn is at the center of a bloody poaching battle in Africa; on the black market, the mammal horn commands up to twice the price of gold.
Warning: Some readers may find images in this post disturbing.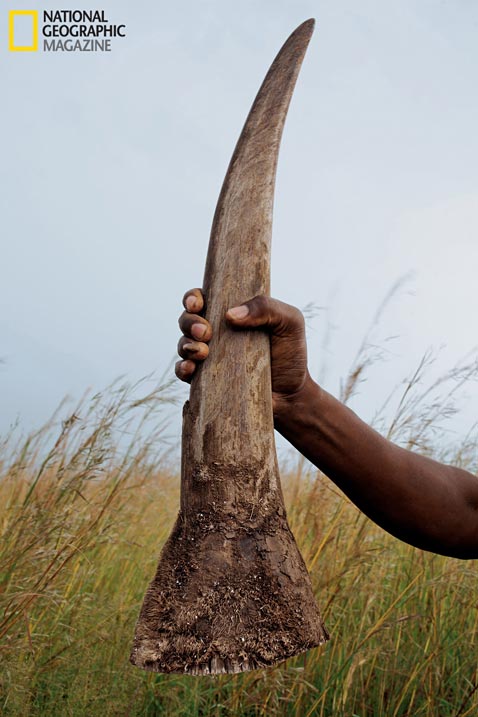 An eight-pound rhino horn like this one can reap up to $360,000 on the black market. (©Brent Stirton/National Geographic)
Since 2006, southern Africa's ruthless rhino war has resulted in the slaughter of more than a thousand rhinos, the shooting deaths of some 22 poachers, and the arrests of another 200 poachers last year in South Africa alone.
In the 1970s and '80s, poaching devastated both African species of the animal - the white rhino and its smaller cousin, the black rhino.
Then China banned rhino horn from traditional medicine, and Yemen forbade its use in making ceremonial dagger handles, and, for a time, rhino populations were showing encouraging improvement.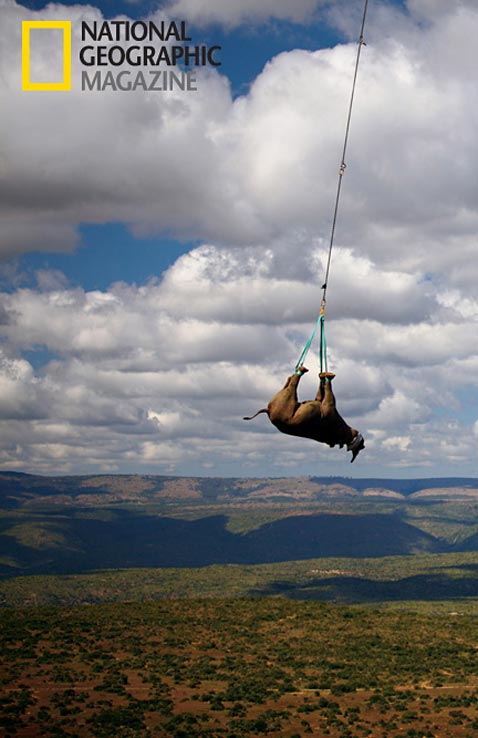 Blindfolded and tranquilized, a black rhino is airlifted during a ten-minute helicopter ride from South Africa's Eastern Cape Province to a waiting truck that will deliver it to a new home some 900 miles away. Designed to extricate the animals gently from difficult terrain, the airlifts are part of an effort to relocate endangered black rhinos to areas better suited to increasing their numbers as well as their range. (©Green Renaissance/WWF)
But in 2008, the number of poached rhinos in South Africa shot up to 83, from just 13 the year before.  And by 2010, the figure had soared to 333. Last year over 400 rhinos were slaughtered illegally.
Traffic, a wildlife trade monitoring network, found most of the horn trade now leads to Vietnam. The timing coincided with a swell of rumors that a high-ranking Vietnamese official was attempting to use rhino horn to cure his cancer.
Meanwhile in South Africa, crime syndicates attracted by spiraling prices-and profits-began adding rhino poaching to their portfolios.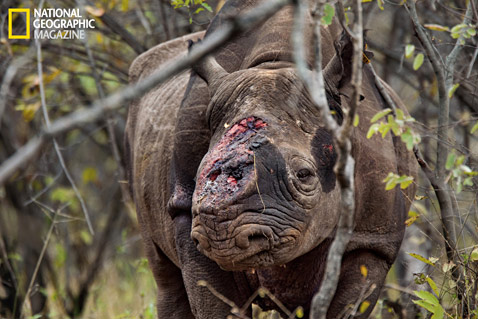 Game scouts found this black rhino bull wandering Zimbabwe's Savé Valley Conservancy after poachers shot it several times and hacked off both its horns. Veterinarians had to euthanize the animal because its shattered shoulder couldn't support the animal's weight. In the past six years poachers have killed more than a thousand African rhinos for their horns, which are smuggled to Asia for use in traditional medicines. (©Brent Stirton/National Geographic)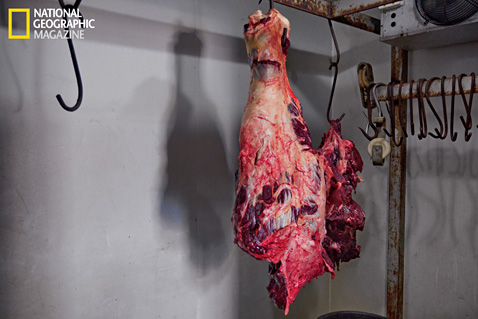 After a hunt on a private game farm, a slab of rhino meat hangs in cold storage. (©Brent Stirton/National Geographic)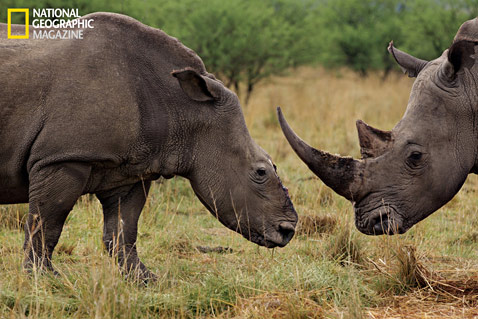 A white rhino cow, left, grazes with a bull that has become her companion after a poaching attack in KwaZulu-Natal Province, South Africa. Using a helicopter, a gang tracked her and her four-week-old calf, shot her with a tranquilizer dart, and cut off her horns with a chain saw. Rangers found her a week later, searching for her calf, which had died, probably of starvation and dehydration. (©Brent Stirton/National Geographic)
Photographer Brent Stirton joined writer Peter Gwin on the front lines of Africa's ruthless and murky rhino war, traveling from South Africa to Vietnam, documenting the recent upswing in international demand for rhino horn.  More photos and the full story are in the March 2011 issue of National Geographic.