'Dachshund U.N.' Gathers in Sydney, Australia
The Dachshund United Nations met in Australia over the weekend - a piece of performance art titled "Dachshund U.N" at the Museum of Contemporary Art in Sydney.
At least 47 puppies gathered in a wood-paneled amphitheater to represent different countries and take part in a meeting of the United Nations' Commission on Human Rights. Bennett Miller, an installation artist from Perth,  Australia, conceived the Dachshund U.N. with the intent of examining the role of the United Nations as a risk management organization.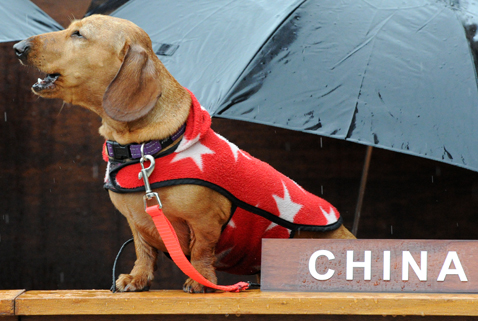 Monkey the dachshund, playing a delegate from China, barks during Bennett Miller's "Dachshund U.N." performance outside the Museum of Contemporary Art in Sydney, June 3, 2012. (Torsten Blackwood/AFP/Getty Images)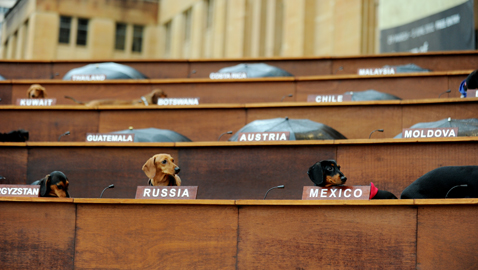 The canine politicians, who wore doggie rain jackets on account of the bad weather, were recruited from all across Australia. (EPA)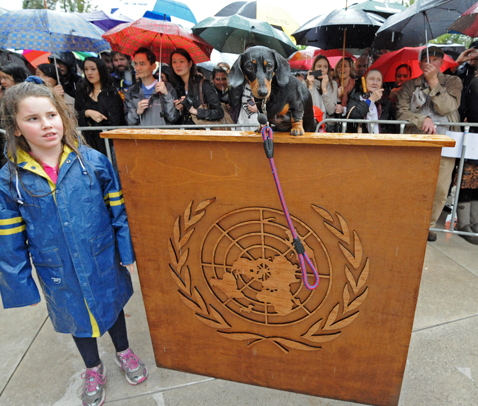 Parker Stanton watched Coco the dachshund playing the role of Ban Ki-moon, UN Secretary-General. (Torsten Blackwood/AFP/Getty Images)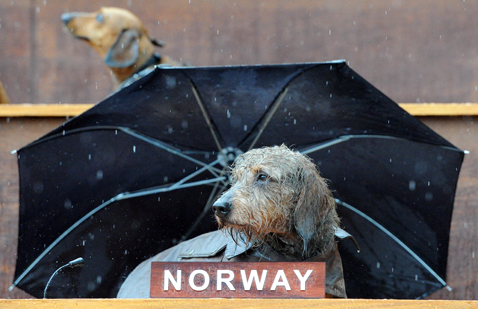 A soggy dachshund plays the role of Norway's ambassador  in the "Dachshund U.N." performance outside the Museum of Contemporary Art in Sydney. (Torsten Blackwood/AFP/Getty Images)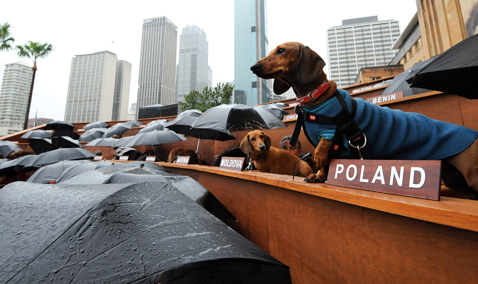 Despite the rain, the 47 specially recruited dachshunds represented different nations and the utopian aspirations of the United Nations in Bennett Miller's "Dachshund U.N." (Torsten Blackwood/AFP/Getty Images)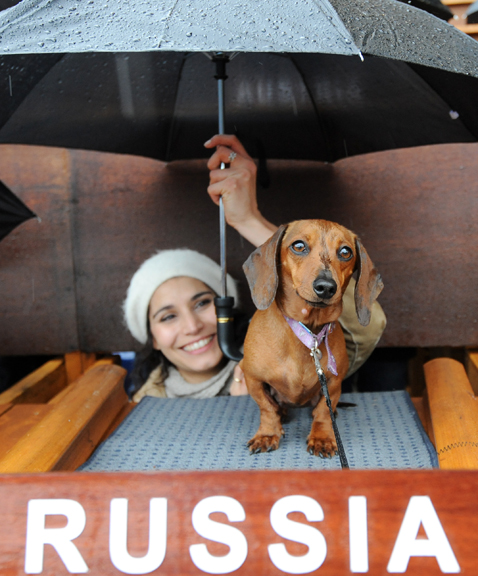 The dachshund playing the role of Russia is sheltered from the rain during Bennett Miller's "Dachshund U.N." performance, June 3, 2012. (Torsten Blackwood/AFP/Getty Images)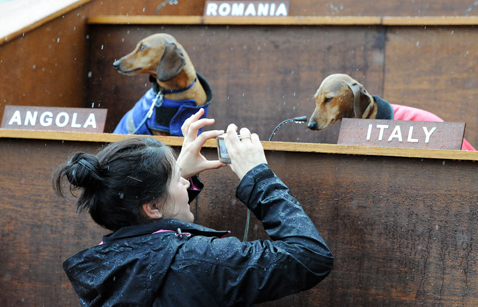 The dachshund playing the role of Italy has his photo taken during Bennett Miller's "Dachshund U.N." performance outside the Museum of Contemporary Art. (Torsten Blackwood/AFP/Getty Images)