'Star Wars' Troopers Used by Photographer David Eger to Recreate Iconic Images
David Eger is a teacher of photography and non-traditional visual arts. For years, Eger, an avid "Star Wars" fan, had contemplated doing a 365 project, but had not gotten around to it. "Cloned Photos" is a mini-series that was born from his 365 Days of Clones project.
It all began with a photo project he assigned his students during the Christmas holidays in 2010. On the last day of Christmas break, which happened to be Jan. 1, 2011, Eger took a photo of couple of Clone Troopers with an iPod, titling it "And it Begins…" Every day for the rest of the year, Eger created, edited and posted a new photograph online of his clone troopers.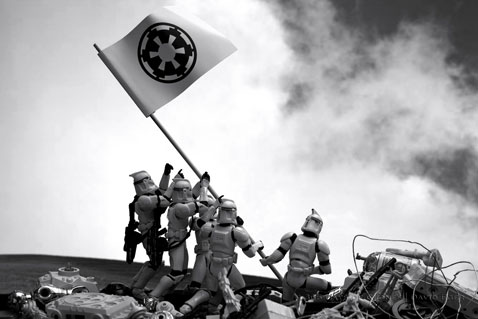 54/365 | Troopers Raising the Flag on Iwo Jima
This day's photo pays homage to a photo taken by Joe Rosenthal, titled Raising the Flag on Iwo Jima. The original photograph was taken on February 23, 1945.
Over the course of his year-long project, Eger became most interested in the photos that had links to a specific date or historical event. This desire to relate his daily posting to what day it was became a mini-series he called "Cloned Photos." His first photo was a recreation of Joe Rosenthal's famous Raising the Flag on Iwo Jima. Like many of his iconic recreations, Troopers Raising the Flag on Iwo Jima was created, photographed, edited and posted on the anniversary of the original photograph.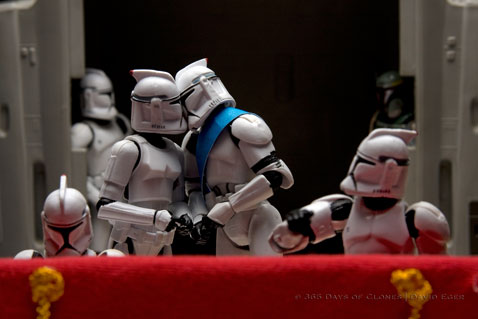 119/365 | A Royal Kiss
This day was the wedding of Prince William and Catherine Middleton. Our troopers thought they would reenact the couple's first kiss on the balcony of Buckingham Palace.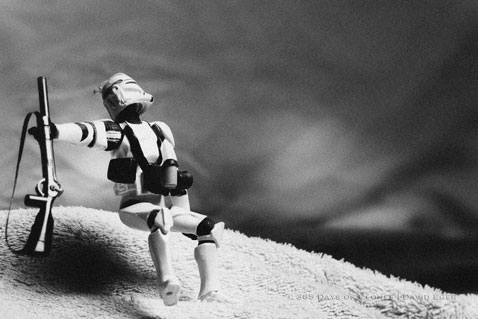 248/365 Alternative | Death of a Clone Trooper
It was on September 5, 1936, that Robert Capa took one of the most famous pictures of the Spanish Civil War.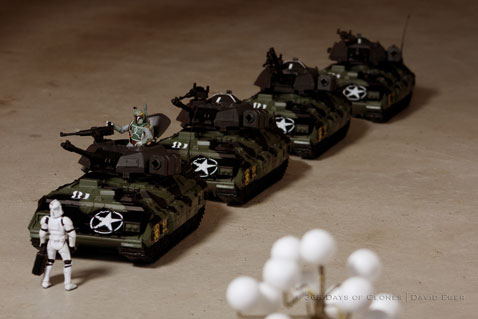 156/365 | Tank Trooper or The Unknown Trooper
The Tiananmen Square Protests began on April 15, 1989 and went on until June 5, 1989. It was on this date that the famous "Tank Man" or "Unknown Rebel" photograph was taken by Jeff Widener. It showed a single protester blocking a line of Chinese tanks in Beijing.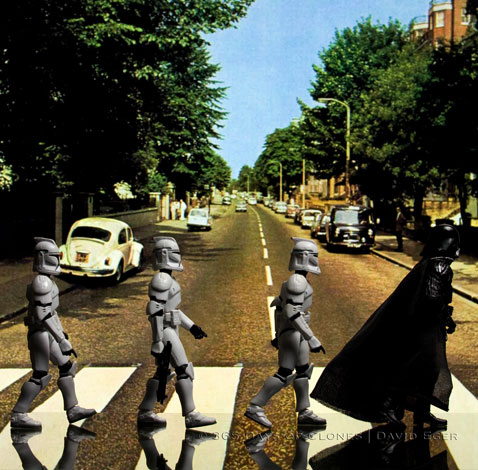 220/365 | Abbey Road
On Aug. 8, 1969, Ilan Macmillan took one of the most recognizable images of the 1960s - the cover shot for the Beatles' Abbey Road album.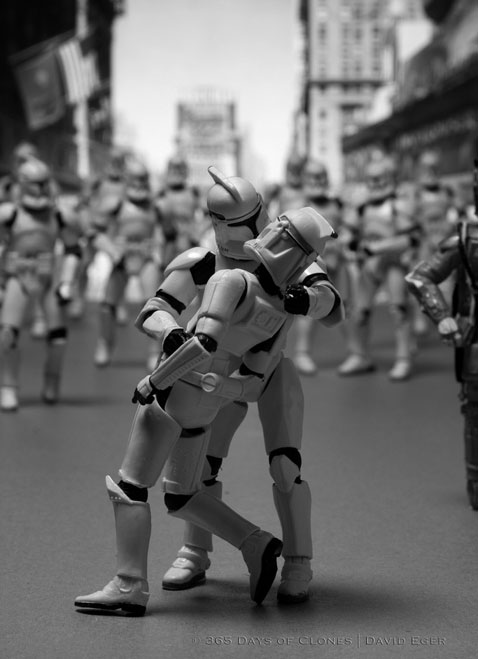 226/365 | The Cloned Kiss
The Kiss, taken by Alfred Eisenstaedt for Life magazine the day World War II ended in 1945, showed a sailor and a nurse kissing in New York's Times Square. It is likely one of the best known images from the first half of the 20th century.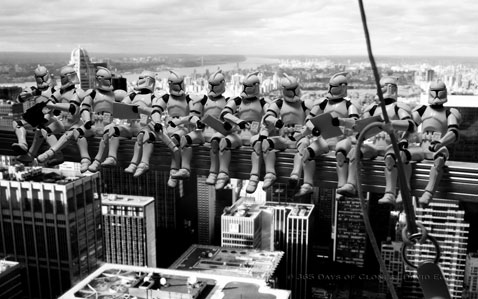 272/365 | Troopers atop a Skyscraper
It was on Sept. 29, 1932, that Charles C. Ebbets took the famous photo Lunchtime atop a Skyscraper. For over 70 years, this image was thought to have been taken by Lewis Hine.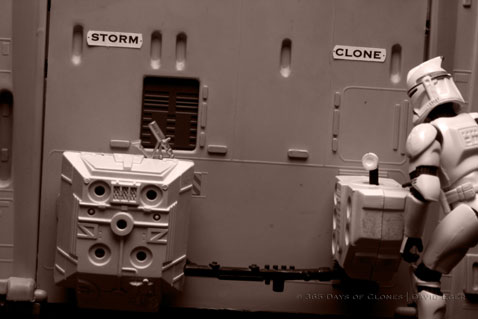 207/365 | Segregated Trooper
July 26 is Elliott Erwitt's birthday. Henri Cartier-Bresson coined the term "decisive moment" in photography, and Erwitt was a master at capturing it. Here Eger recreated one of Erwitt's best-known shots, depicting the segregation of African Americans in the 1950s.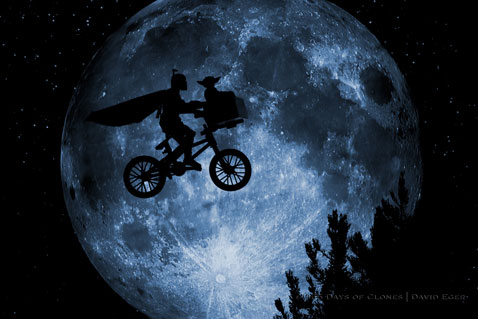 162/365 | C.T. Clone Trooper
On June 11, 1982, " E.T.: the Extra-Terrestrial" was released. It was arguably one of the greatest science fiction films of the 20th century.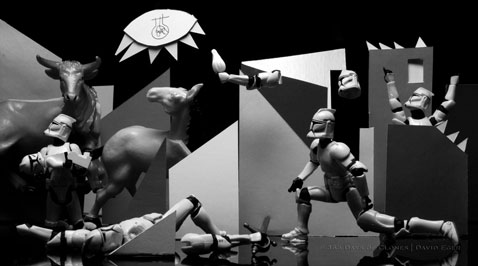 298/365 | Cloned Guernica
Oct. 25 would have been Pablo Picasso's birthday. Eger said, "Although I have always been a photographer, I have to admit that Picasso's work has always interested me. Our Troopers thought they would recreate one of his most influential works, 'Guernica.'"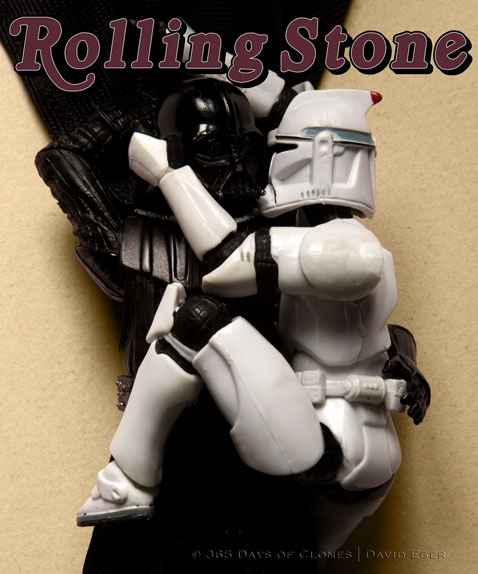 342/365 | Imagine
John Lennon was shot and killed on Dec. 8, 1980. Of all the Beatles, Eger said, Lennon was "by far my favorite." Eger paid homage to Lennon by recreating the famous photo taken by Annie Leibovitz of Lennon and his wife, Yoko Ono, just before his death.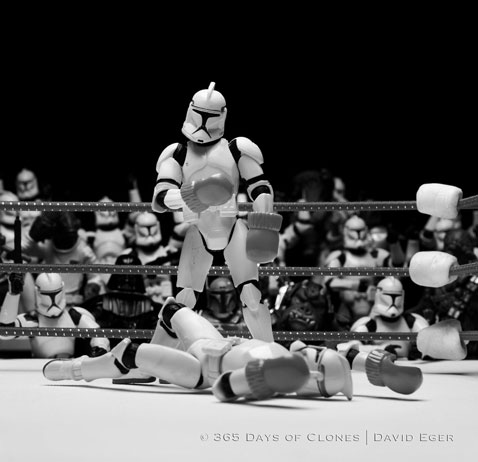 145/365 | Trooper vs Trooper
The image of Muhammad Ali standing over Sonny Liston is one of best-known boxing images of all time.
You can see more of David Eger's work on his website and Flickr site. Check out more at Redbubble and Society6