'Horrorgami' Scary Movie Sets From a Single Sheet of Paper
London-based artist Marc Hagan-Guirey, also known as "Paper Dandy," has always had a deep adoration for horror films.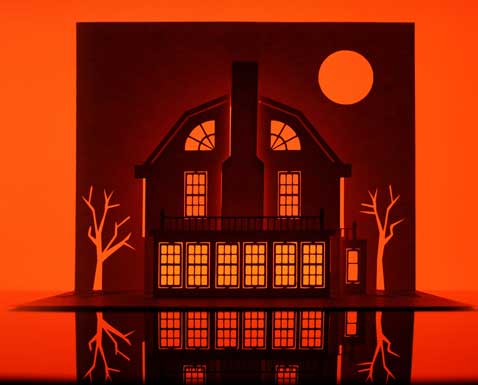 "The Amityville Horror"
"Horrorgami" Images Courtesy Marc Hagan-Guirey
The home from the film, "The Amityville Horror" (Kobal Collection)
"My parents would go out for the evening and left in the capable hands of my brother, I would beg him to let me stay up with his friends to watch the horror movie they'd rented. Typically he'd have to spend the rest of the night consoling me after said film left me somewhat distraught. He never learned his lesson; nor did I. Thankfully I've been left with a fascination of horror and no deeply embedded scars from the trauma they'd caused. At least not that I'm aware of."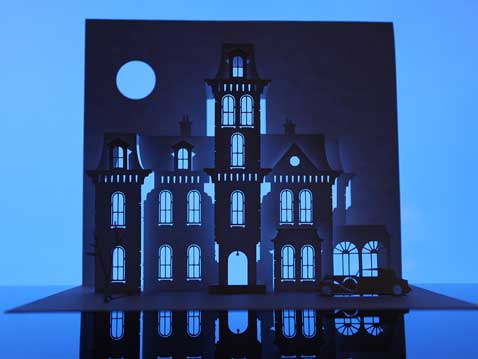 "The Addams Family"
The cast of "The Addams Family" in front of the home used on the show (Getty Images)
In 2011, after a private viewing of Frank Lloyd Wright's Ennis house in L.A., which he said was the closest he's ever come to a spiritual experience, Hagan-Guirey wanted to thank the friend that had gone to special trouble to set-up his visit. He decided to make a kirigami replica of the actual property-the gift was well-received-and the rest is history. He has since create 13 different works, all "classic horror film locations" and all cut from a single sheet of paper. He does not use adhesive or glue.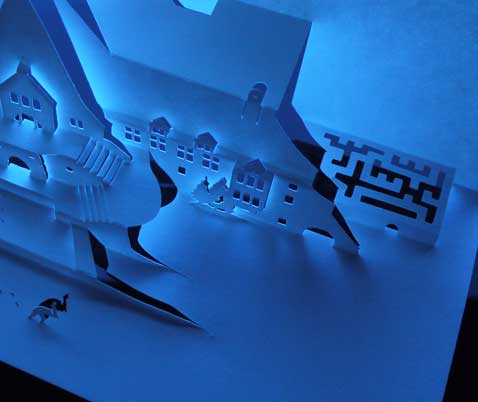 "The Shining"
The Stanley Hotel which served as "The Overlook Hotel" in "The Shining" (Warner Bros./Kobal Collection)
The models are displayed in light boxes. Hagan-Guiery said he thinks that the models have a "bit of a dual personality" because during daylight you can see how the paper has been cut and appreciate the detail and quiet beautify of the pieces, but at night, he says they take on a more dramatic and theatrical feel. Backlit with a strong color, he likens the experience to watching a horror film during the day and then watching the same film at night. "Under the cloak of darkness a horror film is at its most effective and potent, but this power dissipates when viewed in the relative safety and familiarity of daylight."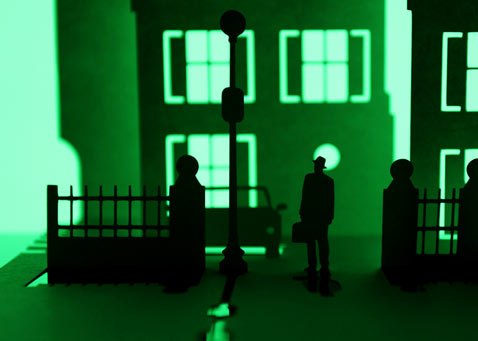 "The Exorcist"
A scene from "The Exorcist" (Warner Bros./Kobal Collection)
Hagan-Guiery's London solo show will take place from Nov. 1 through the 14 at Gallery One-And-A-Half in London. He is currently looking for galleries in the U.S. for 2013. The models are being sold as a limited editions of 13 each, which includes the lightbox display. For more information, please contact www.one-and-a-half.com.