Photojournalist Ami Vitale: Ahead of the Pack
Commissioned by the Nature Conservancy, photographer Ami Vitale traveled to the states of Alaska, Maine and Idaho and to the Marshall Islands, Micronesia, Costa Rica, Bolivia, Mexico, China and Australia to capture the natural environments where the raw materials for everyday objects are sourced. Ten designers were invited to create objects out of the wood, plants, wool and other sustainable materials sourced in these regions. Some of these items and photographs are being auctioned off via The Nature Conservancy. Click here for more information.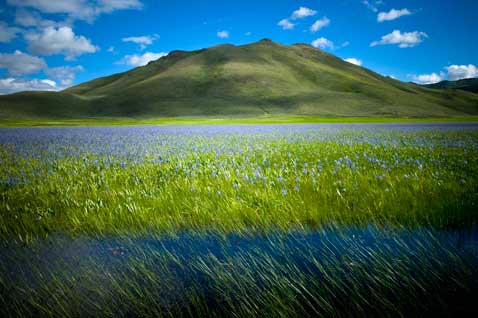 The blue penstemon, another indigenous flower of Idaho is also drought tolerant. It has large, deep purple tubular flowers that come out in May and June when planted in full sun.
"I never really thought that I had what it takes," said award-winning photojournalist Ami Vitale in regard to making a career out of photography. "I think so much of our fear is in our head." Vitale worked as a photo editor for the Associated Press before making the leap to shooting. "Quitting my job as an editor was the scariest, scariest moment. I decided I would give myself four years or so, and if nothing had happened by then, I would try something else." Vitale moved to Prague and started working for a newspaper.
All Photos Courtesy Ami Vitale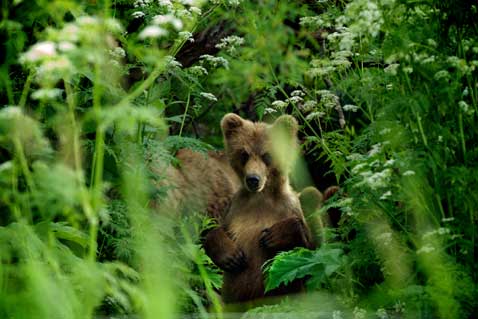 A young grizzly stands up on the edges of the river banks waiting in anticipation for the annual salmon feast.
Meanwhile, "I reached out to every editor I knew" offering to cover the conflict that was just starting in Kosovo. She didn't get any bites until three months later when the peace talks broke down and then she said, "I got four phone calls in one night all saying 'get there ahead of the pack.'" She said this was her first real break. She later moved to Paris and started applying for grants. To her "surprise and horror," she won an Alexia Grant.
A child stays warm with a hat made out of fur in the remote village along the Iliama lake in Alaska.
She moved to Guinea Bissau and moved in with a local family. She considers this time the beginning of "my different path." She never went back to covering daily news.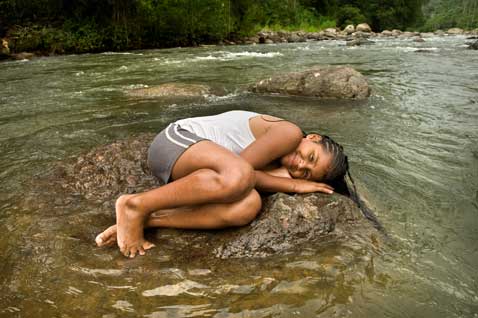 Costa Rican children cool off in the rivers of Estibrawpa in La Amistad International Peace Park, on the slopes of the Talamanca mountains. The parks were established to protect the traditional lifestyle of the indigenous people, though the communities and their land remain under constant threat from loggers and squatters. The Cabecar native peoples have no villages, as they prefer to live apart.
Vitale approximates 90 percent of her time is spent applying for grants, conducting research and entering contests, "Taking pictures is actually a tiny percentage…so much time on a computer." She credits having a strong, coherent body of work with her success, "People give you work based on your body of work-things they think you are interested in.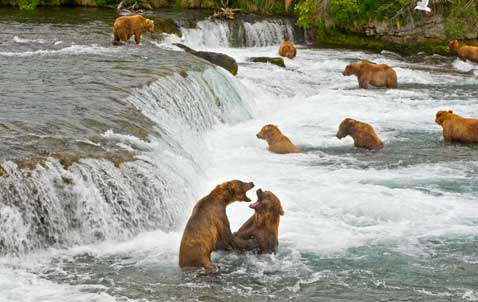 Brooks Falls in Katmai National Park is best known for the thousands of salmon jumping the falls in a predestined journey to spawn at the place of their birth. Their upstream struggle is made all the more difficult by the hungry bears that have developed quite a skill for fishing. Perched on the brink of the falls, and in the whitewater below the falls, the grizzly bears wait in anticipation of the coming feast.
As she did in Kosovo, Vitale has continued to stay ahead of the pack with changing technology. She decided to get her Masters to learn more about multimedia and film. She said it's important to diversify and keep up with industry changes. She said when she first started shooting video it was terrifying, but said, "We have all these amazing tools, talent is a small percentage. You've got to put in the time and just do it." Vitale believes this is an empowering time for photojournalists. "Photography is not dead and if we can harness all the creativity and tools available to us, we can make some amazing work and deliver it to audiences we never dreamed of reaching before."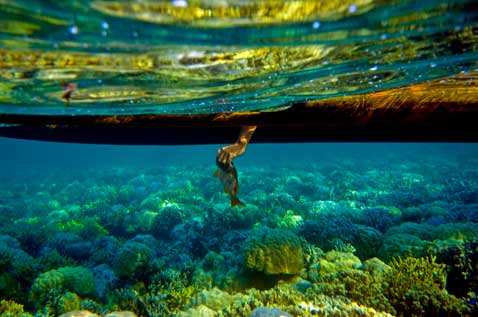 A Palau spear fisherman dips a fish under his moving boat outside the reef off of Pohnpei in the Federated States of Micronesia
Vitale's photographs have been exhibited around the world in museums and galleries and published in international magazines including National Geographic, Adventure, Newsweek, and Time. Now based in Montana, Vitale is a contract photographer with National Geographic magazine and frequently gives workshops throughout the Americas, Europe and Asia.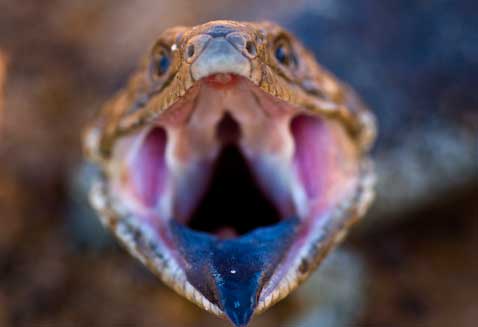 A blue-tongued lizard in Western Australia hisses loudly and flattens his body to make himself look wider and opens his mouth to reveal a large blue tongue against a backdrop of pink, designed to create fear and drive away his attackers. Though he can appear daunting and predatory, his artful defense strategy is pure con artistry.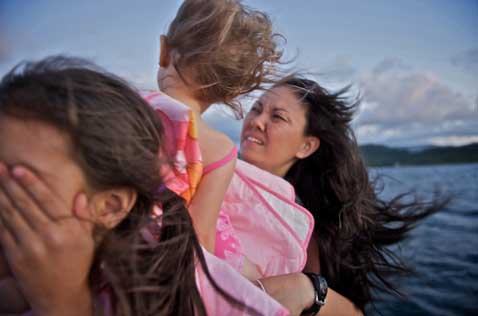 Mae M. Bruton Adams and her two children take time to enjoy the stunning nature of the remote island of Pohnpei in the Federated States of Micronesia in the Pacific. She works to protect the environment that is threatened by rising water, habitat alteration and loss, destructive harvesting, and the over-exploitation of natural resources.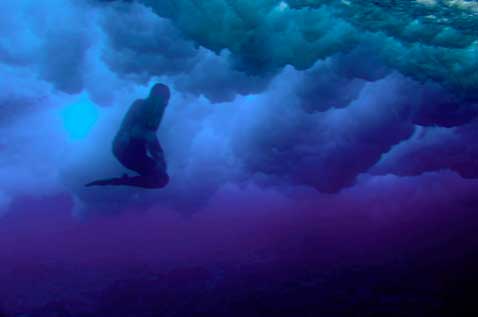 A Palau spear fisherman waits as a wave washes over him outside the reef off of Pohnpei in the Federated States of Micronesia. There are no beaches on Pohnpei - the coast is surrounded by mangrove swamps and volcanic rocks. A coral reef surrounds the island, forming a protected lagoon. Derived from poh 'on', n 'of', and pei 'rock', the name can be said to mean 'Rocky (Island)'.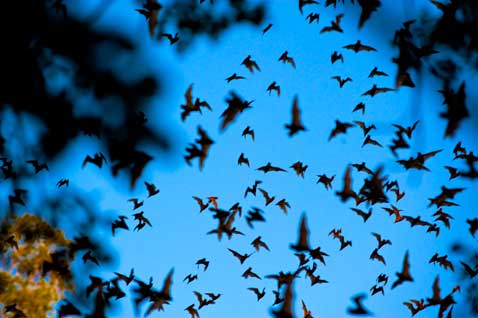 In Mexico, bats have been considered symbols of fertility and life, and also of death and desolation. The bats live in forests and jungles of Mexico, the cavernous ruins, along rivers, streams and lakes and in the many caves.