From Vatican City to Castel Gandolfo, The Pope's Digs
Pope Benedict XVI's eight year residency at the Vatican comes to a close this week, and with his historic retirement, the pontiff will leave his residence at the Vatican. In retirement, he will still reside on Vatican grounds, but in a former nunnery that is to be renovated.
During the Conclave to find the next pope, Benedict will reside at the Apostolic Palace on Lake Albano, southwest of Rome. Benedict XVI will stay at the Vatican's summer residence from Feb. 28 until the convent of Mater Ecclesiae (Mother of the Church) will be ready.
Here is a look at the Vatican, Castel Gandolfo, and the Apostolic Palace.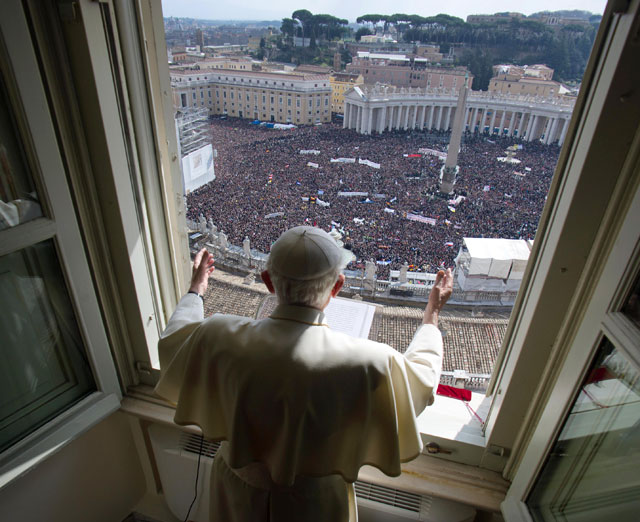 Pope Benedict XVI delivers his blessing during his last Angelus noon prayer from the window of his studio overlooking St. Peter's Square at the Vatican on Sunday, Feb. 24, 2013. (L'Osservatore Romano/AP)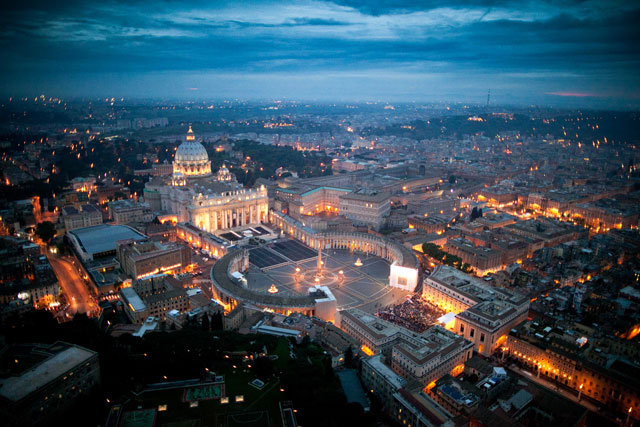 Seen here is an aerial view of St. Peter's Basilica and the Vatican during sunset in 2011. (AFP/Getty Images)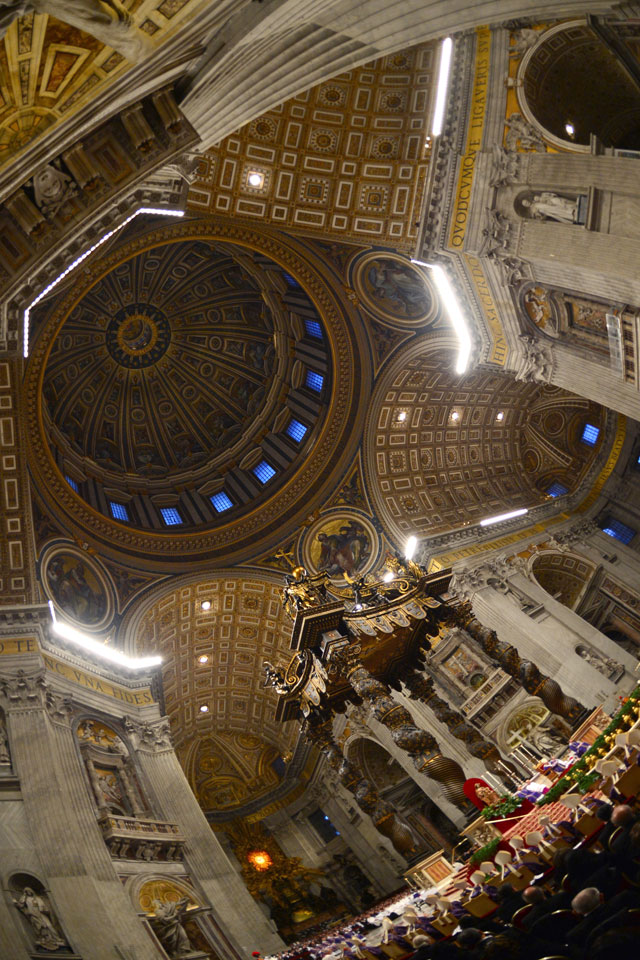 Pope Benedict XVI leads the mass for Ash Wednesday, opening Lent, the 40 day period of abstinence and deprivation for the Christians before Holy Week and Easter, Feb. 13, 2013 at St. Peter's Basilica at the Vatican. (Gabriel Bouys/AFP/Getty Images)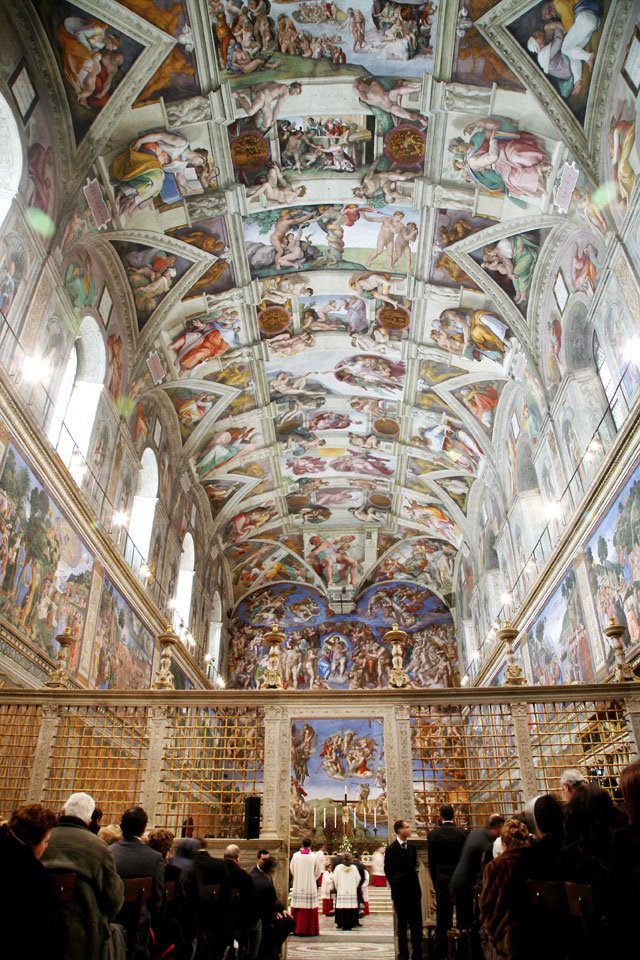 A view of Michelangelo's Sistine Chapel on Jan. 11, 2009 in Vatican City. The Sistine Chapel is named after his commissioner, Sixtus IV della Rovere (1471-1484), who decided to have a large room built where the Cappella Magna once stood. The Cappella Magna was a medieval fortified hall that the Papal Court used for assemblies. At that time, it was made up of about 200 members: a college of 20 cardinals, representatives of religious orders and important families, a choir, and a large number of laymen and servants. (Franco Origlia/Getty Images)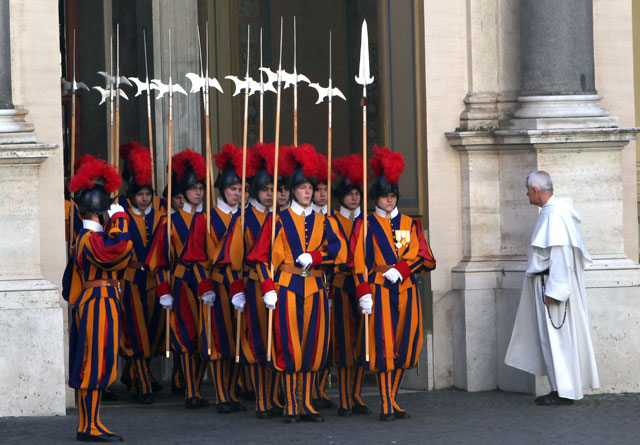 Swiss Guards arrive at the Cortile di San Damaso of the Apostolic Palace at the Apostolic Palace on Dec. 17, 2012 in Vatican City. Pope Sixtus V (1585- 1590) built the Apostolic Palace where the present pope lives and where every Sunday at noon he stands at the window, and blesses the crowd that gathers in the magnificent St. Peter's Square. (Franco Origlia/Getty Images)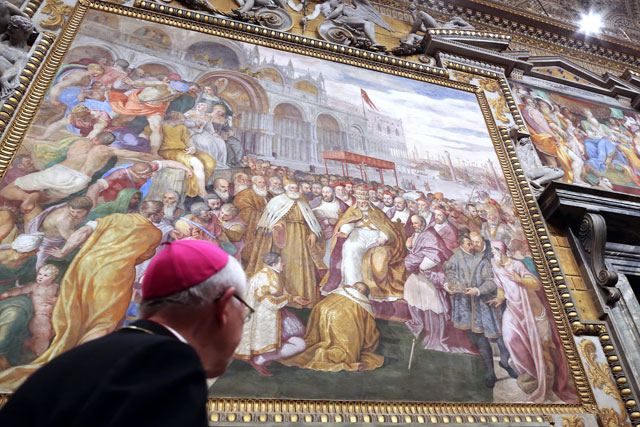 A bishop walks below Throne's Hall paintings during the courtesy visits to the newly appointed cardinals at the Apostolic Palace, Nov. 24, 2012 in Vatican City. (Franco Origlia/Getty Images)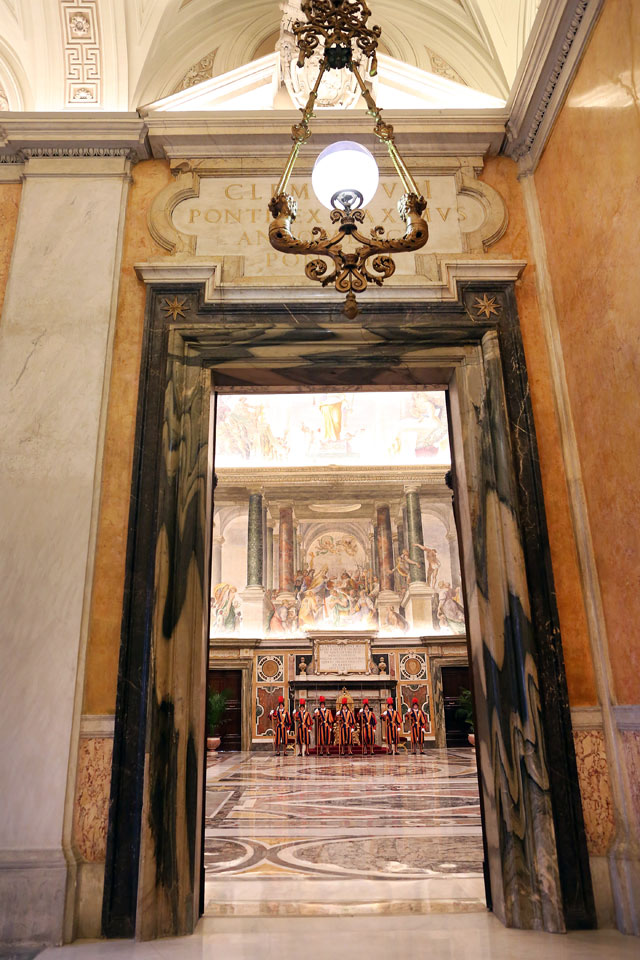 A view of the Seconda Loggia of the Apostolic Palace on Oct. 25, 2012 in Vatican City. (Franco Origlia/Getty Images)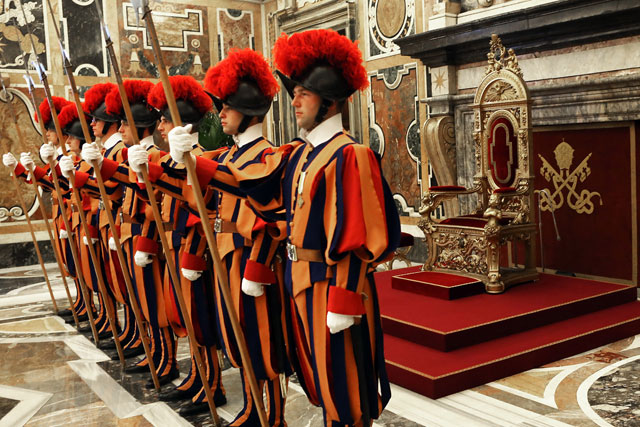 Swiss Guards stand on attention in the Clementina Hall at the Apostolic Palace, Oct. 29 2012 in Vatican City, Vatican. (Franco Origlia/Getty Images)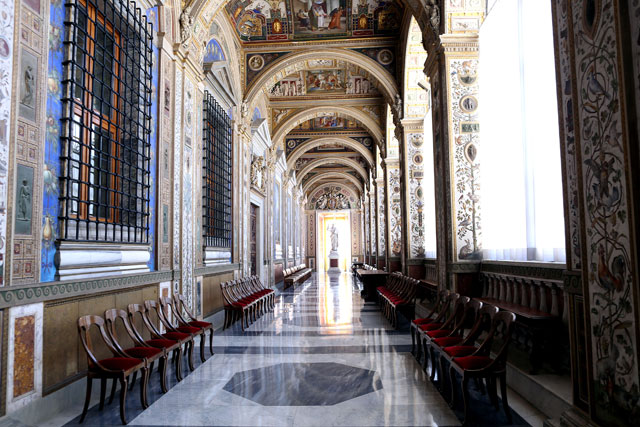 A view of the Seconda Loggia of the Apostolic Palace on Oct. 25, 2012 in Vatican City. (Franco Origlia/Getty Images)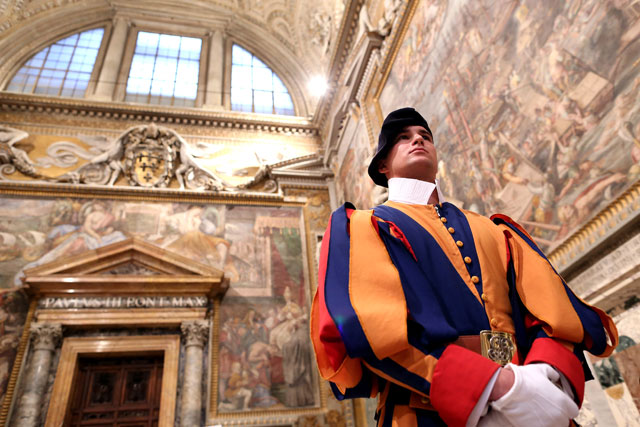 A Swiss Guard stands at the Throne's Hall during the courtesy visits to the newly appointed cardinals at the Apostolic Palace on Nov. 24, 2012. (Franco Origlia/Getty Images)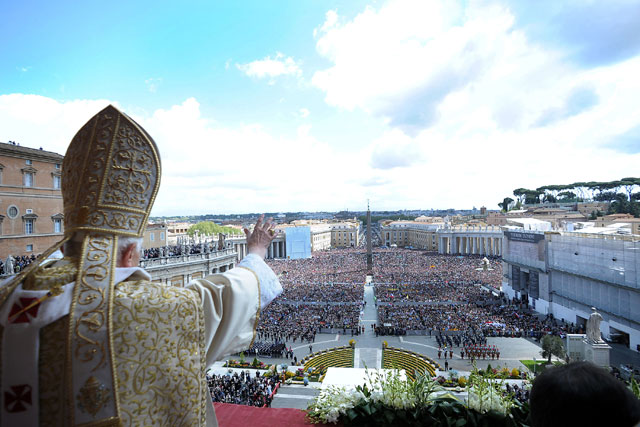 Pope Benedict XVI delivers his "Urbi et Orbi" message and blessing from the central balcony of St. Peter's Basilica at the end of the Easter Mass on April 8, 2012. (L'Osservatore Romano Vatican Pool via Getty Images)
CASTEL GANDOLFO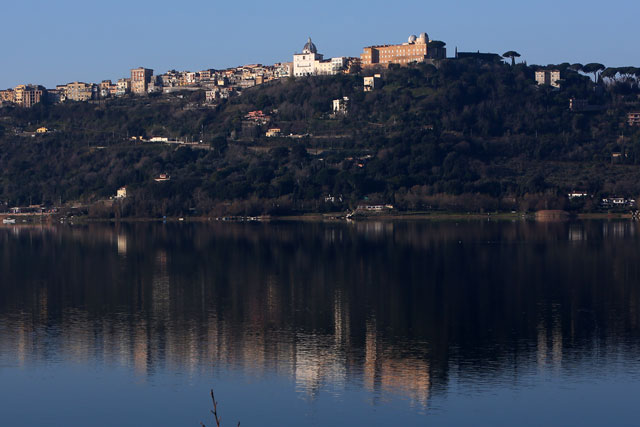 A view of of the Apostolic Palace and the Pontifical Villas of Castel Gandolfo on the Albano lake, that will be Pope Benedict XVI's residence during the next Conclave, Feb. 20, 2013 in Rome, Italy. The Apostolic Palace of Castel Gandolfo, 10 miles south Rome, is the summer residence of popes. (Photo by Franco Origlia/Getty Images)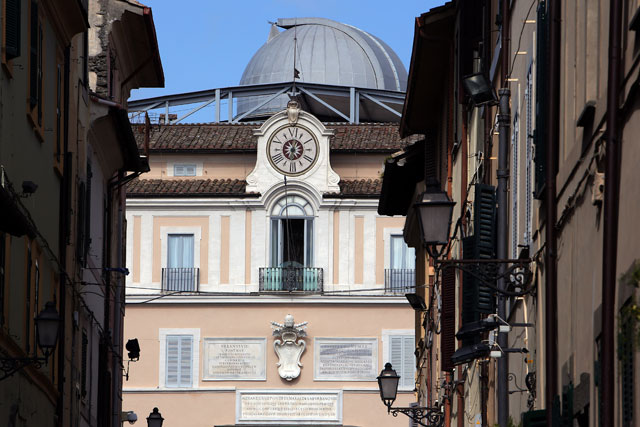 The balcony of the Apostolic Palace of Castel Gandolfo where Benedict XVI made his last public appearance as pope. The Apostolic Palace and The Ponifical Villas of Castel Gandolfo, 10 miles south Rome, are the summer residence of popes and will host Pope Benedict XVI during the next conclave. (Photo by Franco Origlia/Getty Images)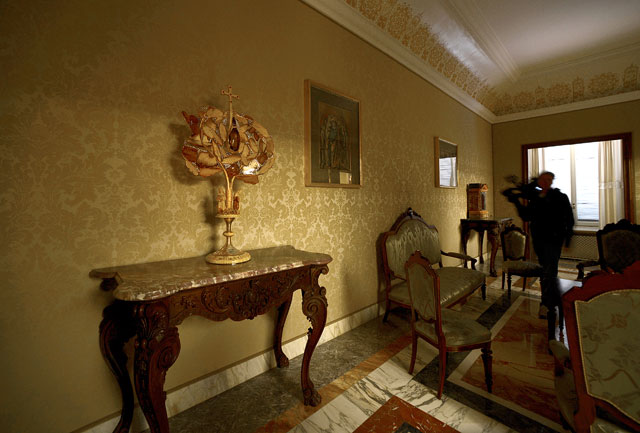 A view of a room inside the Apostolic Palace in the village of Castel Gandolfo. Pope Benedict XVI will stay at the Vatican's summer residence from Feb. 28 until the convent of Mater Ecclesiae (Mother of the Church) will be ready for him to live there. Pope Benedict XVI began a week-long spiritual retreat out of the public eye on Feb. 18 ahead of his resignation on Feb. 28 2013 with the field of candidates to succeed him still wide open. (Filippo Monteforte/AFP/Getty Images)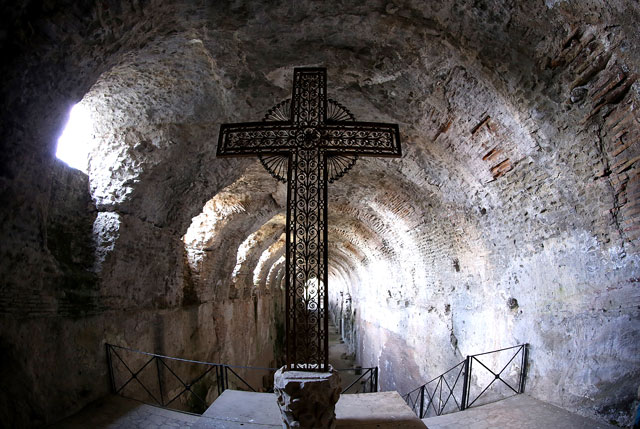 A cross stands in the Roman catacombs in the gardens of the Pontifical residence of Castel Gandolfo. The Apostolic Palace and The Ponifical Villas of Castel Gandolfo, 10 miles south Rome, are the summer residence of popes and will host Pope Benedict XVI during the next conclave. (Photo by Franco Origlia/Getty Images)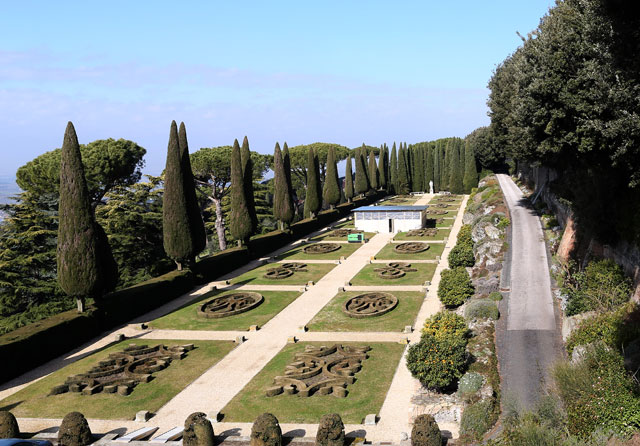 The gardens of the pontifical residence of Castel Gandolfo. (Photo by Franco Origlia/Getty Images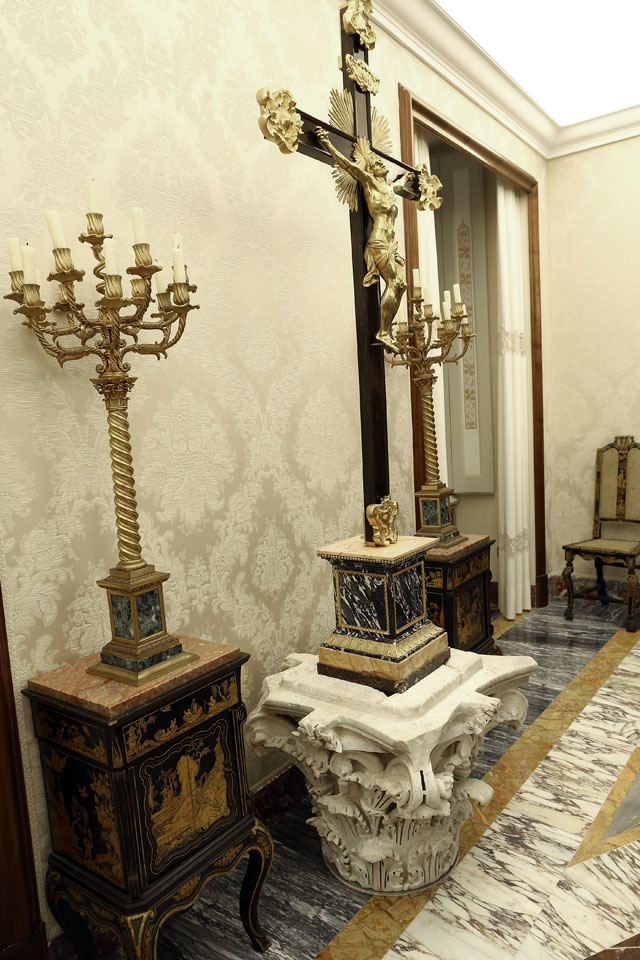 Details in the Chinese Room room of the Apostolic Palace of Castel Gandolfo. The Apostolic Palace and The Pontifical Villas of Castel Gandolfo, 10 miles south of Rome, are the summer residence of popes and will host Pope Benedict XVI during the next Conclave. (Photo by Franco Origlia/Getty Images)