Man With Tourette Syndrome Banned From Flight After Saying 'Bomb'
ABC News' David Kerley, Mosheh Gains and Ben Krolowitz report:
A man with Tourette syndrome says he was not allowed to board a flight at Reagan National Airport because he said the word bomb close to 100 times.
"I was telling myself in my head before don't say bomb. When you try to suppress Tourette's, it comes out even worse," said Michael Doyle.
Doyle, 19, said he arrived at Washington, D.C.'s Reagan National Airport Thursday with medical documentation describing his condition. Doyle and his friend got through security but after sitting in the boarding area, a JetBlue pilot heard Doyle say bomb and refused to let him on the flight.
Those with Tourette syndrome often can't control verbal tics. Doyle, who constantly watched coverage of the Boston Marathon bombings, said he arrived at the airport worried about what he was going to say.
"I probably said bomb about 100 times in that terminal, and through TSA," Doyle said.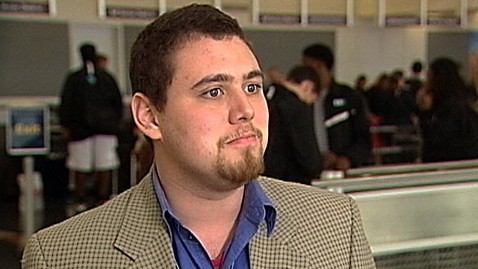 After Doyle was not allowed on the flight, his friend stayed with him, missing their 18th century battle reenactment in Puerto Rico, which they had planned for two years.
"It is very frustrating, especially after three hours of sitting there and two years planning, and it just doesn't happen," Chaz Petteway, 20, said.
JetBlue said, "After further investigation, the situation was deemed innocuous" and offered Doyle a round trip ticket, but there is no guarantee he will be able to board another flight.
While the situation was frustrating for Petteway and Doyle, it shows a country still at a heightened state of alert two weeks after the twin bombings at the finish line of the Boston Marathon.
"Tensions are high. People are worried, they're nervous, they know there have been terrorist attacks," ABC News consultant and former pilot Steve Ganyard said. "At the end of the day, the pilot in command has the ultimate decision on who gets on that airplane and who doesn't."
JetBlue offered Doyle a round trip ticket as a peace offering.
"It does not make me want to fly at all," Doyle said.