Teenagers in Critical Condition After Florida Parasailing Accident
Two teenagers from Indiana were critically injured after they crashed into a condominium building in Panama Beach, Fla., while they were parasailing, police said.
Alexis Fairchild and Sidney Good, both 17, were parasailing Monday when the girls and the parachute they were using broke free from a boat, according to the police incident report. They collided with a condominium building, the Commodore, and hit power lines - and powerful winds also caused them to hit several cars in the parking lot.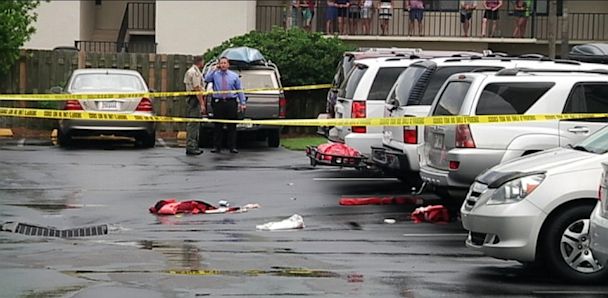 WMBB/ABC News
The teens were transported to Bay Medical Center, the report said. EMS and the Bay County Fire Department helped remove them from the scene.
They teens were in critical condition after being taken to Bay Medical Center in Panama City, Fla., according to a statement from the Florida Fish and Wildlife Conservation Commission, which was heading the investigation into the incident.
Bill Denny, a witness who was staying in the Commodore, told ABCNews.com that the girls were found under vehicles in the condominium's parking lot, slumped over and unresponsive.
"It was surreal; I was in shock," said Denny. "Everyone down below us was screaming at the top of their lungs."
Joseph Lyons, another witness, described the incident and the girls' conditions as one of the worst things he has seen in his life.
"It made me sick to my stomach," said Lyons.
An online fundraiser has been established to defray medical costs, and had raised $1,540 as of 4:30 p.m. today.
In its statement, the FWC said that an afternoon storm developed while the girls were parasailing.
"Winds kept the chute aloft and several attempts to winch the riders back onto the vessel failed," the statement said. "The anchor was set to keep the boat from being pulled onto shore. The towline detached and the riders were helpless to control the chute."
Excluding this incident, there have been 33 injuries and six fatalities related to parasailing over the past year in Florida, according to information provided by the FWC.
The girls were sailing on a boat operated by the 30-year-old Tyler Churchwell, according to the incident report. Churchwell is employed through the company Aquatic Adventures of Panama City Beach, ABC Affiliate WMBB reported . The company declined to comment.
ABC News' Courtney Condron contributed to this report.