The Legacy of Gettysburg
The Battle of Gettysburg was bloody and brutal. It ended three days after it started, on July 3, 1863, leaving almost 50,000 casualties strewn across the Pennsylvania fields. The northern advance of the Confederate Army, led by General Lee, had come to a halt due to miscalculations and was now in retreat thanks to the military skill of Union General Meade.
President Abraham Lincoln would visit the battlefield five months later to give his famed Gettysburg Address and to dedicate the Soldiers' National Cemetery, and the legacy of Gettysburg would live on, in cycloramas and re-enactments, history texts and documentaries.
The American Civil War was one of the first wars depicted in photographs, not paintings. Mathew Brady and his team of 17 assistants crisscrossed the battlefields with portable darkrooms, capturing the actors of war and the aftermath of fighting. Below, on the 150th anniversary of the Battle of Gettysburg, are images from the small Pennsylvania town that many historians say was the turning point of the Civil War.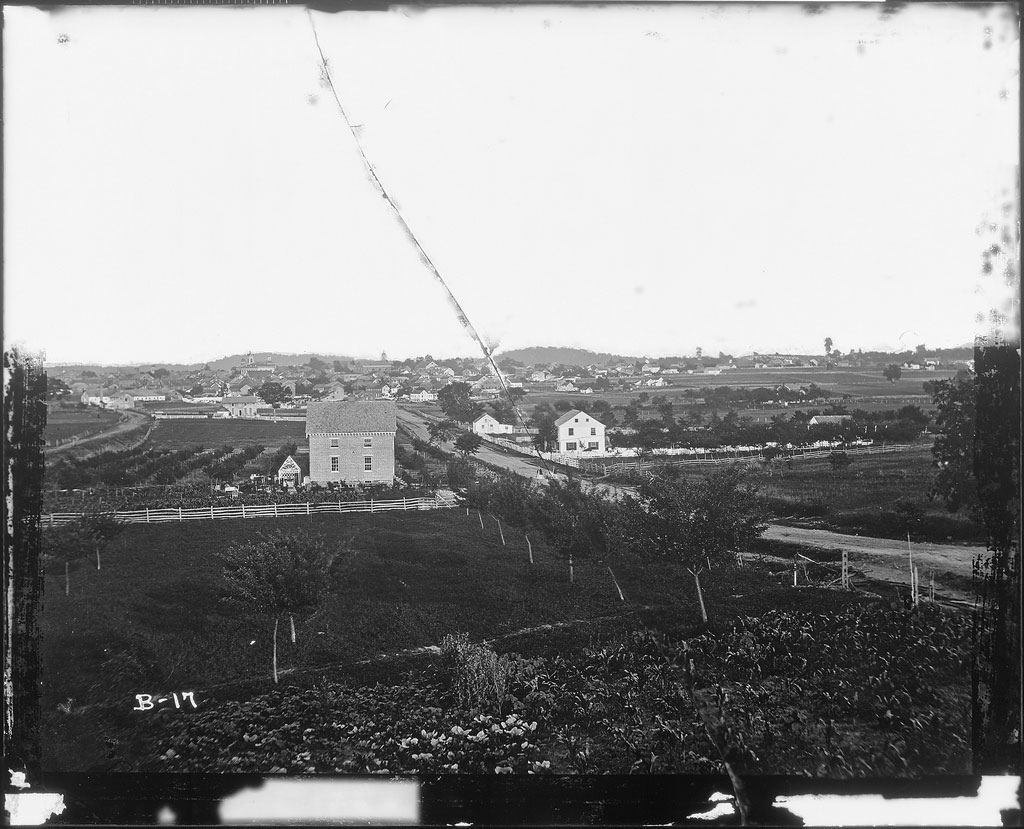 A view of Gettysburg captured by photographer Mathew Brady. (Mathew Brady/National Archives)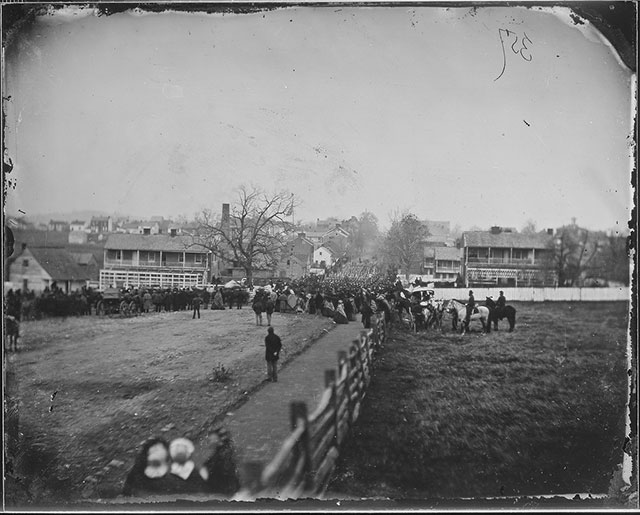 A regiment marching down a village street, Gettysburg, Pa, 1863. (Mathew Brady/National Archives)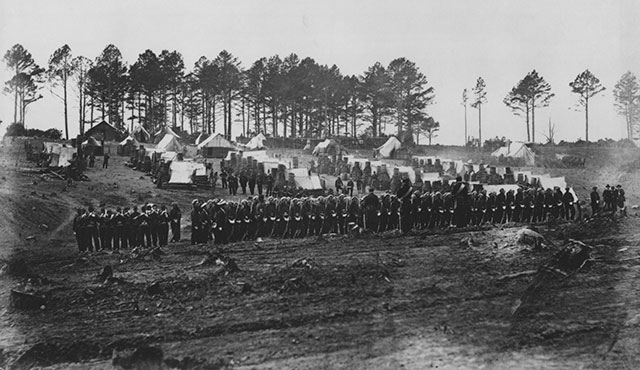 The 114th regiment Pennsylvania volunteers at the headquarters Army of the Potomac in Gettysburg, Pennsylvania circa 1863. (Archive Photos/Getty Images)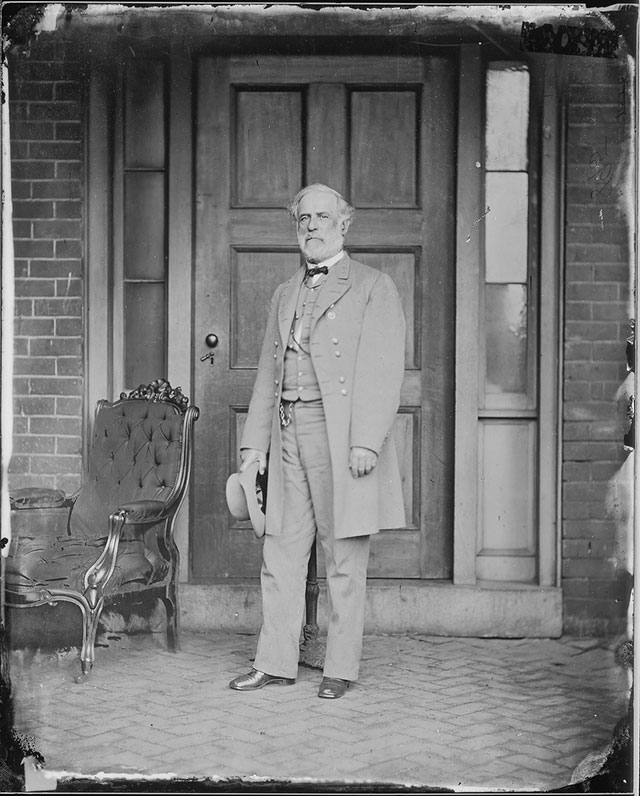 General Robert E. Lee, the commander of the Confederate Army of North Virginia. (Mathew Brady/National Archives)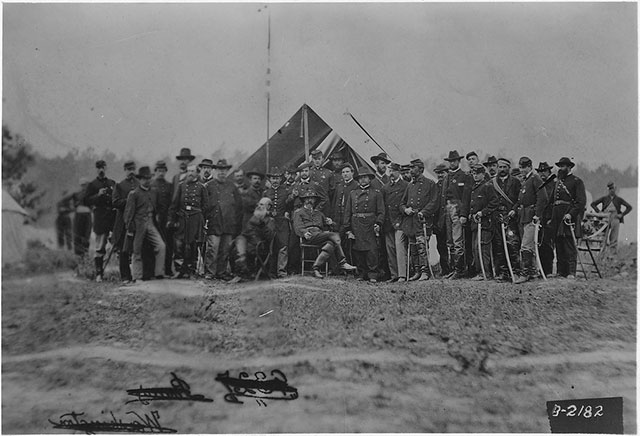 Gen. George G. Meade and staff of thirty-four. (Mathew Brady/National Archives)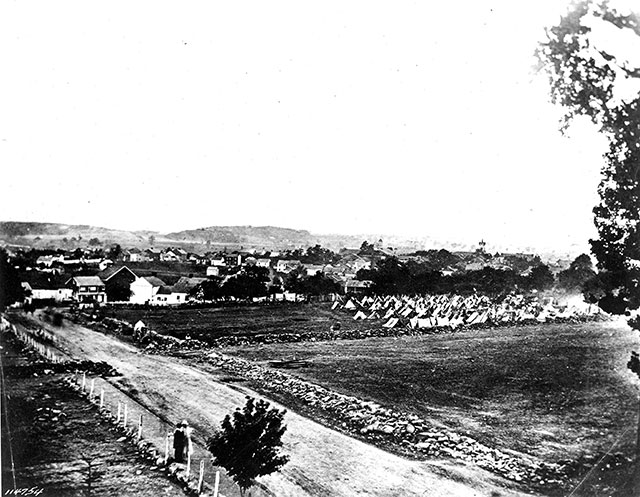 View from Cemetery Ridge, Gettysburg, Pennsylvania, 1860s. (Getty Images)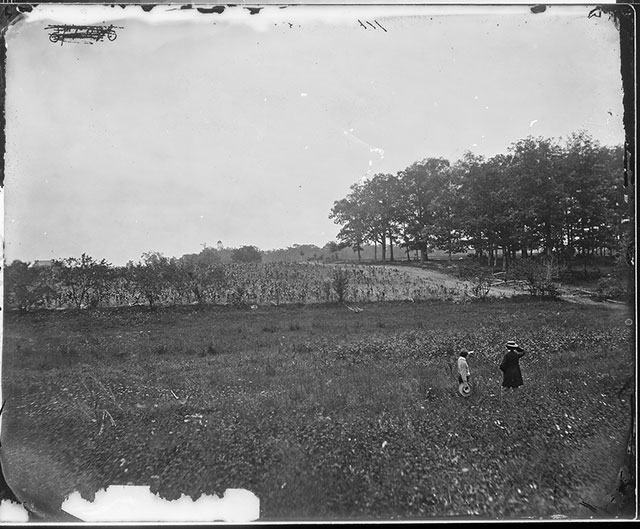 The woods in which Gen. J.F. Reynolds was killed. Gettysburg, Pa., 1863. (Mathew Brady/National Archives)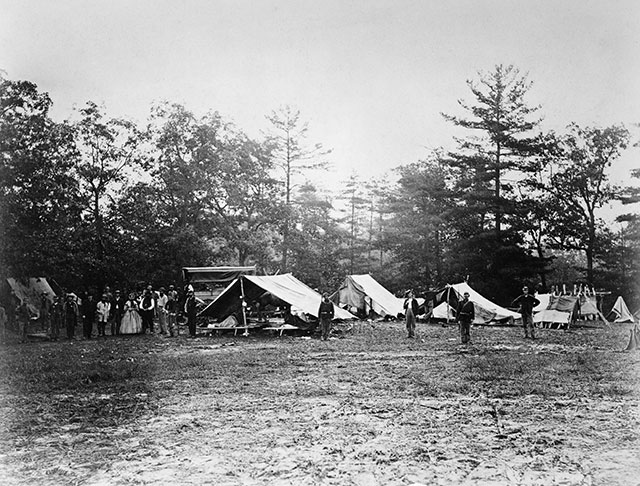 Wounded and staff at a field hospital at Getttysburg during the US Civil War, circa 1863. (Kean Collection/Getty Images)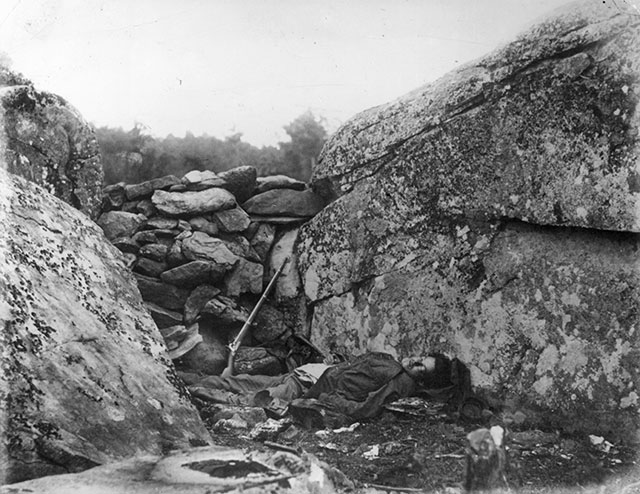 A dead Confederate soldier in Devil's Den, Gettysburg. Photograph entitled 'The Home of a Rebel Sharpshooter, Gettysburg', from 'Gardner's 'Photographic Sketchbook of the Civil War' Volume I, plate 41 - pub. 1866. (Alexander Gardner/Getty Images)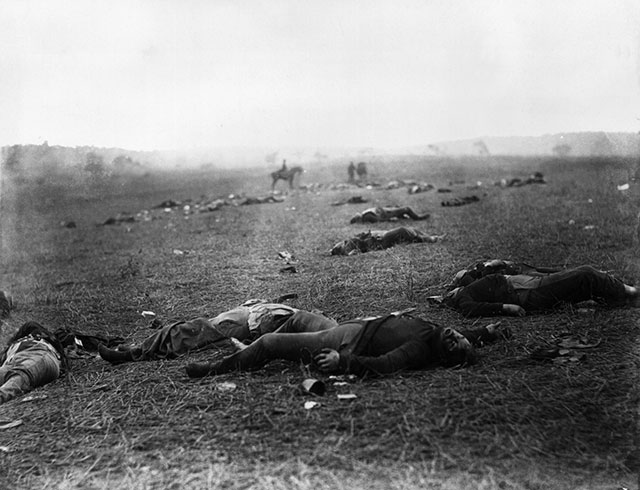 A view of soldiers' corpses lying on the battlefield after the Battle of Gettysburg, which took place from July 1 to July 3, 1863, Pennsylvania. (Timothy H. O'Sullivan/George Eastman House/Getty Images)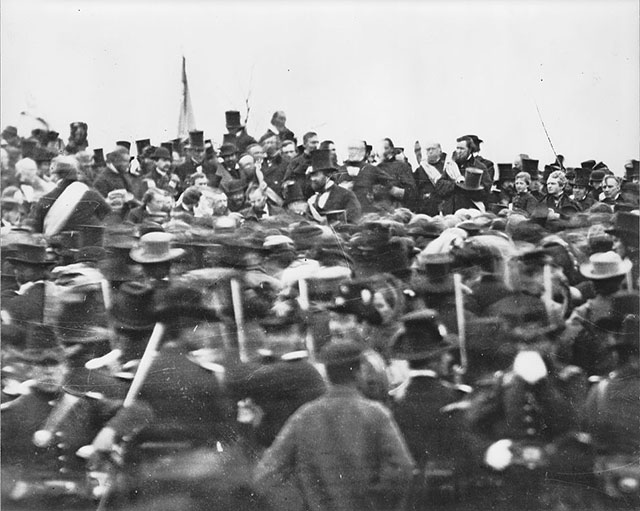 US President Abraham Lincoln arrives at Gettysburg in Pennsylvania, to deliver the Gettysburg Address, November 19, 1863. To Lincoln's right is his bodyguard, Ward Hill Lamon. (Library of Congress/Getty Images)
See more featured photography curated by ABC News' photo editors, and at Picture This, the ABC News photography blog.