The Ultimate Wedding Crashers
An effort to take the peace, serenity and perhaps the monotony out of wedding photos has brought a hot trend that incorporates some slightly dark humor: wedding party attack photos.
Beginning with Quinn Miller's image of a Tyrannosaurus Rex crashing a wedding party's photo op, the fad is gaining in popularity among newlyweds.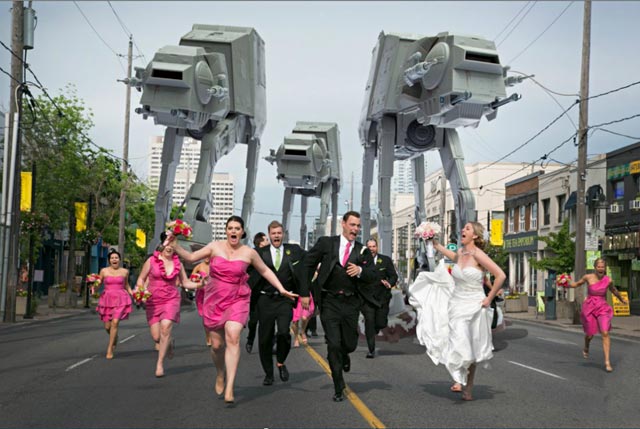 Even the Galactic Empire enjoys a good photobomb. (© Little Blue Lemon Photography)
Inspired by the viral image of a dinosaur attacking a wedding party, admitted "Star Wars" nerds Danielle and Tony Lombardo of Little Blue Lemon Photography made Imperial AT-AT walkers the uninvited guests at the wedding of Leslie Seiler and Paul Kingston.
Danielle and Tony photographed their son's AT-AT toy in their studio, recreating the same lighting conditions of the wedding photo, and meticulously stitched the two photos together.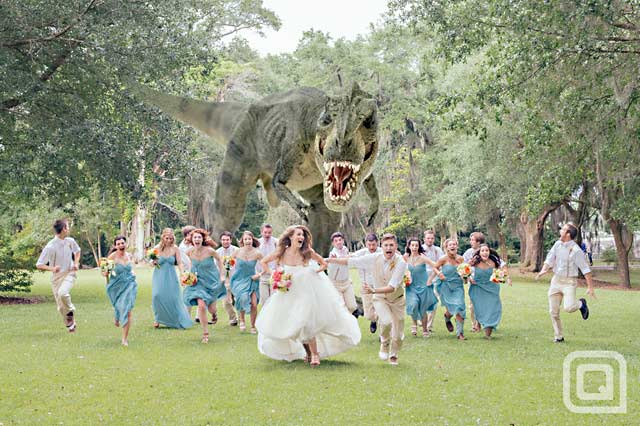 It looks like T-Rex found the dessert table. Quinn Miller's May 2013 image from Kate Young and James Lowder's wedding started it all. (© Quinn Miller)
In another photo, Mr. Stay Puft, the marshmallow man from the movie "Ghostbusters," paid a surprise visit to a wedding party in Ontario, Canada.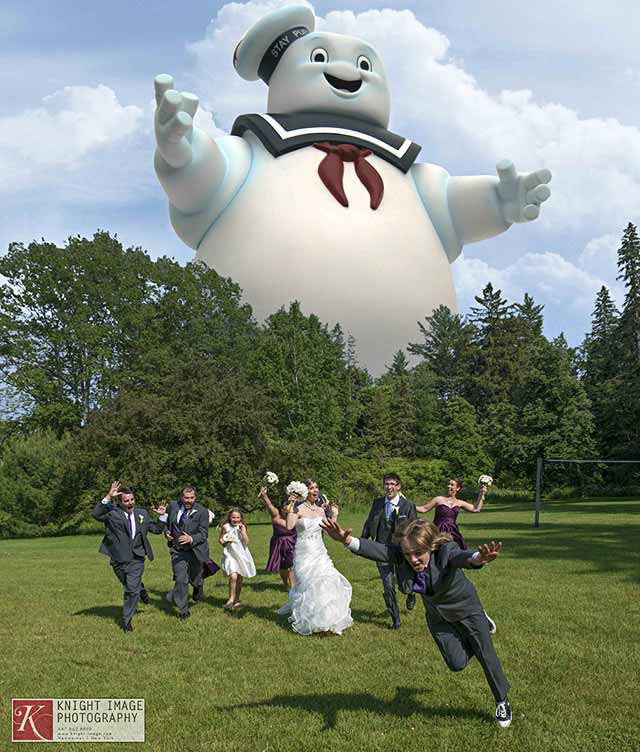 Ahmed Elfarram, owner and lead photographer at Knight Image Photography, pitched his "Ghostbusters" idea to clients Lindsay and Garreth Graves and they loved it. ( © Knight Image Photography)
Berlin-based Jens Nink was in Wisconsin to shoot the wedding of good friends Natalie and Josh Mayer.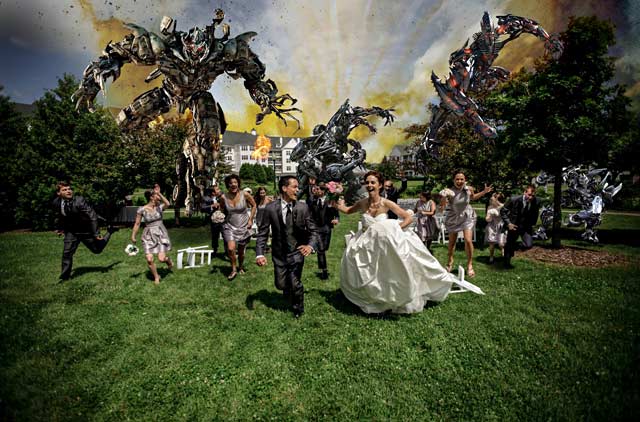 Nink "transformed" the photo of the wedding party into an attack by robots no longer in disguise. (© Jens Nink)
Josiah Moore turned his own wedding photo of himself and wife Ruthie into a post-apocalyptic, zombie nightmare.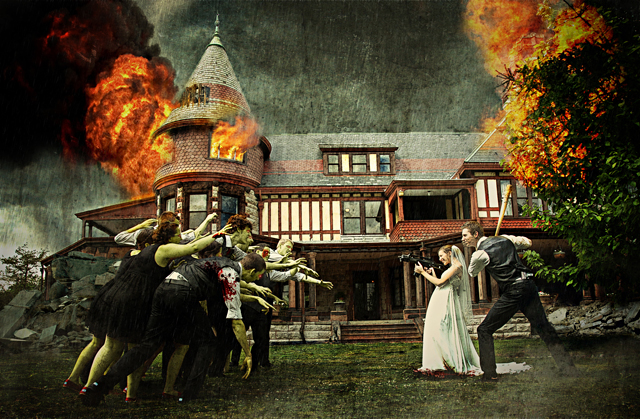 "I had always had this idea in my head of us fighting off our zombie bridal party," said Moore. "My wife was fun and willing enough (thankfully) to go along with my crazy idea." ( © Josiah Moore)
See more featured photography curated by ABC News' Photo Editors, and at Picture This, the ABC News photography blog.