UC Davis Pepper Spray Cop Seeks Workers' Comp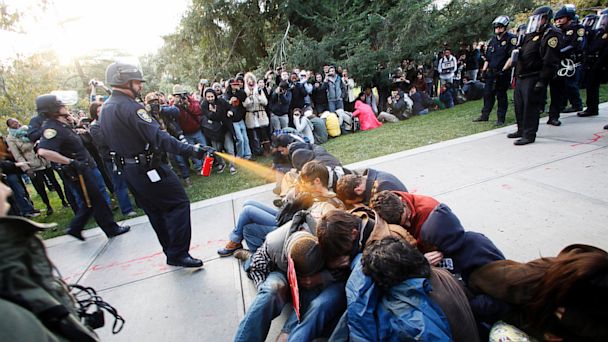 A former University of California, Davis police officer who was fired after pepper spraying a group of students staging a protest in 2011, and whose actions went viral on the internet, is seeking workers' compensation settlement, claiming the incident left him psychologically injured.
John Pike was fired in July 2012, following an internal affairs investigation regarding his actions at a November protest on the campus. In a video that spread across the Internet, Pike can be seen aiming pepper spray in the faces of students sitting passively protesting tuition increases and in solidarity with the Occupy movement.
Pike has a settlement hearing scheduled for Aug. 13, according to the Department of Industrial Relations website.
His claim pertains to a "nervous system - psychiatric" injury according to department documents published online.
UC Davis officials confirmed Pike had filed a claim. "The university is required to follow the worker's compensation process. We are not in agreement with the benefits being claimed," said Andy Fell, a university spokesman.
Pike reportedly collected a pension for the years he worked at the school, despite being fired. According to a report in the Davis Enterprise, the police lieutenant earned an annual salary of $121,680 before his dismissal. His lawyer Jason Marcus would not comment on the case or indicate the size of the benefit Pike is seeking.