Air Force Vets Aim to Empower Afghan Women Through Scarves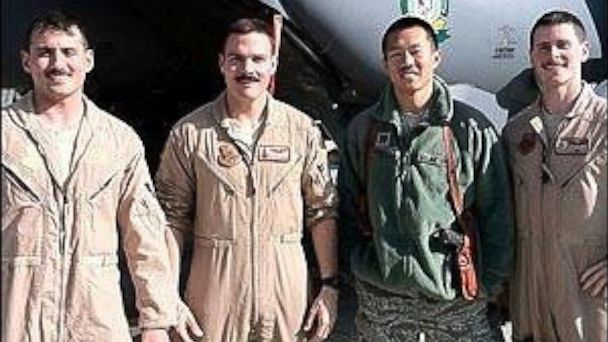 ABC News' Producer Angel Canales and Editor Arthur Niemynski report:
RALEIGH, N.C. - Deployed in Afghanistan in 2011 in support of Operation Enduring Freedom, four U.S. Air Force captains were inspired during a walk through one of Afghanistan's bazaars, where they met a group of widows who had lost their husbands to the Taliban and who made handmade, artisan scarves.
Capts. Joseph Stenger, Jonathan Hudgins, Josh Carroll and Ryan Bodenheimer realized they could empower the women by partnering with them. Eventually, they created a non-profit business called Flying Scarfs to help the women sell their goods to Americans.
"They will create their beautiful products and we will sell it in every doorstep in America and wear these beautiful scarves and the story woven in each of them," Carroll said.
Widowed women in Afghanistan are socially outcast, making it harder for them to earn money. Flying Scarfs' goal is to promote micro-economic development to provide comprehensive networks of stability and, at the same time, help impoverished women and children.
"In order to rebuild these communities, we're going to have to empower people," Carroll said. "And the people who don't typically have access to capital, money and jobs are women."
The company made $40,000 in sales in its first year and that money went back to Afghan women. Each gets $10 per scarf after taxes, customs duties and other logistics-related fees. Currently, 40 Afghan women are making the hand woven scarves.
There were many reasons for the group to help Afghan women sell their scarves in America.
"Scarves are very popular and they're worn everywhere," Carroll said. "They're cost-effective. We wanted something that was lightweight. We wanted it to be a very liberating and empowering symbol of what we can do as a country partnering with Afghanistan," said Carroll.
Nevertheless, the first reaction from Afghan women to the Air Force captains' business proposal was confusion.
"They didn't really understand what we wanted to do," Carroll said. "They said … 'You want to sell our product back in America and you don't want to make any money?"
But the Americans were able to gain their trust.
"At the time, none of us knew much about international business, fair trade, retail or micro loans - but through this endeavor we found our passion," Carroll said.
When they first discussed the idea of Flying Scarfs, they knew they needed start-up money.
"We debated whether or not we needed money from an NGO or loan from the bank," Carroll said. "Finally, we all put our own money, our own savings." They put in $1,00o dollars each to launch Flying Scarfs.
Since its start in Afghanistan, Flying Scarfs has expanded its social entrepreneurship to additional countries, including Haiti and Kenya.
Capt. Josh Carroll joined the Air Force in 2005 as an intelligence officer. His last job was with the 335 th Fighter Squad in North Carolina. He is also a veteran member of IAVA, Iraq and Afghanistan Veterans of America. Please visit the Flying Scarfs website to learn more about their venture.
Carroll's Message for Veterans:
The easiest transition for military members and civilian life is to just go serve. That's the reason all of us joined the military in the first place. We've been equipped with all these skill sets and these leadership schools that we've gone to and to just put that in the past, not do anything with it, not to contribute anything to society is I think a waste of skills and tools. I think as you transition, I would tell any veteran to continue to serve, find some niche. The world needs so many things, so whatever it is that your passionate about find some way to do that.