Iraq War Vet Now Leading on The Gridiron as Jets Coach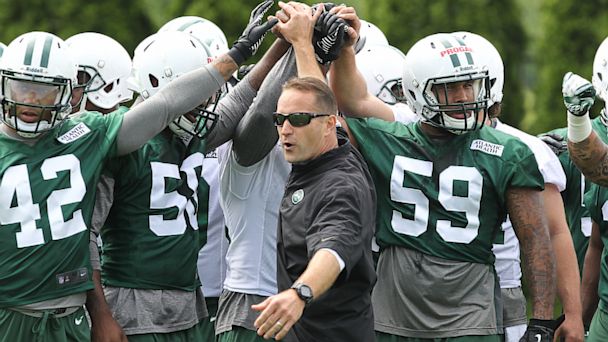 @angelcanales
ABC News' Producer Angel Canales and Editor Arthur Niemynski report:
New York Jets Training Camp, Cortland, N.Y. - Ben Kotwica knows a thing or two about leading warriors into battle, whether it's real combat in Iraq or under the blazing stadium lights of the gridiron.
Kotwica grew up in Chicago as a die hard Bears fan and is now Special Teams Coordinator for the New York Jets. And on his journey to the NFL, he has served his country flying attack helicopters.
Kotwica began his career in football at the age of 9, when he and a group of friends decided to start playing football, something Kotwica said felt natural. "Football is my passion. I was a Bears fan and football has always been a part of me," he said.
He continued to play football, and in 1993, when he was at Andrew High School in Chicago, Kotwica was recruited by Bob Sutton, then head coach of the Army Black Knights.
At West Point, Kotwica led the Black Knights to a 10-2 record and the Commander-in-Chief Trophy in 1996.
"Playing football in the Army was a tremendous experience for me, not only getting the opportunity to play Navy for four years but to play divisional football, get the leadership training that I received, as well as the education that I received," said Kotwica, who was a linebacker and captain for the Black Knights. "I truly enjoyed my time there."
After leaving West Point, Kowtica was commissioned as a second lieutenant in the Army and he was selected to fly the AH-64 Apache Longbow helicopter.
"I went to flight school training for over a year down in Alabama and towards the end of that training I got to pick an aircraft," Kotwica said. He served for eight years, including a tour of duty in Iraq in support of Operation Iraqi Freedom, flying over 1,000 combat hours in support of five brigades within the 1 st Cavalry Division. Other missions included deployments to Bosnia-Herzegovina and officer training in Camp Page in South Korea.
After leaving the military in early 2005, Kotwica wanted to return to football. "I had a decision to make. The military was good to me and I really enjoyed my experience but there was something else that he wanted to do," he said.
Kotwica had the opportunity to become a graduate assistant coach at the U.S. Military Academy Preparatory School in Monmouth, N.J., for a year in 2005, after he got an email from Bobby Ross, who was a head coach for the Black Knights at the time and had an opening at the prep school to do be a defensive coordinator.
"I felt that was an opportunity I couldn't pass," said Kotwica, who has been coaching ever since.
He joined the Jets in 2008 as a Quality Control Coach. Bob Sutton, who was Kotwica's coach at Army and later the Jets defensive coordinator, asked Kotwica if he wanted to join the Jets.
"It was a very good feeling. It was an opportunity that I couldn't pass up. I was excited about the opportunity. I knew about the challenges ahead but it was a humbling experience, " Kotwica said.
His career grew with the Jets and he was promoted this year to Special Teams Coordinator.
"Even when I was in the military, coaching in teaching - that's what you do as a leader and so there are parallels between coaching and being an officer in the Army," Kotwica said.
Kotwica's goal for this season is a simple one - take the Jets all the way to the Superbowl.
Second Tour is an ABC News digital series profiling the lives of military veterans who are doing unique things in the civilian world, including vets who took on an entrepreneurial venture to create a business, grassroots organization or a second career. For more stories visit http://abcnews.go.com/US/Second_Tour/.