Birmingham Church Bombing Victims Honored on 50th Anniversary
Four young girls killed 50 years ago today, whom Martin Luther King Jr. called "martyrs" in the fight for racial equality, were posthumously awarded one of the country's highest civilian honors this week.
The girls, all black members of Birmingham's 16 th Street Baptist Church, were killed in 1963 when a white supremacist planted a bomb in the church on a Sunday morning.
On Tuesday, the girls were awarded the Congressional Gold Medal, a rare honor that requires an act of both houses of Congress.
Addie Mae Collins, 14; Denise McNair, 11; Carole Robertson, 14; and Cynthia Wesley; 14, were killed Sept. 15, 1963, in the attack that struck the packed church on a Sunday morning. Twenty-two others were injured. (Image Credit: AP Photo)
The bomb, composed of dynamite and a timer, was planted beneath the front steps of the church, outside a basement room in which 26 children attended a Sunday school sermon. (Image Credit: AP Photo)
The blast sent a fireball into the air, blowing out a stained-glass window, sending shrapnel into the air and melting metal fixtures. (Image Credit: Birmingham News/AP Photo)
Police and fire officials searched the scene, first looking for bodies and then evidence. But at the time, few black residents of Birmingham, a hotbed of racial tension that had become so dangerous it was called "Bombingham," believed justice would be served. (Image Credit: Birmingham News/Landov)
At a memorial service for the girls, three days after the blast, Martin Luther King Jr., said, "These children - unoffending, innocent, and beautiful - were the victims of one of the most vicious and tragic crimes ever perpetrated against humanity."
Their deaths helped galvanize much of the country against segregation, and toward a trial of the suspects. (Image Credit: AP Photo)
Witnesses reported seeing Robert Chambliss, an avowed white supremacist and member of the Ku Klux Klan. Following a short trial, less than a month after the bombing, Chambliss was found guilty of possessing dynamite and received a $100 fine. He spent six months in jail. (Image Credit: Birmingham Police Dept.)
In 1971, Alabama Attorney General William Baxley reopened the case. Using evidence in a sealed FBI file, prosecutors charged Chambliss with murder. In 1977, he was convicted and sentenced to life in prison, where he died in 1985.
In 2000, the federal government pressed charges against three other men: Herman Cash, Thomas Blanton and Bobby Cherry, all of whom, along with Chambliss, were accused of belonging to a KKK gang called Cahaba Boys.
Cash had died by then, but in 2002, Blanton and Cherry were tried for their roles in the church bombing and found guilty of murder. (Image Credit: Charles Nesbitt/Birmingham News/AP Photo)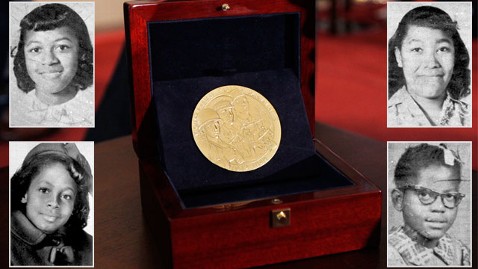 The Congressional Medal of Honor has been bestowed on other heroes of the civil rights movement, including Martin Luther King Jr., Rosa Parks and Jackie Robinson. Each medal is designed and minted specifically for its recipient.
Legislation to create the medal was co-sponsored Rep. Terri Sewell, D-Ala., and Rep. Spencer Bachus, R-Ala. (Image credit: Pablo Martinez Monsivais/AP Photo)