Israeli Embassy Pokes Fun at New Iranian President Online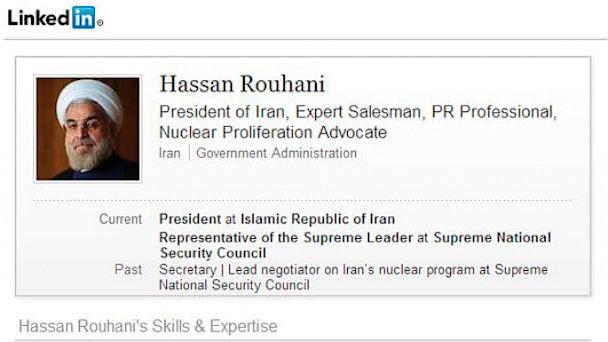 Newly elected Iranian President Hassan Rouhani went on a charm offensive yesterday in New York in an effort to distinguish himself from his firebrand predecessor. But with a little creativity and a lot of snark, Israeli officials made a point of "linking" the moderate cleric with Mahmoud Ahmadinejad and the country's controversial nuclear program.
The Israeli Embassy posted on its official Twitter page on Tuesday a mock LinkedIn account for Rouhani, listing his profession as "President of Iran, Expert Salesman, PR Professional, Nuclear Proliferation Advocate."
"Since my election as president of Iran in 2013, I have developed and executed an unprecedented PR campaign for the government of Iran. Through a series of statements, tweets, op-eds and smiles I have re-branded the human-rights-suppressing, Ayatollah-led regime as moderate and a source of hope among the international community," reads the satirical resume.
Among the new president's skills, the Israelis list "International Sales," "Deceptive Trade Practices," "Nuclear Weapons," "Missiles," "Public Relations," "Illusion" and "Destruction."
Rouhani, who served on Iran's Supreme National Security Council and is a negotiator for the country's nuclear program, is in New York this week to address the United Nations General Assembly.
On Tuesday, President Obama attempted at least a brief meeting, which would have been the first between U.S. and Iranian presidents in over 30 years, but Rouhani declined, citing a lack of time to prepare.
Despite Iran's support of the Bashar al-Assad regime in Syria, which is accused of using chemical weapons on its own people, and its known support of international terror organizations, Rouhani gave a milquetoast address to the U.N. in support of global peace.