Sunny Anderson, from Air Force to Food Network Star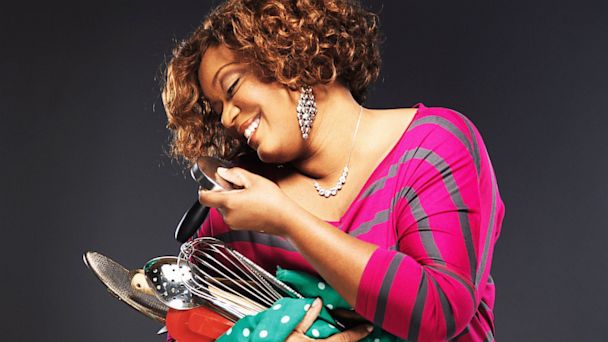 ABC News' Producer Angel Canales and Editor Arthur Niemynski report:
Brooklyn, N.Y., - Growing up and traveling the world as an Army brat, Sunny Anderson always made sure she did the things she loved. One of those things was to cook, and as a young girl she replaced toys with cooking instruments to fix meals in her parents' kitchen.
Her passion for food and her experience with unique flavors paved the way to be part of the Food Network and to have her own shows including, " Cooking for Real" and " Home Made in America ." "I try to catch life when I can and part of catching life is doing the things you love. I love cooking and I love eating," says Anderson.
Long before becoming a Food Network star, Anderson joined the U.S. Air Force in 1993 and worked as a radio broadcaster in Seoul, South Korea and in San Antonio, Texas. "I knew that there were radio stations, television stations, newspapers, and magazines, for the military, by the military, and I wanted to be a part of that," says Anderson. She picked this field out of passion and since she wasn't going to be a "lifer" in the military she focused on a career that she could do on the outside. "My transition from the Air Force started before I even got in the Air Force," she says.
Music is also one of Anderson's passions and her broadcast training and lively energy landed her a job as a radio personality in New York's Hot 97 in 2001. "I love music and to be able to get to Hot 97 in New York was great, and I'm not a New Yorker," she says. It was during her time there that she caught the interest of the Food Network. "Someone from Food Network was a listener and knew that I cooked and that that I yap and talk like crazy, and they thought, well maybe the two together could work. There is some innate skill in talking and chopping at the same time and looking at the camera and telling a story and not forgetting that something is burning on the burner behind you," says Anderson.
Her debut at the Food Network was as a special guest during the "Emeril Live" show. "I was so nervous when I went to Emeril - it's the first time I've ever thrown up from nerves because Emeril is this big thing. I rolled into Food Network and shook everyone's hands and said hey to everybody and went on to chase a dream," she says.
Anderson's first cookbook, " Sunny's Kitchen: Easy Food for Real Life," is now out too. "When I got that dummy book in the mail, you would have thought it was the real deal. I cried, it was almost like pain, from tears - I don't know where those tears came from, they were definitely happy tears," she says. "It feels like I'm paying the little girl back," she says. "This is about the 16-year-old that had a dream, that wanted to do something, and said, is it possible to get it done doing it this way?"
Sunny Anderson's message for military veterans:
"I would say start with a list of what do you love in life. Do it and understand that sometimes in the beginning, there's a whole lot of work, stress and no money. Never be ashamed to walk into a government building and say, I need help because you've done something for Americans that no other person will do, which is voluntarily join to defend your country."
Second Tour is an ABC News digital series profiling the lives of military veterans who are doing unique things in the civilian world, including vets who took on an entrepreneurial venture to create a business, grassroots organization or a second career. For more stories visit http://abcnews.go.com/US/Second_Tour/.