Water, as Precious as Gold: Life in Parched Western Kansas
Large parts of Colorado are recovering from the worst flood in a generation, yet farmers and ranchers in the western half of neighboring Kansas are desperate for moisture. A devastating drought has gripped the area for almost three years. Despite these difficult times and harsh circumstances, the farming communities in the areas hit by the drought are resilient and determined.
Photojournalist Tiffany Hagler-Geard and Dr. Elke Weesjes, research associate at the Colorado State University Center for Disaster and Risk Analysis, traveled to Kearny County in southwestern Kansas to document the impact of the drought.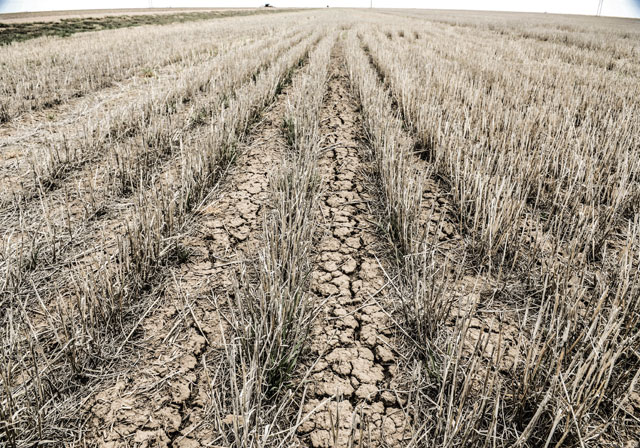 Heat waves and extensive drought have plagued Kearny county in the past three years, leaving the land cracked, bone-dry and unfit for crops.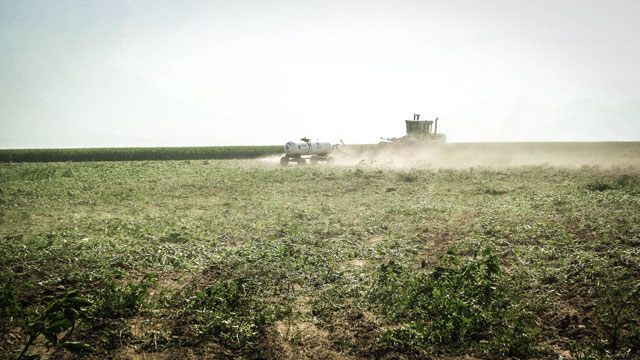 Farmer John Jenkinson II is seen tilling - commonly referred to as "sweeping" - in his field. After a sudden rain fall in August which was too little and too late, weeds sprung up. They will rob the moisture John tries to save for the wheat crop, so he kills the weeds by cutting the roots off under the surface.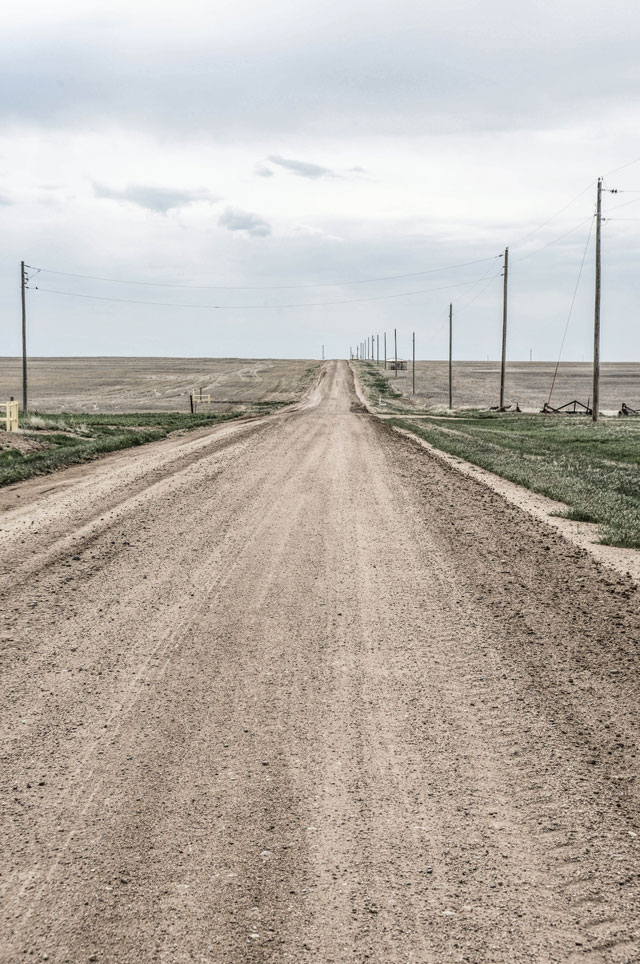 The severity of the drought is particularly visible when driving on the long flat Kansas roads. Bone dry fields and dusty roads spread out as far as the eye can see.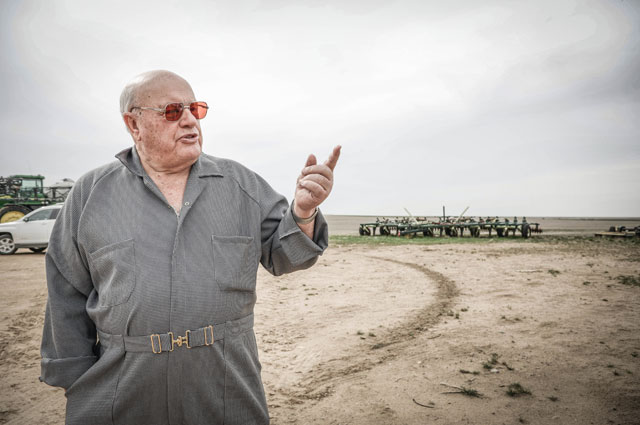 Billy Moore, who was born during the Dirty Thirties, explains the severity of the drought: "If we would still farm like we did back in the 1930s, we would have a second Dust Bowl. There would be dirt piled up as high as this house."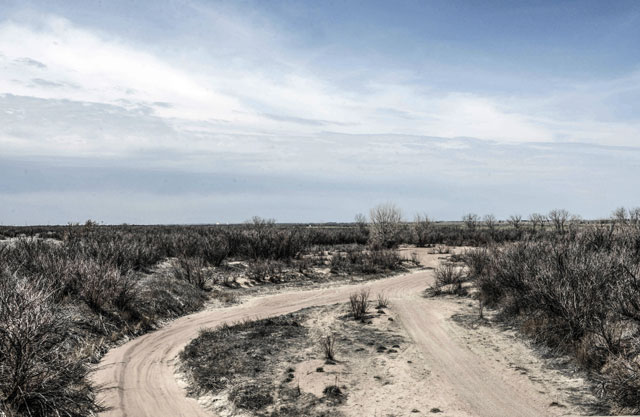 The devastating drought has dried up the Arkansas River. Dry sand stretches for 200 miles, before the river picks up again midway across the state and flows on through Oklahoma and Arkansas into the Mississippi River. The river water is normally used by farmers to irrigate crops and water cattle.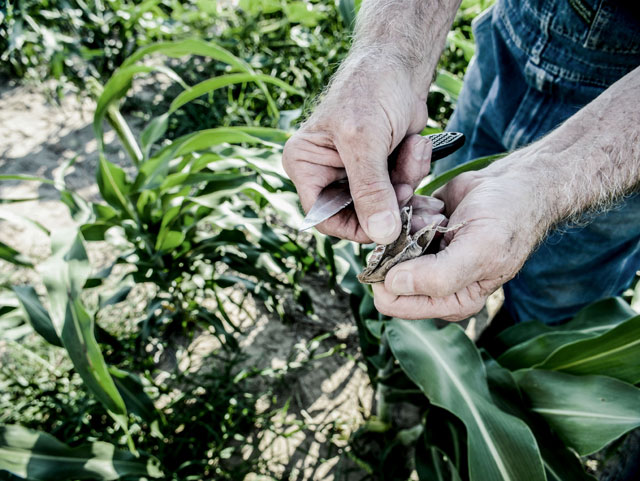 One of the weeds that grow in between the milo is called Devil's Claw. Lakin farmer, Tom Vincent, shows the dried pod which contains ripe seeds with a distinct coconut flavor.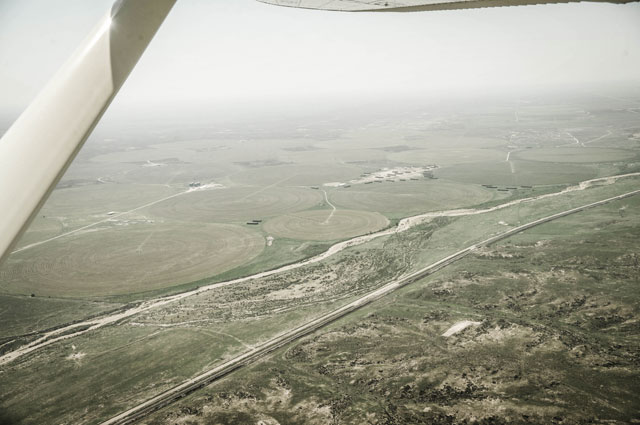 A bird's eye view shows the center-pivot irrigation circles and the banks of the dried-up Arkansas river.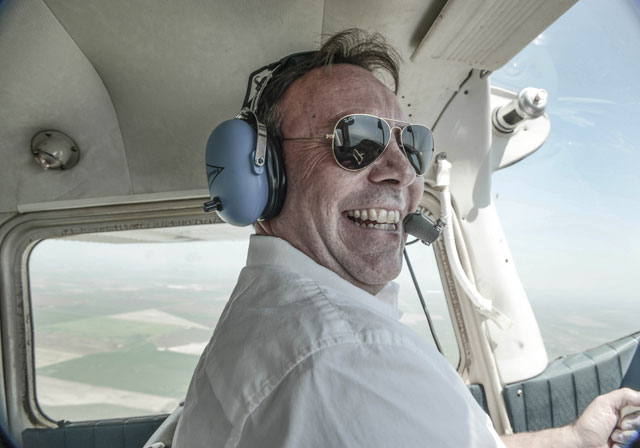 Part-time farmer and local celebrity John Jenkinson III prefers to fly rather than drive the 72 miles from the radio studio in Garden City to his family farm Southeast of Lakin and Garden City. Besides hosting two live farm talk shows for the Ag Network - a network he started in 2008 - and providing 12 farm programs a day for affiliates, he also produces a daily farm television program for a state-wide network.
A well pump close to John Jenkinson's farm. In Kansas alone there are about 39,000 irrigation wells which pump water from the Ogallala, the nation's largest aquifer, which stretches across eight states from Nebraska to Texas. It is a major source of irrigation and domestic consumption. Farmers have withstood the High Planes' frequent droughts and dry spells by pumping water from these wells. Today, the Ogallala aquifer is one of the fastest- declining groundwater reserves in the country.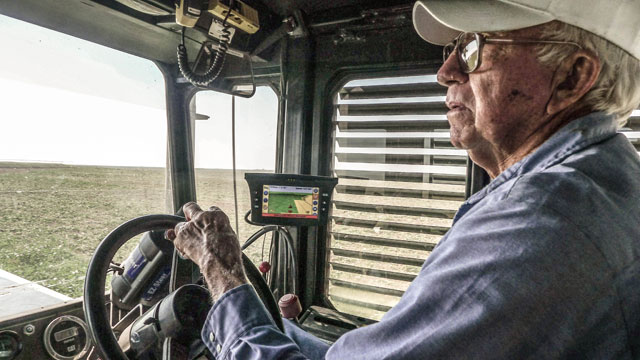 Throughout history, scientific and technological advances have greatly impacted the agriculture industry. Whereas early farmers improved their crop production by inventing the first hoes, today, farmers like John Jenkinson II, 77, improve farming techniques and efficiency through the use of global positioning system.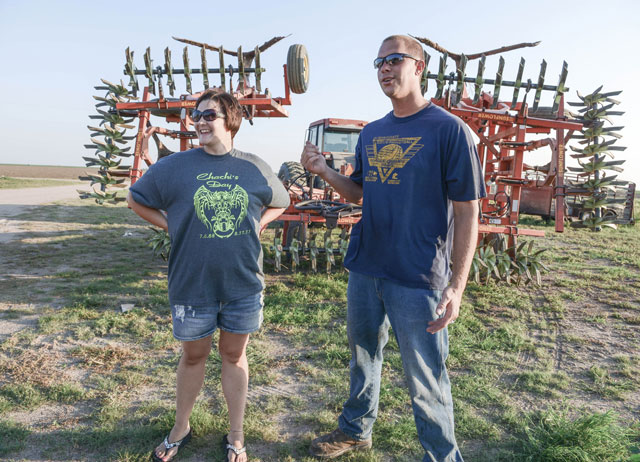 Young farmers Justin and Erin Greer on their farm in Deerfield. Three years ago Justin quit his job at a farming equipment manufacturer to work on the family farm. The farm is not irrigated because the water in the reservoir is too low to reach the farm. So far they have not had one successful crop.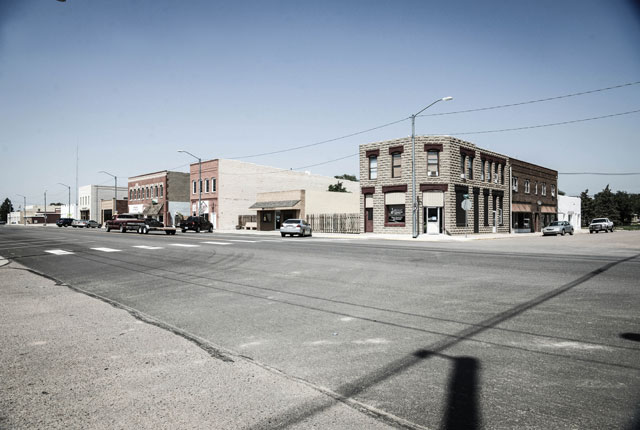 Lakin, Kansas, population 2,260. Amid diminishing employment opportunities, in the past ten years 30 families have left town.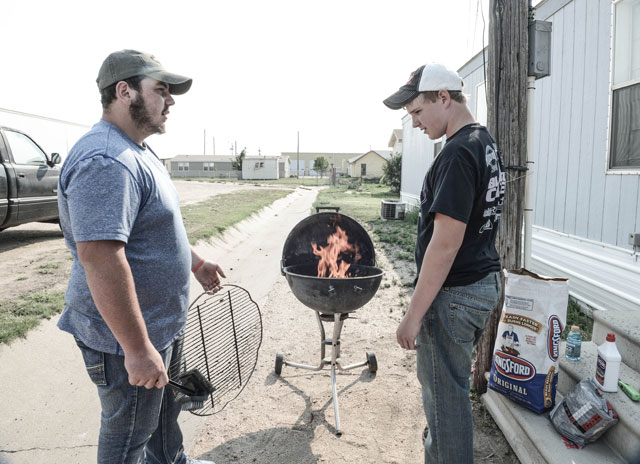 Shae, 19, and Eric are getting ready to grill some steaks. Shae, left, used to go to the river with his dad: "Ten years ago, there was water in the river and the whole area was green and beautiful. Now all we have is sand and dead trees. It is not for nothing that people around here say: water is more precious than gold."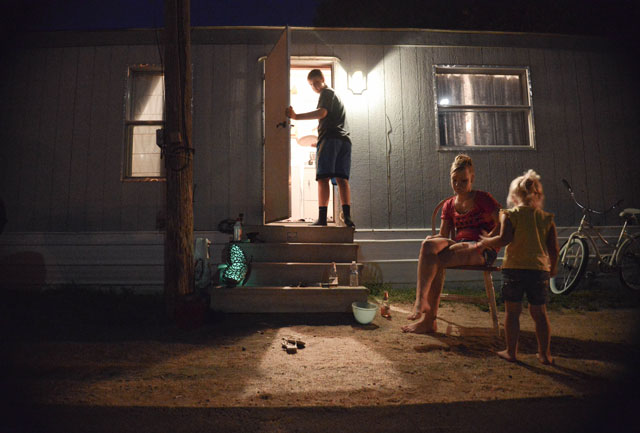 Eric Jury, 15, heads inside his home in Lakin, where he has lived his entire life. Janessa, 20, who is originally from Garden City, lives with her daughter Brekalyn, 3, in Deerfield. She works at the local Subway. Whereas many children after finishing high school used to leave their community, today an increasing number of young people stay in their county, or return after finishing college.
Together with their friends and under tight supervision of their mother, Kelsey 16, Iesha, 18, and Eric Jury, 15, like to come out to this spot on the banks of the dried up Arkansas river to practice target shooting.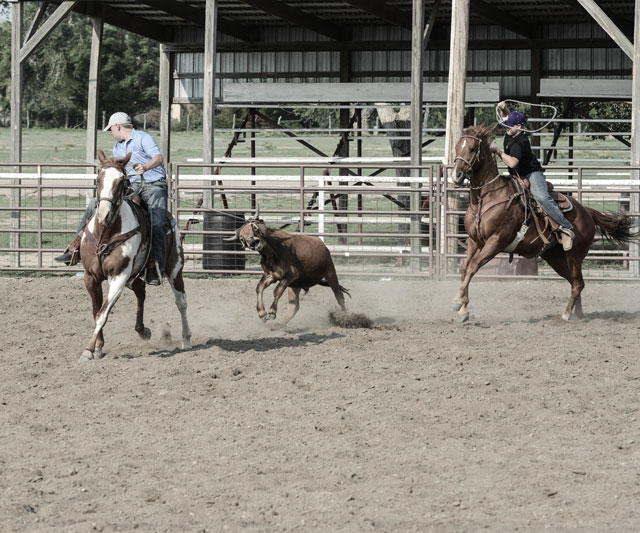 During team roping practice for the little britches rodeo in Lakin, two cowboys, work together in an effort to stop a speeding calf in the shortest time possible. The header, Garrison Panzer, left, leads the team and ropes the head of the calf while his little brother, Hadley, the heeler, follows to rope the back legs. Kim Panzer, their proud mother explains how the drought has affected them: "We used to grow food for the horses ourselves, but because of the drought we haven't been able to so for quite some time. Buying horse feed is incredibly expensive."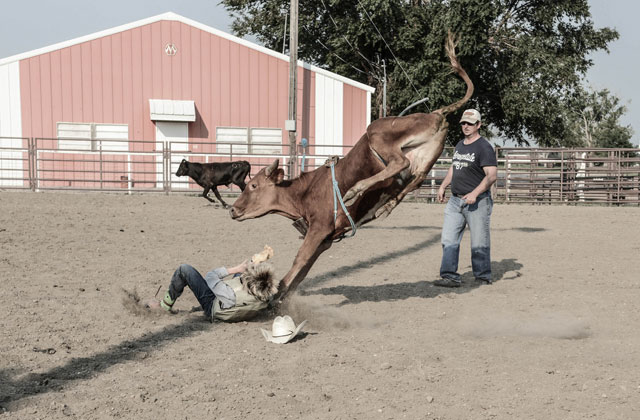 Braden, 9, decides to try out calf riding for the first time at the Lakin Rodeo Arena. Calf riding is an event for kids ages 4 to 10, which involves the same practicing as bull riding for men.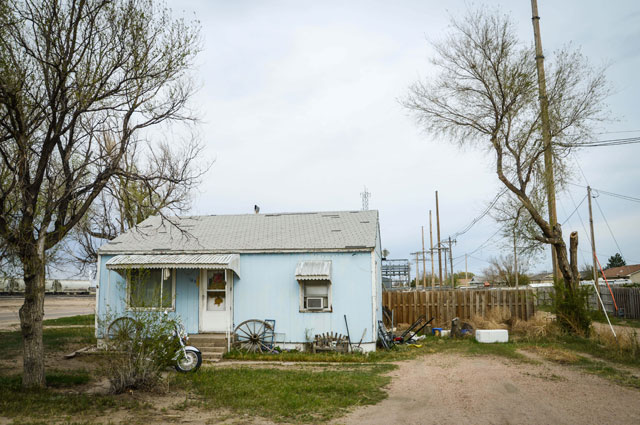 A quaint house, typical of the area, located off the main downtown area of Lakin.
Besides farming, Justin Greer and his father work for an oil company checking gauges to register how much oil is being pumped daily. They check 79 gauges each day. This income and crop insurance money is keeping the farm afloat.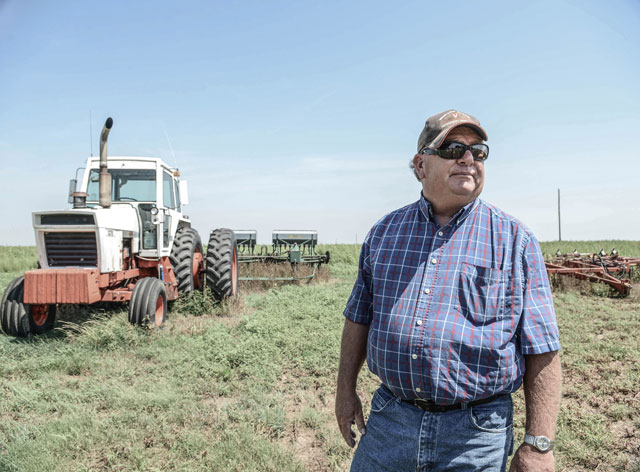 The livestock sector is hit especially hard during times of drought. Greg Williams, a livestock farmer who doesn't have insurance, was forced to sell 120 of his 150 Black Angus cows because of the drought and the lack of feed. When there is little or no grass available, farmers end up feeding their cattle hay intended as winter feed, in the summer or purchasing costly hay from outside the drought-stricken area.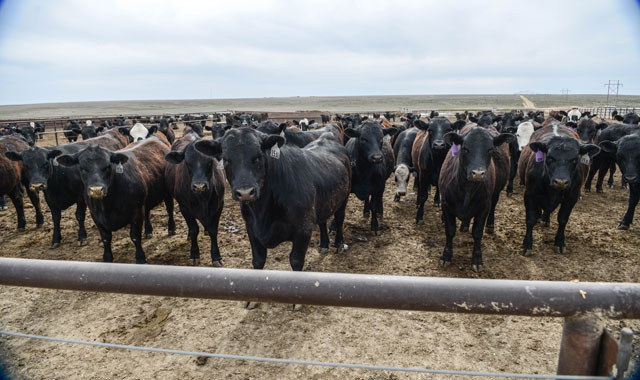 The drought has moved up the food chain and many feedlots, like this one in Lakin, feel its impact. Since ranchers were unable to feed their cattle on parched grass or obtain affordable corn, they were forced to reduce or even liquidate their herds. This resulted in a decrease of the number of cattle sold to feedlots and the number sold for slaughter. Consequently some feedlots closed down and moved north where there has been more rain.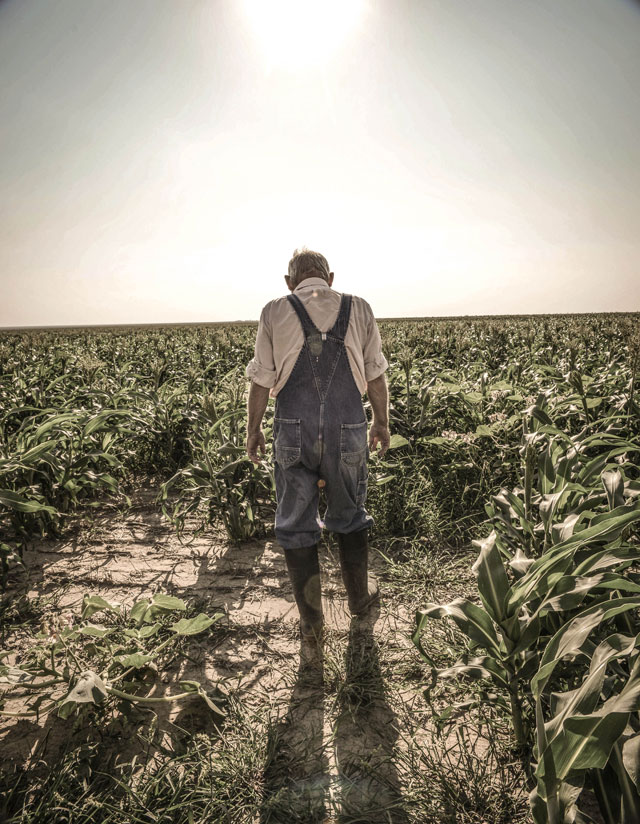 Tom Vincent in his milo field. Milo - used for cattle feed and the production of ethanol - doesn't need much attention and takes less moisture than corn and soy beans, making it a perfect crop for weekend farmers like Tom who live in dry areas prone to drought. The sudden rainfall, albeit not enough to break the drought in many parts of Western Kansas, has boosted the farming community's attitude. Remaining positive, farmers like Billy Moore, Tom Vincent and Justin Greer continue to look skyward and hope for a better and wetter year in 2014.
Photos by Tiffany Hagler-Geard / Text by Dr. Elke Weesjes
See more featured photography curated by ABC News' photo editors, and Picture This, the ABC News photography blog.