Wounded Marine Vet Helps Other Vets Through Equine Therapy
ABC News' Producer Angel Canales and Editor Arthur Niemynski report:
KISSIMMEE, Fla.-Former Marine Corps Lance Cpl. Lyndon Ortiz always wanted to be a Marine. He wanted it so much that at age 17, he enlisted in the Marine Corps as a motorman.
"Joining the Marines was the highlight of my life and it was my childhood dream since I was 12 years old,' says Ortiz. However, Ortiz's dream to be a Marine was soon cut short.
At age 18, Ortiz was deployed overseas to the 3rd Battalion, 8th Marines 2nd Marine Division in support of Operation Iraqi Freedom. Part of his job was to conduct daily security foot and vehicle patrols.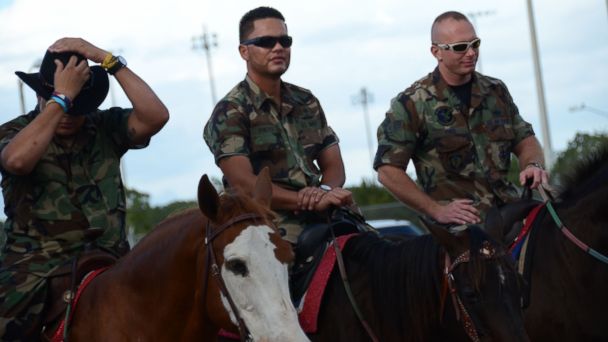 Six months later on July 17, 2005, he was part of a Quick Reaction Force sent to rescue Marines who had been hit by IEDs. "We were sent to help them out and on the way there, we were hit by an IED," says Ortiz. The Improvised Explosive Device contained 155mm artillery rounds and propane gas tanks. "I flew out of the vehicle and lost consciousness. I don't remember much of that day," says Ortiz. Two other Marines were injured with the explosion.
Ortiz was quickly evacuated and ended up at Camp Lejeune, N.C., for rehabilitation, which was slow for him. He had reconstructive surgery on his left shoulder, suffered hearing loss and Traumatic Brain Injury. "It took me a long time to figure out what was wrong with me as far as PTSD. I didn't know what that was," says Ortiz.
According to a 2008 RAND study, nearly 20 percent of Iraq and Afghanistan veterans screen positive for Post Traumatic Stress Disorder or depression. Ortiz was medically discharged from the Marines in 2006.
Ortiz participated in PTSD therapy in Miami and that helped him understand what he was going through. That was the start of Ortiz's recovery. He was part of the Mission Continues Fellowship Program to empower veterans to find new purpose and direction by serving others and directly impacting their communities.
He also decided to volunteer for a group called Heavenly Hoofs, which provides equine-assisted therapy to veterans and individuals with disabilities. It also serves as a research and educational center for the equine-assisted therapeutic industry.
Within weeks of Ortiz joining Heavenly Hooves as a volunteer, he had recruited eight veterans to participate in the first Heroes and Horses class. "The staff told me that they wanted to start a veterans program and I started recruiting my friends," says Ortiz.
The University of Central Florida College of Medicine and the McCormick Research Institute are working with Heavenly Hooves to provide therapy to local veterans. The medical school is working with these veterans to see what mental and physical improvements they have achieved.
Recruiting his friends wasn't an easy task. "Nobody wanted to commit. So I was pushing and pushing. Some of them were afraid of horses-they didn't know how to ride them, but slowly, just by one doing it, the others started to do it," says Ortiz.
For Heavenly Hoofs CEO Thomasa Sanchez, Ortiz has been instrumental in the transition and rehabilitation of his fellow veterans. "Veterans have a history of wanting to be on their couch and not getting out because it is difficult when they come back to civilian life. Lyndon has been instrumental in that because he came to Heavenly Hoofs to volunteer and try to get connected and he encouraged his fellow veterans to come and find the medicine that's not in a pill and participate in our veterans program," says Sanchez.
"I've seen hope in some of the guys. Some of them were stuck at home not doing anything just stuck in those four walls and now they look forward for Tuesdays when they're riding horses," says Ortiz.
One of those friends is U.S. Army veteran Lito Sanchez, who lost his left leg in combat. "It feels great. I never ridden a horses all that much before my injury to ride a horse. I'm having tons of fun," says Sanchez.
For U.S. Navy Veteran Clifford Bruton, the benefits have been instrumental in his recovery. "It gave me purpose. It gave me something to do-something to look forward to," says Bruton.
"We need to find every outlet, every avenue possible. Equine therapy might not work for everyone but I see it work for the guys that we have here. If it helps to get a veterans back on track, why not?," says Ortiz.
This program has given Ortiz purpose. "It got me back on track. It gave me hope again. I got back in school. I found my calling which is to help other veterans."
Ortiz wants to continue his work as a social worker because he wants to make sure that veterans get the help they deserve. "When I got injured, there was no bridge for me to find any of the resources that are out there. I would like to be that bridge for other veterans so they don't get stuck in that dark cloud I like I did for six years."
Ortiz serves as a mentor for new veterans entering the program. Horses and Heroes includes a drill team of veterans on horseback. Ortiz is the team leader and they have performed at the Silver Spurs Rodeo and most recently at the annual conference for Professional Association of Therapeutic Horsemanship International.
Second Tour is an ABC News digital series profiling the lives of military veterans who are doing unique things in the civilian world, including vets who took on an entrepreneurial venture to create a business, grassroots organization or a second career. For more stories visit http://abcnews.go.com/US/Second_Tour/.