Sochi-Bound Marine Vet Strives for Gold in Paralympics
ABC News' Angel Canales and Editor Arthur Niemynski report:
Midway, UTAH - Growing up in warm Guadalajara, Mexico, winter cross country skies were not part of any sport for Omar Bermejo. It wasn't until his family immigrated to Grand Rapids, Mich., that he was introduced to snow and winter sports. "We moved when I was pretty young. I was just about to start high school," says Bermejo, 31. He loved the snow very much and became a recreational snowboarder. "Being in Michigan you grow up in the snow and I liked that kind of stuff," he says.
When Bermejo finished high school, he decided to join the Marines in 2000. "We (his family) had been here for three years by the time I enlisted. We didn't speak English. We didn't know so much about the American culture. When it came time for me to pick a college and move on with my life as an adult I tried to be realistic and avoid putting my family in financial hardship. Joining the military at the moment was something I thought would help me get to that next step and I'm glad I did it," says Bermejo.
During his nine years in the U.S. Marine Corps and four deployments in Iraq, Bermejo held several jobs until he picked an aircraft maintenance job, where he was stationed in San Diego. "I knew that the Marine Corps was the toughest branch in the military and I was completely sold," says Bermejo. But his growing career in the military was cut short after one rainy night. After his return from his fourth deployment in Iraq, Bermejo treated himself and bought a motorcycle he says didn't have the knowledge or skills to ride. "One rainy night I remember, I lost control and I got into an accident where I lost my arm. I will never forget it. It defines me because I was a pretty good Marine and I was making a career and all that came to a screeching halt. I know I have to live with that," says Bermejo.
After the accident in June 2008, Bermejo says he was trying to live with who he was going to be-what he called the new Omar. "The first year was tough. I was dealing with everyone that knew me as Omar and now knew me as the new Omar. That was pretty tough to come to grips with. The second year was easier, I was like okay, now that I know who I am and can do, I need to move on," says Bermejo. Just four months after losing his arm, he was introduced to skiing. "I've always been an avid runner and like to be an athlete for all sports. I was completely sold, especially the biathlon race where I get to shoot a gun something I used to do before in the military," says Bermejo.
Bermejo started skiing as part of his physical therapy. In the beginning he didn't know much about the sport but the moment he stepped into those tracks and took his first ski steps he says he said, "Oh, I'm going to like this."
The longest race he's done since was a 20k biathlon individual race. "There's several cross country skiing races that have been tougher but any race that lasts more than two hours I love. You have to find it within yourself and be reminded of who you are and what drives you in order to finish this type of race," says Bermejo.
Bermejo's hard work for the past two years has paid off and he's now going to the 2014 Paralympic Games in Sochi as part of Team USA Paralympic Nordic skiers in biathlon, a combination of cross country skiing and marksmanship. He and another 11 men and four women and two guides for visually impaired athletes made it on the roster. "Everything that I've done up to this point, all my training every single second that I've put on to this has paid off. If I can put all that effort together and win one race and get the gold that would be one of the happiest days of my life and I would feel very whole," says Bermejo. The Nordic skiing competition is scheduled from March 8-16 including both biathlon and cross-country skiing.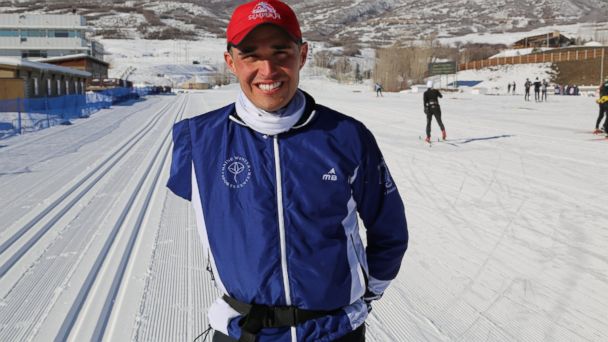 Second Tour is an ABC News digital series profiling the lives of military veterans who are doing unique things in the civilian world. For more stories, click here.