Blind Army Vet and Athlete Conquering Goals to Inspire
Park City, UT. - Steve Baskis always wanted to follow his dream to follow in his father and grandfather's footsteps to serve in the U.S. Army, but just a few months after his first deployment, the 28-year-old was permanently blinded by an I.E.D. while serving in Iraq.
"It was hard in the beginning. I sat in the hospital bed the first week with a flashlight and kept shining it into my eyes because I was hoping to see light. It was tough. I gave my mom and dad a lot of grief but I was upset you know, frustrated and sad," Baskis said.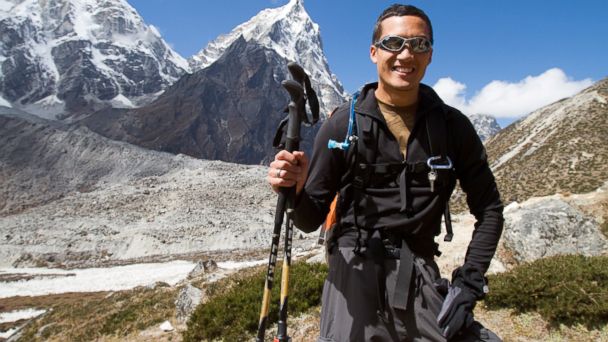 U.S. Army veteran Steve Baskis en route to Lobuche Camp in the Nepal Himalayas in 2010. (Didrik Johnck/JohnckMedia)
Baskis joined the Army in January 2007 and served as an infantryman. He was part of a security detachment when his vehicle was hit by an I.E.D. on May 13, 2008.
"I was in the lead vehicle and we had just traveled to an area north of Baghdad to drop off our general officer. When we were on our way back our vehicle was hit by an I.E.D. The blast came through the passenger door and I was hit with strap metal in my face, neck, arm and legs and I lost my vision fairly instantaneously and was knocked unconscious briefly," Baskis recalled.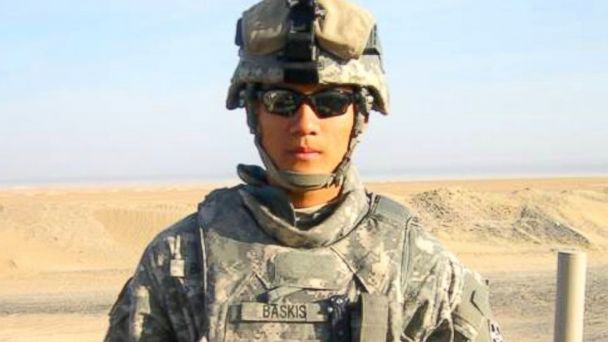 PFC Steve Baskis, Kuwait, 2007. (Steve Baskis)
Baskis grew up in a family with a deep legacy of military service, including his father and grandfather, and he said he was fascinated about the places he visited during his service in the Army.
"My grandfather motivated me. I was fascinated with what that generation did overseas during World War II," Baskis said.
After Baskis was wounded, he continued his rehabilitation at the Edward Hines Jr. VA Hospital. He was medically discharged in 2010.
"I woke up half a world away from the battlefield in a hospital bed with patches on my eyes and tubes coming out of my neck, arms and legs and my family by my side," he said. "I thought about my pursuit of joining the military and where I wanted to go in life and I didn't want to give up on things."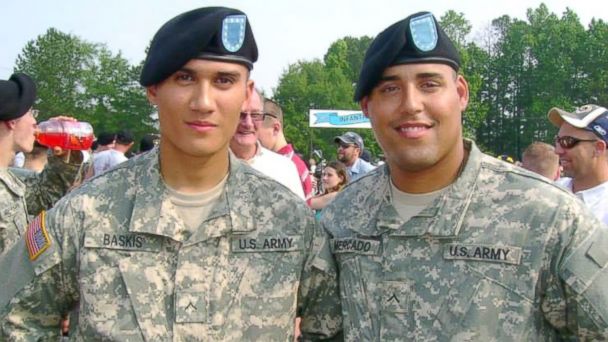 PFC Steve Baskis and PFC Mercado, after basic training in Fort Benning, GA, 2007. Steve Baskis
Baskis said he had a supportive network of people who rallied and helped him focus on the things he needed to pursue to overcome blindness. "I need it to recover and learn how to live life again," he said.
Growing up, Baskis competed in different sports. He was athletic but he never really pursued a sport the way he has since his injury and this was a way for him to get back on track, he said.
He now does marathons, triathlons, biathlons and even mountaineering at high elevations. "Not being able to see, being blind, everything looks the same. However the experience everywhere you go is different because of the people, the culture, and the language," Baskis said.
One of the sports that Baskis really enjoys is Nordic Skiing. "I was first introduced to the sport in Frisco, Colo., at the Frisco Nordic Center and I got a taste of what Nordic skiing biathlon was," he said.
Biathlon is a sport that combines cross country skiing and shooting. For the skiing portion, Baskis follows a ski guide who wears a speaker system and speaks into a microphone allowing him to follow the individual's voice for direction. For shooting, he uses a special laser rifle with sound to guide him to the target.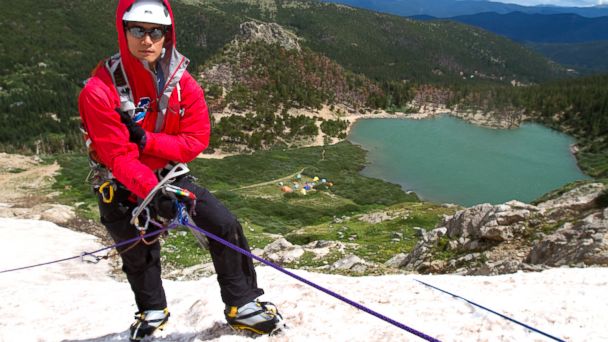 U.S. Army veteran Steve Baskis on St. Mary's Glacier in Colorado. (Didrik Johnck/JohnckMedia)
Another sport, one that Baskis is very passionate about, is hiking. With the help of guides, he has climbed mountains all over the world, including the 20,000 foot Mount Lobuche in the Himalayas, Russian Caucasus, Mount Kilimanjaro in Tanzania and Mount Evans at 14,000 feet in Colorado .
"Climbing is a big passion of mine. You can travel to these far places in the world and experience another part of the country," Baskis said.
Baskis said he is motivated to challenge himself to show others what they can accomplish regardless of their disability. He launched the Blind Endeavors website to share his story and adventures with friends, family and the world.
"I want to spread awareness through exploration and adventure. Make people aware of what someone like me with a disability, or someone who is paralyzed or has another problem, what they're capable of doing if they have the right support network," Baskis said.
He wants to make sure that others are aware of the accessible technology and medical advances and adaptive recreation available for people with physical and mental challenges.
Baskis' advice to fellow veterans who have been also suffered life-changing injuries is to look "inside of yourself and what you've been through. … Use all of that to propel you forward and not dwell on the past and to look forward."
Second Tour is an ABC News digital series profiling the lives of military veterans who are doing unique things in the civilian world. For more stories, click here.
ABC News video editor Arthur Niemynski contributed to this report.