Here's a List of 58 Gender Options for Facebook Users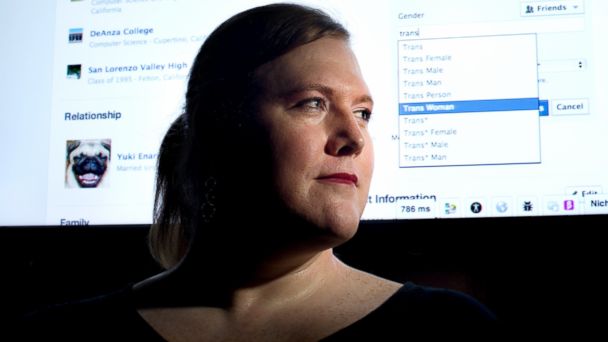 Facebook introduced dozens of options for users to identify their gender today - and although the social media giant said it would not be releasing a comprehensive list, ABC News has found at least 58 so far.
Previously, users had to identify themselves as male or female. They were also given the option of not answering or keeping their gender private.
User's can now select a "custom" gender option.
"There's going to be a lot of people for whom this is going to mean nothing, but for the few it does impact, it means the world," Facebook software engineer Brielle Harrison told the Associated Press. Harrison, who worked on the project, is in the process of gender transition, from male to female.
Facebook will also allow users to select between three pronouns: "him," "her" or "their."
The following are the 58 gender options identified by ABC News:
Agender
Androgyne
Androgynous
Bigender
Cis
Cisgender
Cis Female
Cis Male
Cis Man
Cis Woman
Cisgender Female
Cisgender Male
Cisgender Man
Cisgender Woman
Female to Male
FTM
Gender Fluid
Gender Nonconforming
Gender Questioning
Gender Variant
Genderqueer
Intersex
Male to Female
MTF
Neither
Neutrois
Non-binary
Other
Pangender
Trans
Trans*
Trans Female
Trans* Female
Trans Male
Trans* Male
Trans Man
Trans* Man
Trans Person
Trans* Person
Trans Woman
Trans* Woman
Transfeminine
Transgender
Transgender Female
Transgender Male
Transgender Man
Transgender Person
Transgender Woman
Transmasculine
Transsexual
Transsexual Female
Transsexual Male
Transsexual Man
Transsexual Person
Transsexual Woman
Two-Spirit