Activist, Fire-Eater Jailed in NJ For Topless Sunbathing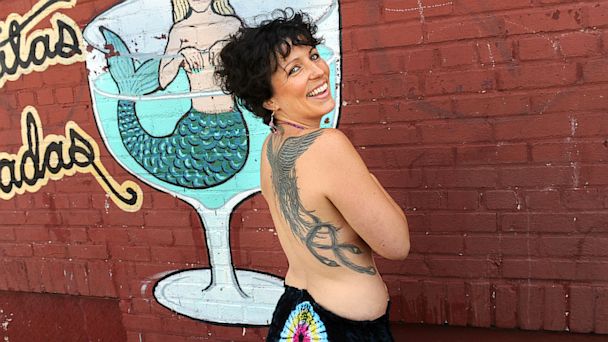 Phoenix Feeley, an activist and fire-eating performer, is on a hunger strike at a county jail for refusing to pay an $861 fine for sunbathing topless on a Spring Lake, N.J., beach.
"I refuse to pay a fine for an act that is legal for a man but is illegal for a woman," Feeley, 33, told Spring Lake Municipal Court Judge George Pappas via teleconference from the Monmouth County Correctional Institution on Thursday.
Feeley, a New York City artist, whose real name is Jill Coccaro, was arrested twice in June 2008 for violating a town ordinance that bans public nudity. Her case wound its way through the courts until ultimately the New Jersey State Supreme Court refused to hear it. Just before entering jail on Monday, Feeley filed a direct appeal to the U.S. Supreme Court.
The quaint seaside town of Spring Lake sits only 24 miles south of a nudist's paradise - Gunnison Beach, in Sandy Hook, N.J.
Feeley's website describes her "fiery fierceness that involve master techniques and wild antics that includes most every prop known to the art including fire eating, breathing and crowd pleasing participation."
The artist says she is "the only female on the planet to catch a knife thrown by professional knife thrower The Great Throwdini on a full turn."
Feeley insisted at a teleconference staged from the county jail in Freehold that going topless was not the same as nude sunbathing and argued that women should have the same rights as men to shed their shirts in public.
When the judge sentenced the hot-headed protester, she snapped back, "You just filed a death sentence against me."
Feeley is now in the jail's infirmary after refusing food for four days, according to Nadine Gary, president of GoTopless, a national women's organization that is supporting the activist. "Her health is not well. The hunger strike is taking its toll."
Feeley has complained about "inhumane" food that was "worse than McDonald's." She said she had only been allowed two cups of water a day, some of it with dirt in it. She also alleged mistreatment by guards.
"None of that is true," said Cynthia Scott, spokesman for the Monmouth County Sheriff's Office. "She absolutely has not been mistreated. "
Scott confirmed to ABCNews.com that Feeley was on a hunger strike and has been "under constant watch" at the 1,300-bed facility.
"The correctional and medical staff continue to take the necessary steps to ensure the inmate's health, safety and well-being, as they do with all inmates, and, will continue to do so for as long as she remains at the correctional facility," she said in a prepared statement. "The medical staff continues to take all necessary steps to ensure her health and safety, just as we do with all our inmates."
Pappas described the police charges against Feeley, who walked on the town's Salem Avenue Beach without a top. Later, she went shirtless down Washington Avenue and onto Third Avenue, gathering a crowd of about 25 to 30 people.
According to her supporters, the group GoTopless, Feeley won a lawsuit in 2007 when she was falsely arrested in a similar incident in New York City. Since 1992, it has been legal for women to appear in public topless in New York State.
Patty White, a deputy administrator at the Spring Lake Municipal Court, said that the fine against Feeley had been "vacated" because she decided to serve jail time.
"We had her on video conference yesterday with the jail and the judge sentenced her to 16 days with a credit of four days, which means a total of 12 days in jail," said White.
White agreed the case of jailing a topless sunbather was "unusual" - perhaps the first in Spring Lake. But opting for jail time is not.
"A lot of people choose not to pay a fine and do jail time in lieu of that," she said. "It could be for any kind of violation - a noise violation or more serious charges. It happens quite often."
Gary said GoTopless will stage a protest at the Monmouth County Jail on Saturday to fight "the discriminatory topless laws in New Jersey." The group has also planned other protest on Aug. 25, which is Go Topless Day.
The group argues that the laws violate the Equal Protection Clause of the 14th Amendment.
"Since New Jersey men are allowed to go topless in public, then, constitutionally, so must women; or else … men must be also forced to wear something to hide their chests," said Gary.