'Heaven Is Here': Utah Mom Disfigured in Plane Crash Releases Book
The Utah woman whose face and body were forever changed by a harrowing accident has written a book about how she beat the odds to return to her life as a loving mother and wife.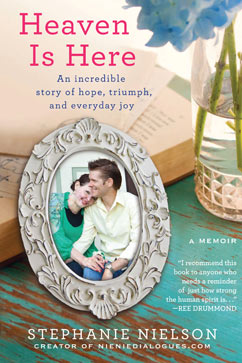 In "Heaven Is Here: An Incredible Story of Hope, Triumph, and Everyday Joy," Stephanie Nielson recounts the aftermath of the Aug. 2008 small plane crash that killed its pilot and badly injured Nielson and her husband Christian. The accident left Stephanie Nielson burned on more than 80 percent of her body and she had to be put into a medically-induced coma for months as doctors worked to save her life.
Nielson was profiled by "20/20? last year, sharing how her disfiguring injuries changed not only her appearance, but her relationships with her four children. At first, the children were afraid to look at their mother.
"I felt guilty that I didn't look like the mother that I was," she said. "I thought it would be easier if everyone just sort of forgot about me."
Watch "20/20's" interview with Stephanie Nielson here.
Nielson, who is now pregnant with her fifth child, reclaimed the life she loved by drawing strength from her faith, family and an outpouring of support from readers who followed her blog, The Nie Nie Dialogues, which since 2005 chronicled her life as a married mom and a Mormon.
"I would get to be a mother to my children. I would smell flowers, eat my favorite foods and kiss my husband. I would do yoga again one day, and make dinner, and wake up in the morning with gratitude, peace like I used to have and without so much pain," Nielson said in a video promoting the book. "Life would look different, but it would be amazing so I wrote this book so it could hopefully inspire people."
PHOTOS: Stephanie Nielson and her family
"Heaven Is Here" will be published by Hyperion's Voice Books on April 3, 2012. Hyperion is owned by The Walt Disney Co., the parent company of ABC News.