Historic Lighthouse for Sale!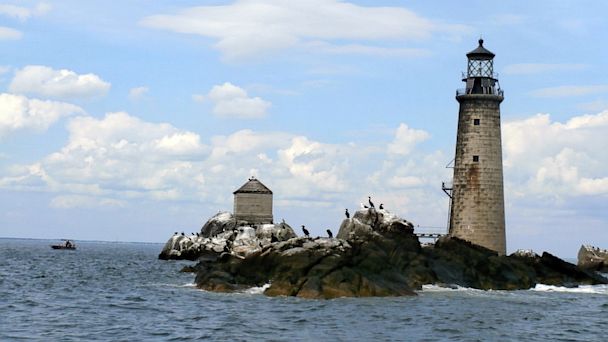 Want to buy a lighthouse? You've got about five more days.
The U.S. government is auctioning off Graves Island Light Station, the tallest lighthouse in Boston Harbor, according to the National Park Service. The highest bid is $111,000.
"The property includes the approximately 10 acres of ledge know as Graves Island, the conical lighthouse structure, the attached dock and the oil house," according to the General Services Administration, which is handling the auction.
The 110-year-old tower stands at 113-feet high and the interior includes storage space, an engine room, kitchen and several bedrooms.
The "structure is no longer of use to the Coast Guard" because of other technology that's now available, GSA's Patrick Sclafani said.
But the government will maintain some authority over the site even after the sale. The sale's terms dictate that "the United States shall have the right to enter the Property at any time for the purpose of maintaining the navigational aids" and "the right to utilize the fog signal horn at any time and in any manner it deems necessary."
GSA Regional Administrator Robert Zarnetske says the lighthouse's sale will benefit its new owner and the public.
"The light facilitated commerce and kept generations of mariners safe," he said. "Going forward, in partnership with a private owner, the light will continue to serve as an active aide to navigation without taxpayer expense."
Graves Island Light Station is listed in the National Registrar of Historic Places. The National Historic Lighthouse Preservation Act required GSA to first offer the lighthouse at no cost to non-profit and educational groups, but Sclafani says a lack of successful applicants led the government to sell the property.
Bidding began June 11 with an offer of $25,000.
Interested parties had the opportunity to inspect the lighthouse, along with GSA and the Coast Guard, two days ago. The two highest bids were made after that inspection. There have been five bids in total.
The auction is set to close Aug. 6.
Similar lighthouses have normally sold for $25,000 to $381,000, according to the GSA. Sclafani says the bid of $111,000 is a "typical price."
He also says the GSA gives away or sells six to 12 lighthouses every year.