National Mojito Day: Summer Cocktail Recipes to Celebrate
National Mojito Day is July 11. We don't know how these holidays are devised, but who needs an excuse to drink a refreshing cocktail in the summertime.
Mojitos, a traditional Cuban cocktail made with rum, muddled mint, sugar, lime and soda water or tonic, are the perfect drinks to cool down with on a hot summer day.
From mojitos with a pomegranate twist to low-calorie versions from Skinnygirl Cocktails, these varieties will kick off your celebration today and all summer long. If you're throwing a backyard barbecue or an evening cocktail party, stir up any one of these recipes for your guests. Cheers!
1. The Skinnygirl Mojito
Ingredients
5 parts Skinnygirl Mojito
6 fresh mint leaves
lime wedge for garnish
Preparation
Pour Skinnygirl Mojito over ice in a tall glass. Stir in mint leaves for a splash of color. Garnish with fresh mint leaves and a lime wedge. No muddling required. Enjoy!
2. Pomegranate Mojito Ingredients
1/4 cup pomegranate juice (we like to use Pom Wonderful)
2 ounces Bacardi Superior rum (can sub any light rum)
1 1/2 tablespoons sugar (or simple syrup)
4 ounces club soda
cracked ice (or cubed)
6 sprigs fresh mint
Preparation
In a cocktail shaker, combine all ingredients except the mint and shake well. Mull the mint in the bottom of a cocktail glass. Strain the pomegranate mixture into the glass with the mulled mint, stir well and serve.
This recipe from the "GMA" archive is courtesy of Icon Restaurant at the W Hotel - The Court.
3. Skinnygirl Cocktails' Va-Va-Voomojito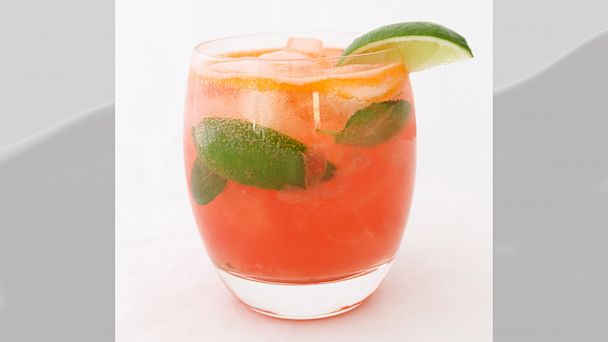 Credit: Skinnygirl Cocktails
Ingredients
1.5 parts Skinnygirl Cucumber Vodka
3 parts soda water
sprig of fresh mint
1 cup of watermelon, cubed
1 lime wedge
½ teaspoon agave nectar
lime wedge for garnish
Preparation
Squeeze lime wedge into glass, muddle fruit with mint leaves and vodka. Add ice, agave nectar and top with soda water. Garnish with a lime wedge and enjoy!
4. Armani Mojito This recipe, courtesy of New York City's Armani Ristorante, trades rum for vodka for a twist on the classic mojito.
Ingredients
2 ounces vodka
1-2 strawberries
5 basil leaves
simple syrup (a dash)
soda (optional)
Preparation
Muddle strawberries and basil. Then, shake together with vodka, simple syrup and ice. Strain into rocks glass. Top with soda, as needed.
5. Coconut and Chili Mojito
The addition of red chili pepper kicks up the standard mojito. Recipe courtesy of the La Plage restaurant at the Tom Beach Hotel in St Barth.
Ingredients
1.5 oz Havana Rum (3 year aged)
.5 oz or dash of Malibu coconut rum
3 lime slices
6 fresh mint leaves, ripped/broken apart
1 oz coconut cream milk (Coco Lopez brand or other)
1 teaspoon brown sugar
2 thin slices red chili pepper
Preparation
Muddle mint leaves and and chili pepper in a glass. Place ice in the glass (tumbler) and incorporate the rums, coconut cream milk, and brown sugar. Squeeze the juice of the three lime slices into the drink. Use a spoon to mix all ingredients. Top with a splash of sparkling water (Perrier) or club soda. Garnish with a mint sprig and chili pepper slice.