TSA: These Heels Won't Fly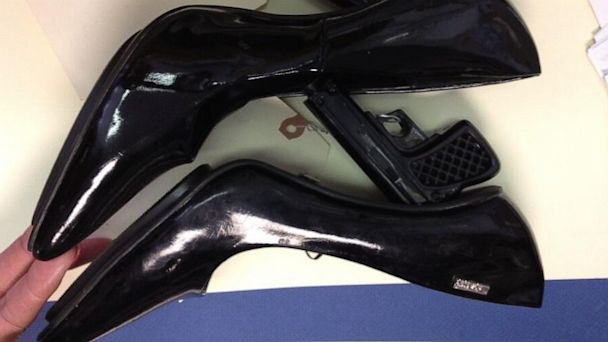 Can you spot why these heels won't fly?
The high heels appear to not be shoes at all but, rather, poorly disguised guns. Which, of course, do not belong on a plane.
But these heels aren't harmful, except maybe to the feet of the person wearing them. They're actually what the TSA calls replica guns. But replica guns aren't allowed on planes either. So they were confiscated.
A photo of the heels was tweeted by a Transportation Security Administration public affairs representative with the caption, "Also, what not to wear through a #LGA checkpoint."
LGA is the airport code for New York City's LaGuardia Airport. It's not clear where the owner of the heels was going. Because the shoes were replica guns and voluntarily surrendered, a spokesperson for the TSA said, no arrest was made and no report taken.
If you're interested in gun high heels as a fashion statement, a Google search reveals they're available from several retailers and range in price from $60 - $125.
TSA's blog has a weekly feature on the unusual items confiscated at security checkpoints at airports across the country. According to the blog, 49 firearms were confiscated last week. As a reminder, you can travel with firearms in your checked bags, but you must declare them to your airline.
For those interested in confiscated firearm photos , TSA launched an Instagram account earlier this month. It has nearly 45,000 followers.
"The Transportation Security Administration (TSA) uses a variety of ways to engage with the traveling public in order to provide timely information that assists them in traveling safely," the TSA said in a statement sent to ABC News at the time.