13 Fantastic Flashback Flight Attendant Fashions
Is there anything more jet-set fabulous than a retro flight attendant in uniform?
This working women's fashion began understated, but with the launch of the bigger airliners in the late 1950s and the Boeing 747, aka the Jumbo Jet, in 1970, the styles in aisles really started to take off. From runway to catwalk, a selection of looks from the 1930s to the '70s.
A course in charm. Trans World Airline (TWA) flight attendants attend a course at the TWA headquarters in Kansas City, Mo., May 1946. They have been instructed in grooming, charm and poise, reading, conversational French and entertainment, and they've received vital inoculations. (Bert Garai/Keystone Features/Getty Images)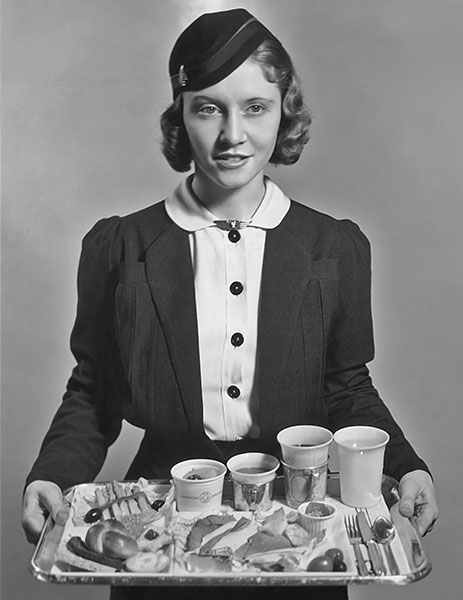 Coffee or Tea? An American Airlines flight attendant with a tray of food, circa 1935. (Pictorial Parade/Archive Photos/Getty Images)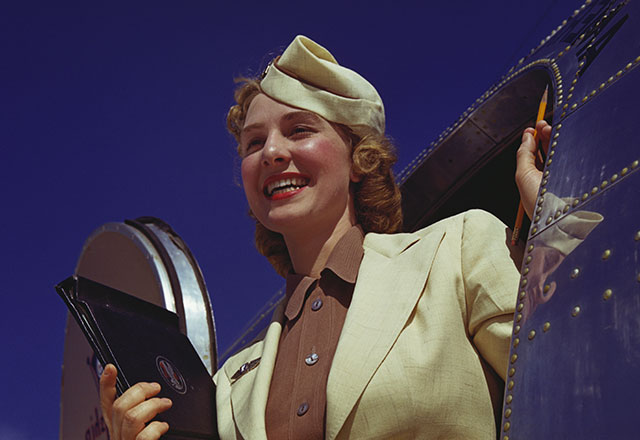 Welcome to the Big Apple! An American Airlines flight attendant exits the plane in New York City, circa 1940s. (Michael Ochs Archives/Getty Images)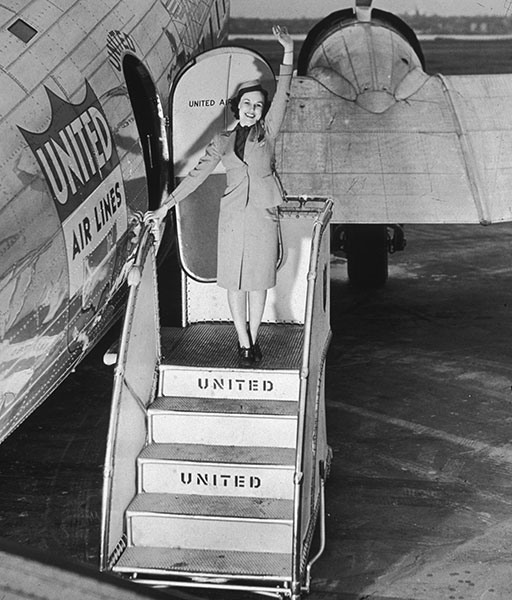 Ready for takeoff. A flight attendant waves on the stairway of a United Airlines airplane, circa 1945. (Hulton Archive/Getty Images)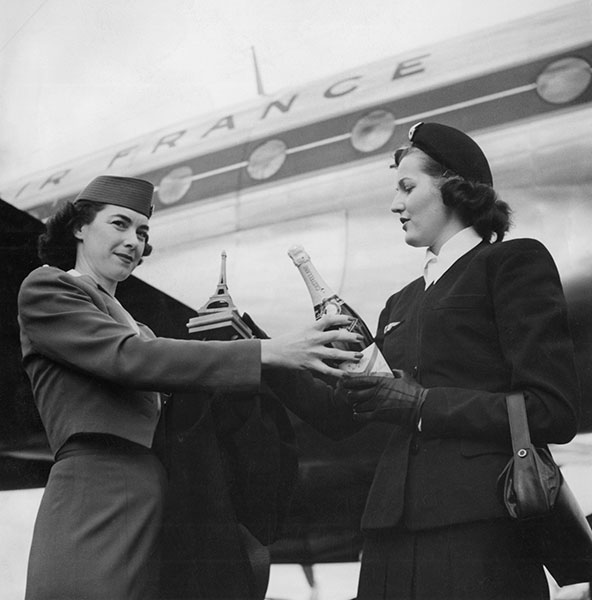 Cheers! A flight attendant from Air France receives an Eiffel Tower model and a bottle of champagne after completing the first flight, circa 1950. (Keystone/Gamma/Getty Images)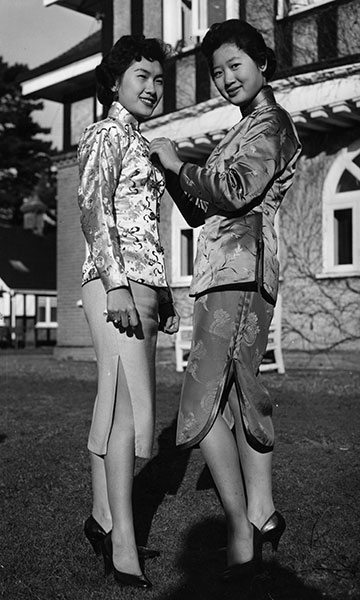 Supermodels of the day. Rose Wou and Lily Ning, trainees of British Overseas Airways Corporation, Jan. 16, 1955. (Folb/Topical Press Agency/Getty Images)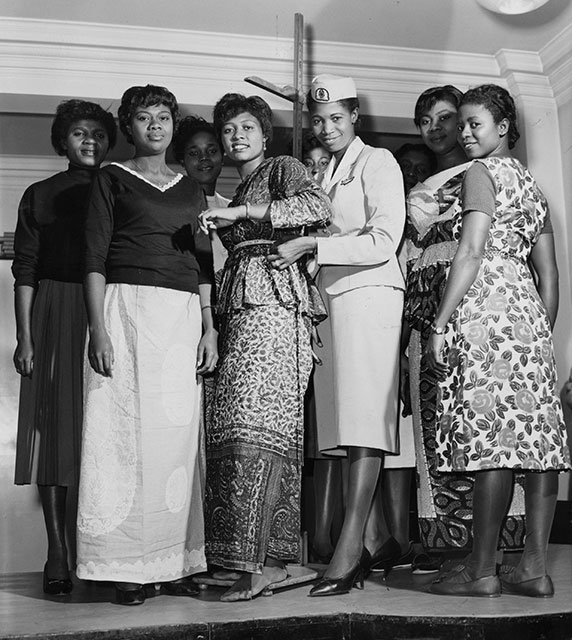 Smile for the camera. Ghana Airways flight attendant Esther Botchway in uniform, center, at a London modeling school with eight Ghana Airways trainees, March 14, 1960. (Central Press/Getty Images)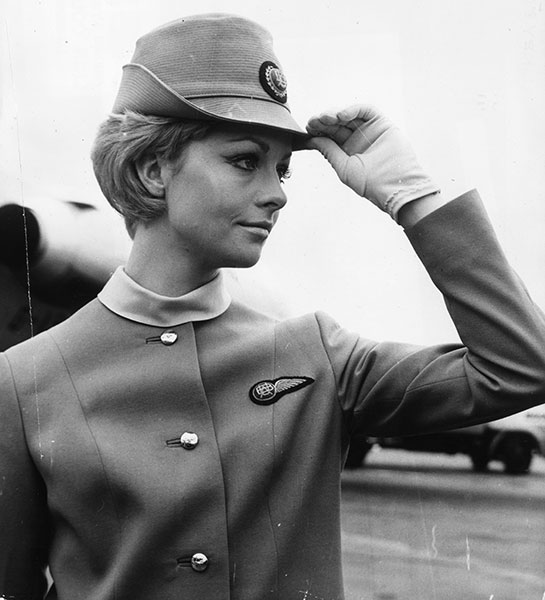 Hat and gloves. Model Felicity Downer wears the new British United Airways uniform at Gatwick, July 5, 1967. (Wesley/Keystone/Getty Images)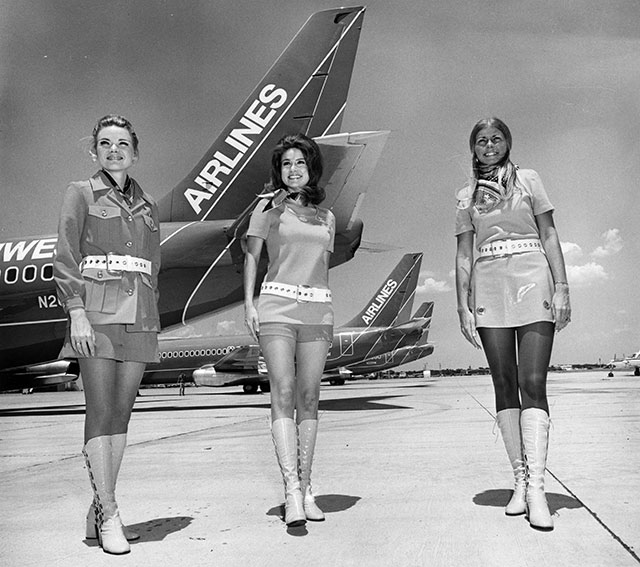 Hot pants and go-go boots. Flight attendants on Southwest Airlines in Texas pose in front of planes belonging to the airline, circa 1968. (Alan Band/Keystone/Getty Images)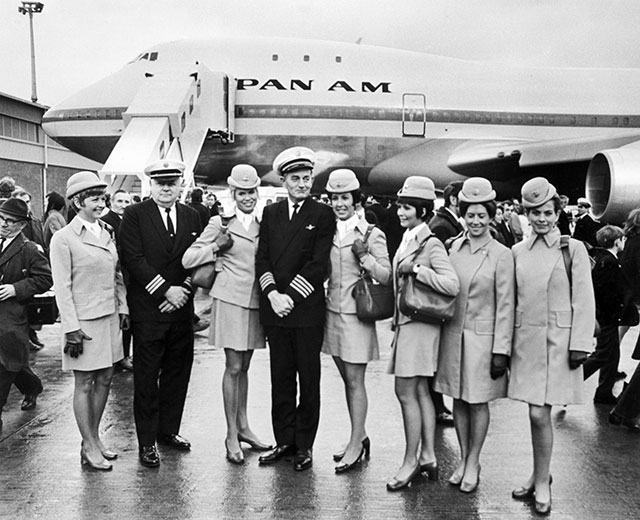 A family portrait. The aircrew of the first commercial flight of the Boeing 747 from New York to London for Pan American, Jan 13, 1970. (AFP/Getty Images)
Tiger lady. Flight attendant Cynthia Robertson models the new synthetic tiger skin uniform for National Airlines, to be worn by over 1,000 flight attendants , March 16, 1971. In her arms is an eight-week-old Bengal tiger named Indira. (Central Press/Getty Images)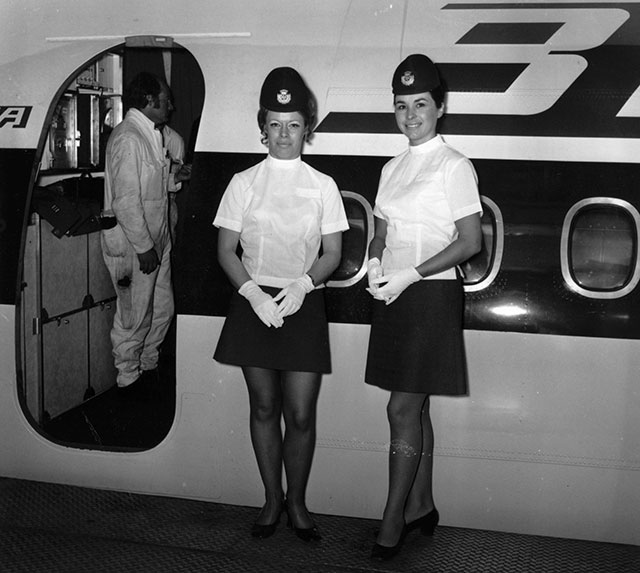 Welcome aboard. Flight attendants at work just before passengers board the plane, April 3, 1971. (Evening Standard/Getty Images)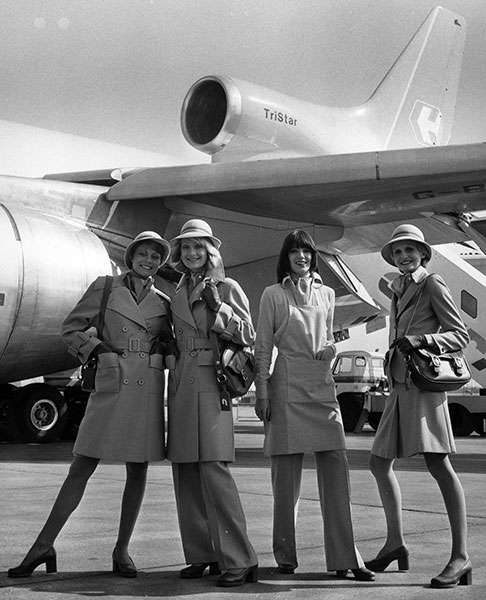 Court Line catwalk. A group of flight attendants model the new Court Line Aviation uniforms designed by Mary Quant in a fashion show at Luton airport, in England, March 22, 1973. (Frank Barratt/Keystone/Getty Images)
See more featured photography curated by ABC News photo editors and Picture This, the ABC News photography blog.