Guy Fieri's 'Trailer Park' Thanksgiving Plans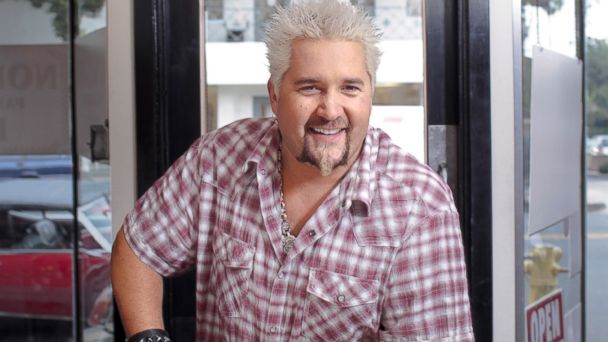 Think you've got fun Thanksgiving plans? Think again, because Guy Fieri's will blow yours out of the water. According to the Food Network star, he's heading up to his hometown in Northern California with 60 of his closest friends to go all out.
"I'm not only in charge [of the food]; I'm the general on the culinary army," Fieri said. "Five turkeys. Two hams. Two prime ribs. Six or seven sides. All cooked on an outdoor wood-fired barbecue trailer."
Friends and family will set up camp in trailers outside his family home. "It's an unofficial trailer park out in the middle of the field and a big barn where we have Thanksgiving and watch football and do all that," he said. "Everybody brings their trailers up. They bring their dirt bikes, their dogs, their kids, their bicycles. My youngest will look at me every day and ask how many more sleeps-that's what he calls it-until we get to go. We all count the days down."
When Fieri's not busy prepping the day-of feast, he's got his hands full with his new Food Network reality competition show, "Guy's Grocery Games." Set in a supermarket, the show has four chefs compete against each other through three unique cooking challenges, ranging from only being able to use canned ingredients to creating a meal in five ingredients or less, all leading to a $20,000 prize.
"I love it! It involves everyday scenarios. I'm not competing, but I do that exact same thing," Fieri said. "I have 10 minutes to find something specific, because I've got everyone waiting for dinner at home! Or we're going to have turkey, but how are we going to have it? So we started developing the games and putting the scenarios together, and they're all ones we can relate to."
In all the downtime Fieri has, he keeps expanding his restaurant empire. With Guy's Burger Joint doing well at sea on Carnival Cruise lines, the chef plans to bring the restaurant to dry land sometime in 2014. The burgers are sure to be something to anticipate-Fieri is hot off a tie for first place at the New York City Food & Wine Festival's Burger Bash with his crazy mac & cheese and bacon burger.
"The win was beyond huge for many reasons," Fieri said, referring to last year's New York Times take-down review of his NYC restaurant Guy's American Kitchen & Bar and the caliber of chefs he competed against. "Out of a unique situation comes a phenomenal dish. It's not something you see every day. But, boy, now we go put it on the menu, and people are going nuts for it."
To watch Guy's Grocery Games, tune in to the Food Network on Sundays at 8 p.m. ET/PT.