49ers Coach Jim Harbaugh Does Push-Ups With a Walrus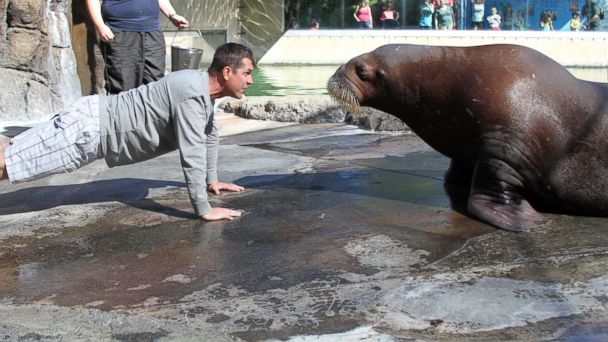 Jim Harbaugh has the chops to train more than just a football team. The San Francisco 49ers coach occasionally ventures beyond the gridiron and coaxes a workout out of marine life too.
On a visit to Six Flags Discovery Kingdom in Vallejo, Calif., with his family over the weekend, Harbaugh did a few push-ups with Siku, a 1,750-pound female Pacific walrus. He also bottle-fed a tiger, met an elephant and rode rollercoasters.
Harbaugh was especially popular with the sea animals, Six Flags communication manager Nancy Chan told ABC News, receiving kisses from dolphins, sea lions and, of course, a big wet one from Siku, who is apparently also proficient at sit-ups.