Taco Bell's Breakfast Menu Is Here! How It Really Tastes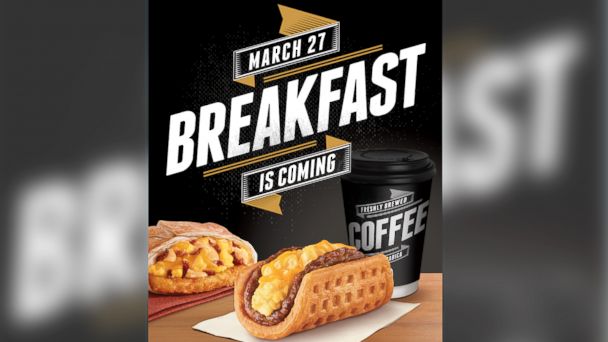 Taco Bell blew up the breakfast scene in February with the announcement of its new breakfast menu, with intriguing items like waffle tacos, "A.M. Crunchwraps" and Cinnabon bites. The morning menu debuts nationally next Thursday, March 27, and we got a sneak taste today .
*Confession: this was not only this writer's first foray into the waffle taco, but also her first Taco Bell experience ever. Do with that what you will.
Waffle Taco with Sausage
370 calories, 210 calories from fat, 7g saturated fat, 23g total fat, 550mg sodium, 115mg cholesterol, 28g carbohydrates, 1g dietary fiber, 8g sugar, 12g protein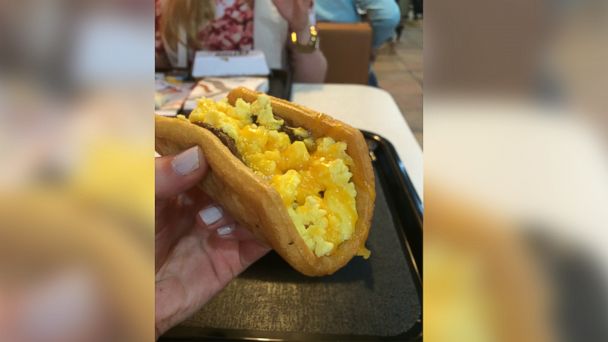 Ladies and gents, the one we've all been waiting for. The waffle taco was a total Twitter bomb, creating insane hype on social media back in August when people discovered the chain was testing the item in limited markets, and it was again the most talked-about item during February's announcement.
So, here's the verdict: it's exactly what you think it will be. The waffle is bready and slightly sweet, the sausage is well-seasoned with some spice and the eggs are fluffy, if flavorless, with salty, melted cheese on top for kicks.
And on a personal note, it's a total foodie's dream social media photo. This writer's Instagram snap has been racking up the likes and comments all morning .
A.M. Crunchwrap with Bacon
660 calories, 370 calories from fat, 12g saturated fat, 41g total fat, 1280 mg sodium, 130mg cholesterol, 51g carbohydrates, 4g dietary fiber, 3g sugar, 22g protein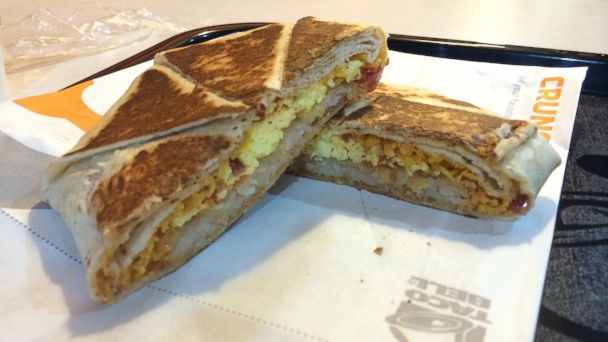 The A.M. Crunchwrap is basically a breakfast quesadilla with hash browns, eggs, bacon and cheese wrapped in a grilled tortilla, and it's definitely the best food of the three items. Grilling the wrap is key-it provides a great textural crunch, and melts the cheese inside. Unfortunately not all of the cheese was adequately melted, but the parts that were were definitely the best bites.
As for flavor? Adding salsa for some acidity helps, but it's not necessary. There's enough going on with the saltiness from the cheese and bacon and savoriness from the eggs and potatoes. This item is basically everything you want from breakfast-eggs, meat, cheese and a little potato on the side-all wrapped up in one nifty little on-the-go pack.
Cinnabon Delights 4 Pack
310 calories, 160 calories from fat, 4.5g saturated fat, .5g trans fat, 18g total fat, 160 mg sodium, 15mg cholesterol, 35g carbohydrates, 1g dietary fiber, 20g sugar, 3g protein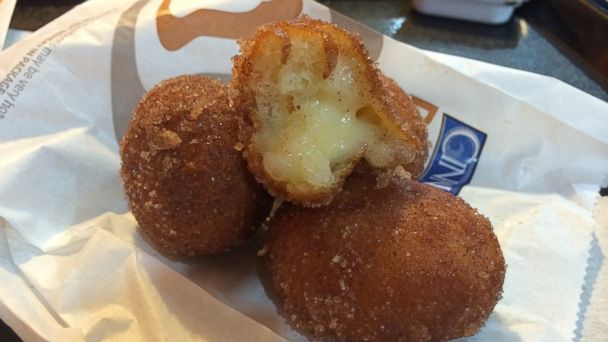 This writer was not prepared for her first Cinnabon Delight bite. There's surprise icing inside! These little guys taste exactly like a Cinnabon, but with the messy icing hidden neatly inside. They're sickly sweet and kind of addicting.
Could the Taco Bell breakfast menu items be improved? Definitely. Do they have to be? No. They deliver on everything you would expect: a little gross, but also good at the same time. It's hard to stop yourself from taking another bite.
But having taken additional bites of all three items in one sitting, this writer doesn't feel so good.