Never-Before-Seen Titanic Menu Up For Auction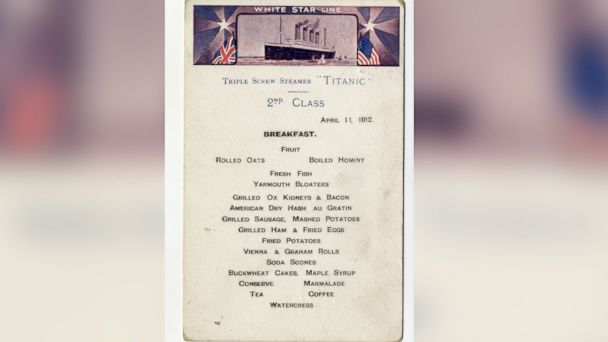 Not everything that went down with the Titanic has been lost forever.
A rare menu is up for auction in England this Saturday, and while it's not the first known menu recovered from the luxury liner, it is only the second known record of second-class fare.
"I've been doing this for the better part of 20 years and I've sold seven menus from the Titanic in that time, but they've all been first-class," said Andrew Aldridge, head of the Titanic and liner department at auctioneer Henry Aldridge & Son. "So the second-class ones are the rarest of the rare. They never, ever come to market. This particular menu is the only second-class menu that's ever been offered for auction."
The menu is dated April 11, 1912 and offers a snapshot at the food some passengers ate, which included potato hash, ham and eggs, oatmeal and more.
"What makes this doubly interesting is that it's a postcard menu. The first class menus were exactly the same size - about three by five - but they have nothing on the back," Aldridge said. "This particular one was signed by Jacob Gibbons, one of oldest surviving crew. And he's writing prophetic words."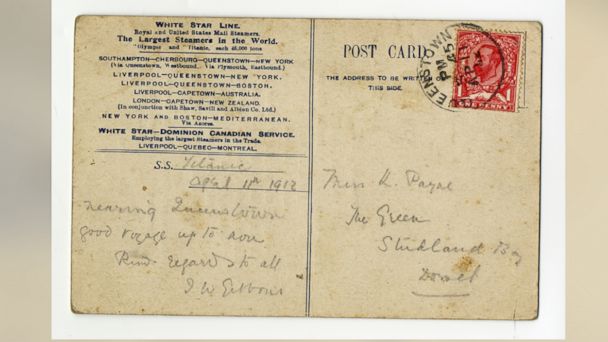 The message, which was sent to his fiancé, read: "S.S. Titanic, April 11th 1912. Nearing Queenstown. Good voyage up to now. Kind regards to all. J.W. Gibbons"
The menu is expected to fetch up to $150,000 in its sale this coming Saturday, which includes over 200 other Titanic-related items like the last letter written on the boat, a lifeboat plaque, a ticket and an insurance claim from after the crash.