Assange Says WikiLeaks Helping Snowden Get Asylum in Iceland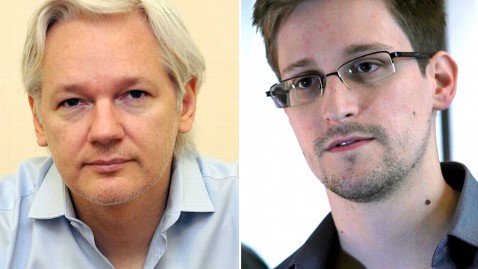 Wikileaks founder Julian Assange said Wednesday that his group has been in touch with Edward Snowden's legal team, the man who says he's behind the National Security Agency leaks.
"We are in touch with Mr. Snowden's legal team and have been, are involved, in the process of brokering his asylum in Iceland," Assange said on a conference call with reporters marking his one year since entering the Ecuadoran embassy in London seeking asylum.
Assange said he feels a "great deal of personal sympathy" with Snowden, but would not comment if he has spoken to Snowden directly or if they were in contact before Snowden leaked news to The Guardian and The Washington Post that detailed secret, far-reaching NSA Internet and phone surveillance programs.
"As a matter of policy, we do not discuss issues which may relate to sourcing," Assange told reporters.
Snowden is believed to be in Hong Kong but has said he wants to go to Iceland as a place of refuge. Assange was asked if he thought Snowden could travel to Iceland without being stopped by the U.S. government or the United States' allies and Assange answered, "All those issues are being looked at by the people involved."
He also called on President Obama to "do the right thing" and "immediately drop the immoral investigation against Wikileaks."
He noted that it could be the reporter who broke the NSA story, Glenn Greenwald, or filmmaker Laura Poitras who may be seeking asylum one year from now.
"The revelations of Edward Snowden this week lead us to ask the question … is the United States the type of country from which journalists must seek asylum for in relation to their work?" Assange asked.
Assange was joined on the call with prominent whistleblowers Daniel Ellsberg, who released the Pentagon Papers to The New York Times in 1971, and Thomas Drake, a former NSA official who faced felony charges over leaks to the Baltimore Sun that revealed alleged mismanaged programs at the NSA.
Ellsberg said the "idea" that information garnered from NSA surveillance "will not be abused" and not used for anything besides "catching terrorists is childish."
Ellsberg also criticized the Obama administration, noting that the Bush administration may have started the NSA surveillance efforts, but Obama continued the surveillance and, instead of dismantling it, solidified the effort.
"When [NSA surveillance] was finally exposed after four years of totally criminal unconstitutional behavior under George W. Bush, Obama's effort … was to legalize that process, not to end it or rein it in," Ellsberg said.
Ellsberg, Drake and Assange said the prosecution of Bradley Manning and the "attack" on the press has put a chill on national security reporting, but Ellsberg said Snowden's leaks could inspire other leakers to "take the chance."
"This is our last chance, I think, to keep our press and thus our democracy from becoming like China's or the Soviet Union," Ellsberg said.
Drake, who eventually pleaded guilty to a a single misdemeanor in 2011, was equally critical, saying, "We're all foreigners now."
"What we've seen over the last 12 years is going over to the dark side of secret rules, secret law, secret courts and secret evidence," Drake said.