Rep. Joaquín Castro: Immigration Legislation Will Not Pass If Speaker Boehner Uses 'Hastert Rule'
Below you can find some of the notable comments made Sunday on "This Week with George Stephanopoulos." The foreign policy roundtable guests included ABC News Chief Global Affairs Correspondent Martha Raddatz, Council on Foreign Relations president Richard Haass, and co-founder of the Foreign Policy Initiative Dan Senor. The political powerhouse roundtable guests included Rep. Joaquín Castro, D-Texas; Rep. Mike Kelly, R-Penn., ABC News Chief Business and Economics Correspondent Rebecca Jarvis; former Lead Auto Adviser and Counselor to the Treasury Secretary Steven Rattner, now chair of Willett Advisors; and Amity Shlaes, director of The 4% Growth Project at The George W. Bush Institute.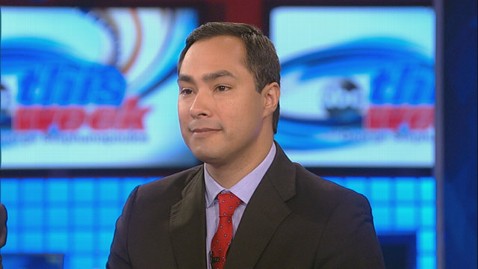 ABC News
Castro warns that immigration bill won't pass House if 'Hastert Rule' applied
CASTRO: If the speaker insists on using the Hastert rule, which essentially says that you've got to have the support of a majority of the majority, which means a majority of Republicans, that means that 25 percent of the body can control 100 percent of the agenda and the legislation. It will not pass if he uses the Hastert rule.
Haass asserts that Snowden is a 'felon'
HAASS: We've got this system that depends upon millions of people…and there's always going to be a couple of weak links, and we're vulnerable to that…But the fact that, look, so many people in media and elsewhere called this guy a whistleblower. He's not a whistleblower. He's a felon. He has endangered the lives of Americans.
Raddatz on concerns about making the case for intervention in Syria
STEPHANOPOULOS: Martha, we only have 30 seconds left. I have not seen any indication from the president that he's willing to go out there in a big public way and make the case for intervention in Syria.
RADDATZ: He doesn't want to, because once you put that giant toe in the water, that's it - he's in.
Amity praises what immigrants bring to the economy
SHLAES: Yes, that's right. I mean, the Republican Party can be sour. And that's - that's - you know, one of the sour parts of Calvin Coolidge was, he didn't always appreciate immigrants. But what he did appreciate was, once they were here, the whole process of Americanization, they said, or becoming part of America, whatever words we would use now, he said…we're all in the same boat here. And what I emphasize in that book and indeed in this conversation is that immigrants make the economy stronger. That's the number-one - that - it's there. It's true.
Castro confident that border is the 'most secure' it has ever been
CASTRO: And I would point out, George, that the border is more secure now than it's ever been. For example, in 2004, there were 10,000 Border Patrol agents along the border. Now there are 21,000. The amendment in the Senate, the Corker amendment, would take that to 40,000 Border Patrol agents…So if there's any time to do it, it's now.
Like "This Week" on Facebook here. You can also follow the show on Twitter here.