The Note: The Curious Case Of Chris Christie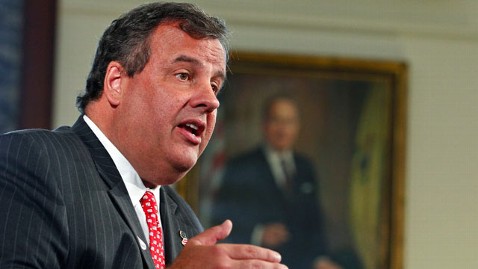 By MICHAEL FALCONE ( @michaelpfalcone )
NOTABLES
EXPECT THE UNEXPECTED: New Jersey Gov. Chris Christie yesterday called for a special election this October to fill the U.S. Senate seat left open by Sen. Frank Lautenberg's death. The surprise move upends both state and national political worlds, ABC's JOSH MARGOLIN and SHUSHANNAH WALSHE note. At the same time, it allows Christie to avoid the fraught terrain of having to appoint an interim lawmaker to serve through the upcoming debates in Washington on topics like immigration reform. Christie will still get to appoint an interim senator to serve until October, though he said he had not decided yet who that would be. The special election is going to be held on Oct. 16, three weeks before the governor stands for his own re-election on Nov. 5. "The gun has been fired. It's time to go," Christie told reporters during a news conference in Trenton. "I firmly believe that the decisions that need to be made in Washington are too great to be made by an appointee for a period of 18 months." http://abcn.ws/ZrFclz
MONEY MATTERS: The decision to hold a general election in October comes with a price tag approaching $25 million because every statewide election in New Jersey costs more than $12 million to execute, and the two parties will hold primaries before the election. Christie tried to head off criticism of the expense. "I don't know what the cost is and I, quite frankly, don't care," Christie said yesterday. "I don't think you can put a price tag on what it's worth to have an elected person in the United States Senate and I will do whatever I need to do to make sure those costs are covered because all the people of the state of New Jersey will benefit from it and we're not going to be penny-wise and pound-foolish around here."
CABINET SHUFFLE: President Obama plans to announce changes to his national security and foreign policy inner-circle today. ABC's JONATHAN KARL hears from a senior White House official: "This afternoon in the Rose Garden, the President will announce that after more than 4 years at the National Security Council, Tom Donilon will be departing as National Security Advisor in early July and will be succeeded by Ambassador Susan Rice. The President will also announce that he will nominate Samantha Power to succeed Ambassador Rice as the U.S. Ambassador to the United Nations." The announcement will take place at 2:15 p.m. ET. http://abcn.ws/11kq0Em
NO SENATE CONFIRMATION FOR RICE: The post of National Security Adviser, like that of Chief of Staff, Press Secretary, and White House Counsel are not subject to Senate confirmation nor do they customarily testify at Hill hearings, ABC's ANN COMPTON points out. The president has always strongly defended Rice - claiming she got a bum rap over the faulty talking points in the aftermath of the terrorist attacks in Benghazi. "Susan Rice is extraordinary," Obama said at a cabinet meeting last November, with Rice just a few seats away. "I couldn't be prouder of the job she's done." Rice will no longer be a member of the Cabinet, but she will work at the president's elbow every day - arguably a more influential position that reflects his continued confidence in her.
THE ROUNDTABLE
ABC's RICK KLEIN: Name another governor who would have done it quite this way. In some ways, Gov. Chris Christie chose the path of most political resistance - a Senate appointment too short to please Republicans, an election span too short (by 20 days!) to appease Democrats. Christie's potency is based on not caring much about either side, playing to a middle that presumably supports voting as quickly as possible. Watching this play out in New Jersey media, he may have been too expensive (a $25 million set of elections) by at least half. But he managed to wall his own reelection off to a significant extent - and to place himself at the middle of another big political story. http://abcn.ws/16HIfMb
ABC's JEFF ZELENY: Yes, Gov. Chris Christie has given some Republicans a new reason to criticize him. But even if he had decided against setting a special election and keeping New Jersey's Senate seat in GOP hands for the next 18 months, he wouldn't have wiped away the distrust many conservatives have about him. Local politics always takes precedence over national. If he can withstand the heat at home over the $24 million pricetag of the October special election, he'll have plenty of time to try and repair those Republican rifts.
ABC's SHUSHANNAH WALSHE: There was swift criticism from Democrats after Chris Christie's announcement yesterday that he would hold a primary in August and the general election in October to replace the late Sen. Frank Lautenberg. The price tag for the two elections - roughly $24million - is being called outrageous for the extra cost since Christie's own gubernatorial election is just weeks later in November. Criticism was also harsh from fellow Republicans like Dick Armey, former House majority leader and a one-time power in the tea party movement. Armey said Christie was "committing a big mistake" that will anger Republicans throughout the state and the country. Armey said despite the New Jersey governor stressing "fiscal austerity, fiscal responsibility, small government" he is spending millions on the two elections something he says conservative Republicans will see as a waste. Armey told ABC News: "I characterize it as debilitating stupidity." Armey points out that Christie already "angered a lot of conservatives" after Superstorm Sandy when he "paraded with Obama and he made a bit of a horse's rear of himself," and now, "Any hope that this governor has of running for president is gone. It's over."
ABC's TOM SHINE: Today, the House Armed Services Committee will start writing its Defense Authorization Bill. Before the committee are proposals to deal with sexual assault in the military, including one that removes sexual assault cases from the chain of command. Next week, the full House could take up the bill. Also next week, the Senate Armed Services Committee will work on its version of Defense Authorization and at least 7 bills dealing with sexual assault in the military are under consideration, including the most controversial one: New York Sen. Kirsten Gillibrand's provision to remove sexual assault cases from the chain of command.
WHAT WE'RE WATCHING
YOUR TAX DOLLARS AT WORK: HEATING AND COOLING EMPTY BUILDINGS CONGRESS WON'T SELL. Meet the Army's chief real estate agent, Katherine Hammack. As the Assistant Secretary of the Army for Installations, Energy and Environment, she is leading an effort to cut costs by getting rid of buildings the Army no longer uses. The challenge: Congress won't sign off on the plan to finish the job. "The Army's got about a billion square feet of infrastructure, and current estimates are about 20 percent of it are excess to need," Hammack tells ABC's JEFF ZELENY host of "The Fine Print." "We have a choice: The choice is to close that base…Our other choice is the expensive one, and that's to keep those buildings heated and cooled, maintained when no one's inside. And that's the expensive choice that I don't think the taxpayer wants us to make," she says. Hammack points to Camp Roberts, a California base that hasn't been fully occupied for four decades, as an example of the Army's unneeded infrastructure. Of the 800 buildings on the base, only 500 are used. http://yhoo.it/14vrVHh
BUZZ
FIRST LADY HECKLED BY GAY RIGHTS ADVOCATE. First Lady Michelle Obama was heckled by a gay rights advocate at a fundraiser last night and responded by threatening to leave the event, telling the protester only one of them could speak, ABC's MARY BRUCE reports. Mrs. Obama was delivering a speech at a DNC event at a private home in Washington when a protester began shouting for the president to sign an executive order to protect gay and lesbian rights. "One of the things I don't do well is this," Obama reportedly responded to loud applause. She then left the podium and walked toward the heckler, saying she could "listen to me or you can take the mic, but I'm leaving. You all decide. You have one choice." The protester was later identified as Ellen Sturtz, an activist for the pro-LGBT rights group GetEQUAL. The crowd begged for the first lady to stay and one woman near Sturtz shouted, "You need to go." Sturtz was reportedly escorted out, identifying herself as a "lesbian looking for federal equality before I die." http://abcn.ws/10P3Eyf
NOTED: The hosts for last night's fundraiser were two Democratic LGBT power-players, Dr. Nan Schaffer and her wife Karen Dixon. Schaffer is a veterinary doctor who specializes in rhinoceros reproduction, ABC's DEVIN DWYER notes. Dixon is an attorney and gay rights advocate. Both hosted President Obama for an exclusive million-dollar campaign fundraiser in February 2012 when he was still personally opposed same-sex marriage.
TOP MILITARY OFFICERS RESIST SEXUAL ASSAULT PROPOSALS. The nation's top military leaders told Congress yesterday that they have reservations about legislation that would remove commanders from the process of prosecuting sexual assault cases because, they say, it could ruin order and discipline in the ranks, ABC's LUIS MARTINEZ reports. It's a highly contentious issue: Recent high profile-incidents and new statistics indicating that sexual assault in the military is on the rise have increased support on Capitol Hill for legislation that would remove the chain of command from the prosecution of sexual assault cases. The most controversial legislation, proposed by Sen. Kirsten Gillibrand, D-N.Y., has garnered bipartisan support. Deciding whether serious crimes, including sexual misconduct cases, should go to trial would be made by seasoned legal officers. Appearing before the Senate Armed Services Committee, the members of the Joint Chiefs of Staff acknowledged that efforts to curb sexual assault in the military have not been successful. They welcomed discussion of legislative efforts but, said chairman of the Joint Chiefs of Staff Gen. Martin Dempsey, "Reducing command responsibility could adversely affect the ability of the commander to enforce professional standards and ultimately, to accomplish the mission." Gen. Raymond Odierno, the Army chief of staff, said removing the authority of commanders to handle assault cases could affect unit discipline and lead to other effects. "We cannot legislate our way out of this problem," said Odierno. http://abcn.ws/17obTW6
OBAMA TO STUMP AND FUNDRAISE FOR ED MARKEY. President Obama is headed to Boston next Wednesday to campaign and fundraise for Senate candidate Rep. Ed Markey, D-Mass., his campaign confirmed. ABC's SHUSHANNAH WALSHE writes that another Democratic source in the state confirmed the fundraiser, which will be a lunchtime event at the posh Fairmont Copley Plaza hotel. Last week, First Lady Michelle Obama also headlined a fundraiser for Markey, which raised $600,000 for the longtime Massachusetts congressman. The special election to fill the Senate seat vacated when John Kerry became secretary of state will be held on June 25. In 2010, the president campaigned for Democrat Martha Coakley in the special election to fill the Senate seat when Sen. Ted Kennedy died. Coakley lost that race to Republican Scott Brown. http://abcn.ws/13jUABa
MISSOURI HOUSE SEAT STAYS IN GOP HANDS. Republican Jason Smith, 32, won Missouri's 8th Congressional district special election to replace former Rep. Jo Ann Emerson who resigned earlier this year, ABC's MICHAEL FALCONE reports. The Associated Press called the race for Smith just under two hours after polls closed Tuesday night. With nearly all precincts reporting, Smith won handily over Democrat Steve Hodges, 67 percent to 27 percent, ensuring that the seat in the heavily Republican district in rural southeastern Missouri will stay in GOP hands. According to his biography, Smith is a seventh-generation Missourian and family farmer who has served in the Missouri state legislature since 2005 - he was first elected when he was just 25-years-old. He has earned a reputation as a dogged campaigner. In an interview with the AP, Smith said he intended to head to Washington, DC today to be sworn in. "We've been without representation in the 8th District the last 134 days, and I'm going to stay up there until the speaker of the House will swear me in," he told the AP. Smith received endorsements from Sarah Palin, Mike Huckabee, Rick Santorum, the National Rifle Association, National Right to Life and the Missouri Farm Bureau among others.
INCREDULOUS IRS VICTIMS AIR GRIEVANCES. The House Ways and Means committee heard a shared sense of frustration yesterday from incredulous representatives of several organizations whose applications were delayed by the Internal Revenue Service, fueling the kind of congressional wrath on display this week during a slew of hearings examining the agency's decision to apply excessive scrutiny to conservative political groups looking for tax-exempt status, ABC's JOHN PARKINSON notes. "The types of questions asked by the IRS included asking me to identify the political affiliation of my mentors and that I advise the IRS of my political position on virtually every issue of importance to me," Kevin Kookogey, the founder and president of Linchpins of Liberty, testified. "They wanted to know how much time or resources were devoted to vetting candidates," Dianne Belsom of the Laurens County Tea Party in South Carolina said. "Please provide the percentage of your organization that spends on prayer groups as compared with the other activities of the organization," Sue Martinek of the Coalition for Life of Iowa said the IRS asked when she applied for 501(c)3 tax-exempt status. http://abcn.ws/18LVU1L
WHAT WE'RE READING
"HOW TO SAVE AMERICA'S INFRASTRUCTURE: LESSONS FROM PUERTO RICO," an ABC News Op-Ed by former Puerto Rico Gov. Luis Fortuño. "As Congress and the Obama administration try to address the budget deficit, the need to invest in our basic infrastructure becomes more evident every day. Many of our roads, bridges, schools, airports and ports are in bad shape and need to be repaired or rebuilt in order to compete in the global economy. The recent bridge failure in Washington State is only the latest in a series of dramatic warning signs. The American Society of Civil Engineers gave a 'D' grade to our transit infrastructure and estimates that we must invest $2 trillion over the next five years to bring our infrastructure to an acceptable level. That is $1.4 trillion more than we spent in the last five years. … Puerto Rico faced this infrastructure crisis during my tenure as governor. The solution we implemented, with considerable success, involved investing in infrastructure by means of public-private partnerships - 'P3' projects. In a P3 project, the government contracts with a private company to renovate, construct, maintain, and/or manage an infrastructure resource. These partnerships inject private capital into a public project. The project's users normally pay an assessment or toll. Both the public and private parties share the risks and profit, thus providing the necessary public infrastructure without imposing an additional tax on citizens that do not benefit directly from the infrastructure improvement." http://abcn.ws/181cjmd
WHO'S TWEETING?
@BenLaBolt: Good explainer for folks outside the Beltway wondering why it's so hard to get a deal done w/ today's Congress http://wapo.st/18NTH6d
@Reince: Pleased to announce we have hired Andy Barkett as the RNC's CTO. Excited to get to work growing digital operation. http://www.huffingtonpost.com/2013/06/04/republican-national-commi_n_3386575.html?1370394952 …
@jimacostacnn: After putting 08 campaign behind them, Power and Hillary Clinton both pushed for action in Libya http://www.nytimes.com/2011/03/30/world/30power.html …
@jeremybird: RNC spending money on staff in Texas - http://ow.ly/1X6T2o #GameOn cc: @BGTX
@robertcostaNRO: Fun read: NR's @woodruffbets goes to church w/ E.W. Jackson http://www.nationalreview.com/article/350180/pulpit-ticket-betsy-woodruff …