Anthony Weiner's Other Woman, Sydney Leathers, Says He's 'Responsible For His Downfall'
Sydney Leathers, the 23-year-old woman who says she exchanged steamy online messages and phone calls with Anthony Weiner, alias "Carlos Danger," told Inside Edition in an exclusive interview that she believes the New York City mayoral candidate is "responsible for his downfall."
"I feel sick about it. I'm disgusted by him. He is not who I thought he was," Leathers, a college sophomore from Mount Carmel, Ill., majoring in political science, told "Inside Edition."
Leathers said she first sent Weiner, 48, a message when he resigned from Congress in June 2011, criticizing his behavior after it was revealed he had sent provocative photos of himself to women.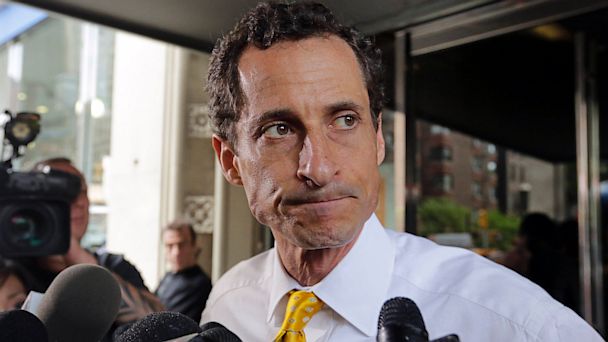 Timeline of Weiner's Online Sex Scandal
Weiner responded a year later with a Facebook poke, Leathers said, and the conversation soon went from professional to X-rated, with the pair having phone sex at least twice a week.
"I think it was a fantasy thing for the both of us," Leathers told "Inside Edition."
She said their sexting relationship ended in November 2012 and that she believed Weiner was jealous of other men leaving comments on her Facebook page.
Weiner last contacted Leathers four months ago to ask her to do him "a solid" and delete all of their chats.
"Obviously I knew that he wanted me to erase any evidence of our conversations, because that was around the time I knew that he was going to run for mayor," Leathers said.
Weiner acknowledged Tuesday at the news conference that he had sent explicit messages and photos to a woman after he resigned from Congress in 2011 for similar reasons, but he said the behavior is now behind him.
How Can His Wife Forgive Weiner?
His wife, Huma Abedin, 36, said it wasn't an easy decision to stand by her husband, but she said she "made the decision that it was worth staying in this marriage. That was a decision I made for me, for our son and for our family," she said.
In a Harper's Bazaar essay that will be published next month, Abedin reiterated her support for her husband, who has pledged to remain in the race to become New York City's next mayor.
"Quite simply, I love my husband, I love my city, and I believe in what he wants to do for the people of New York," Abedin wrote.
ABC News' Abby Phillip contributed reporting.