Reddit Co-founder To Future Internet Entrepreneurs: 'Just launch'
Reddit co-founder Alexis Ohanian says the biggest mistake made by individuals trying to start companies is getting caught up in the idea rather than the execution, and he urged those with ideas to "just launch."
"They get caught up with the idea. It's sort of called wantrepreneurship," Ohanian said in an interview for "This Week." "I don't think I've ever had an original idea. All ideas are derivative, all ideas are a remix. What matters is execution."
Ohanian created Reddit with co-founder Steve Huffman after graduating from college in 2005 - building an online platform for sharing links and engaging in discussion "about everything from world politics to 'My Little Pony,'" Ohanian told ABC's Rebecca Jarvis .
Reddit, which now has more than 80 million users and calls itself "the Internet's front page," is known for its ability to launch web videos to viral status, as users vote content onto its homepage. Its "Ask Me Anything" sessions, or AMA's, are a Reddit signature that have featured big names from President Barack Obama to actors like Tom Hanks and Bryan Cranston.
"It has evolved to really become a pretty dominant force for how people find what's new and interesting online," said Ohanian, who was dubbed the "Mayor of the Internet" by Forbes magazine.
But sites like Reddit have also taken criticism for the dangers posed by open, anonymous communities where rumors can spread fast. After the Boston Marathon bombing in April, Reddit users
incorrectly identified a bombing suspect after combing through online video and photos.
Ohanian says mistakes like that are a problem of humans, not web platforms.
"Journalists, the best-trained, smartest people in the world, have made the same mistakes before," he said. "I'm happy with Reddit's stance and coming out and apologizing for it."
Ohanian still serves as a Reddit board member, but has sold his stake in the company. His new book "Without Their Permission" tells the story of how Reddit started, and is also described as Ohanian's "personal guidebook as to how other aspiring entrepreneurs can follow in his footsteps."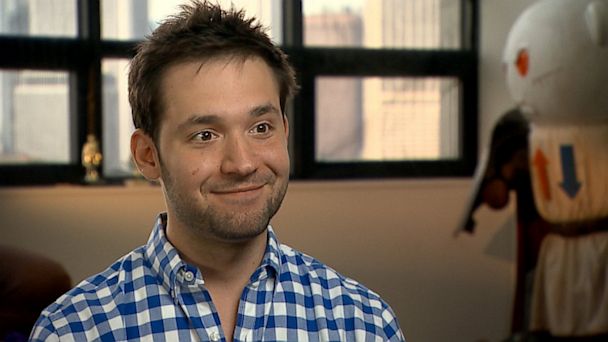 ABC News
Ohanian says he hopes to spend the next decade helping people harness the power of the Internet.
"I think of the Internet as the world's greatest stage and library in one," he says. "I'm forever the optimist, because I see so many stories of people, especially disenfranchised - historically disenfranchised voices, who can use these platforms, who are using these platforms, to build awareness around campaigns that they care about, about issues that they care for."
Ohanian especially wants to help his fellow millennials achieve their social and entrepreneurial goals.
"The onus is on us to really, really build this kind of world that we want to live in, one where we have better ideas, better companies, even better politicians," he says. "The limitations of choice that we have, again, with the economy the way it is, with student loan debt the way it is, is going to make us more resourceful."
Reflecting on his own experience of conceptualizing and creating Reddit, Ohanian recognizes that fear and competition can make it difficult to turn an idea into a reality.
"We started out as a couple of kids who didn't know what we were doing, who were told by lots of important people that we were rounding errors… And it was motivation," he says.
But his advice is simple to those seeking to make their own mark.
"Just launch… it doesn't matter whether you want to be a photographer or a founder or a philanthropist, please start. Just start," Ohanian says.
Read an excerpt from Ohanian's book, "Without Their Permission," here.
After our interview, Alexis Ohanian shared one surprising thing you may not know about him:
For more on Ohanian, read his handwritten answers to our "This Week" Quiz here.
Like "This Week" on Facebook here . You can also follow the show on Twitter here .
Go here to find out when "This Week" airs in your area.