Chris Christie Turns The Page, But Not Entirely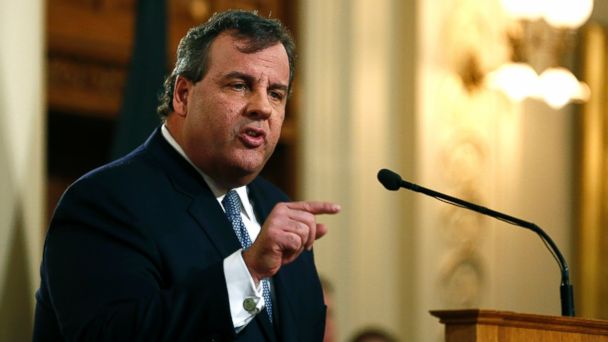 MANAHAWKIN, N.J.-New Jersey Gov. Chris Christie tried to move on from the lanes closure scandal Thursday, meeting with families affected by 2012's superstorm Sandy. But he did give a veiled acknowledgement to the controversy dubbed "Bridgegate," assuring those gathered at a firehouse here that he is focused on the challenges ahead.
"No one, I can assure you, ever told me or anyone on my team it was going to easy. It hasn't up to this point and there are all kinds of challenges that come every day, as you know, out of nowhere to test you," Christie said, shaking his head.
"And I want to assure the people of New Jersey one thing: I was born here, I was raised here, I'm raising my family here, and this is where I intend to spend the rest of my life and whatever test they put in front of me, I will meet that test because I am doing it on your behalf."
The potential 2016 presidential candidate was greeted by rousing applause and cheers at a small firehouse here after meeting with families who lost their homes in the storm that ravaged the state in October 2012. As others spoke, he hugged one of the victims and comforted her while she rested her head on his shoulder.
Standing in front of a town fire truck, Christie said his government still spends "50 percent or so" of its time on recovery from the storm, promising those gathered, "I am as focused as completely on this mission as when I woke up on the morning of October 30, 2012, and nothing will distract me from getting that job done, nothing."
This past week, after apologizing profusely and denying knowing the political motivations of aides who closed down lanes leading to the George Washington Bridge - resulting in a four-day traffic snarl - Christie seemed a more dour version of his usually colorful self. But today, he seemed back to his old self, joking with the families affected and giving a tongue-in-cheek acknowledgment to the large amount of press gathered for his first event- other than his State of the State address-since the controversy broke last week.
"I suspect there are a few more cameras here than we originally thought for a Sandy event in Manahawkin, New Jersey," Christie said with a wide smile across his face. "But I hope all these people with cameras will frequent all the local businesses so Manahawkin gets something out of this day, other than seeing my smiling face."
Before he met with the two families affected by the storm, he greeted a group of local women doing jazzercise in a room in the firehouse. The women crowded around him in their work-out gear, posing for photos.
When he gave a kiss on the cheek to one of the women, a second one, her adoration clearly not dimmed, shouted out, "She got a kiss. Wait, give me some love!"
On Thursday, the New Jersey state senate, as well as the New Jersey state assembly, approved two different special investigative committees to investigate the lane closures and subpoenas for both documents and testimony from top Christie aides implicated in the scandal are expected as well.
Also on Thursday, the chairman of the U.S. Senate Commerce, Science and Transportation Committee, Sen. John "Jay" Rockefeller, D-W. Va., said a Port Authority response to his committee's inquiry about the lane closures contained "zero evidence" of a "legitimate traffic study," which those involved have claimed as their reason for closing the bridge.
"The Port Authority's response provides zero evidence that the purpose of these closures was to conduct a legitimate traffic study," Rockefeller said in a release.
The Christie administration also announced Thursday they have hired outside counsel to conduct an internal review, something Christie promised during his nearly two-hour press conference last week.
The administration has hired attorneys from Gibson, Dunn & Crutcher LLP, who will also aid with the U.S. Attorney's inquiry. The administration said the team would include former federal prosecutor Randy Mastro, whose Gibson Dunn bio includes a description of him from The New Yorker magazine: a "merciless litigator," "even by the pugilistic standards of the New York bar."
ABC News' Josh Margolin contributed to this report.