Obama Continues State of the Union Tour With Worker Training Programs Review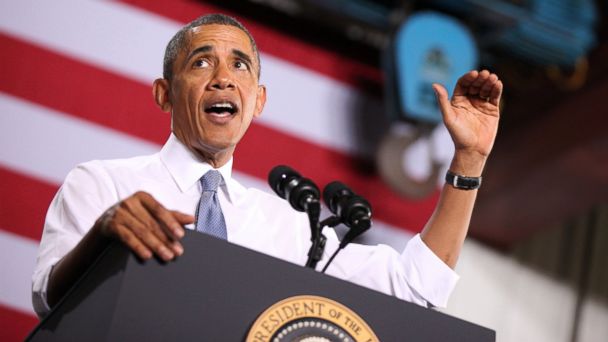 WAUKESHA, Wis. - On the second day of his post-State of the Union tour, President Obama signed a new memorandum directing Vice President Joe Biden to spearhead a full-scale review of federal job training programs. Speaking at a General Electric gas engine production plant Thursday, the president said the move was designed to remove or reform inefficient worker education programs from the large number of training programs run or sanctioned by the government.
"We've got a lot of programs, but not all of them are doing - what they should be doing to get people filled for jobs that exist right now," he told an audience of roughly 500 on the facility floor, "We've got to move away from what my labor secretary, Tom Perez, calls 'train and pray.' You know, you train workers first, and then you hope they get a job. We can't do that, partly because it costs money to train folks, and a lot of times young people, they take out loans, so they're getting into debt thinking they've been trained for a job, and then suddenly there's no job there."
The president first cited the memorandum in his State of the Union speech, when he made clear his willingness to use his executive authority to circumvent congressional gridlock.
"I want to work with them, but I can't wait for them," the president said, referring to the House and Senate. "We got too much work to do out there because the defining project of our generation, what we have to tackle right now, what has driven me throughout my presidency and what will drive me until I wave goodbye is making sure that we're restoring opportunity to every single person in America."
The president noted that skilled manufacturing workers who go through job training programs might be able to earn more than an art history major who attended a four year college.
"A lot of parents, unfortunately, maybe when they saw a lot of manufacturing being off-shored, told their kids, 'You don't want to go into the trades, you don't want to go into manufacturing because you'll lose your job.' Well, the problem is that's what happened - a lot of young people no longer see the trades and skilled manufacturing as a viable career," he said.
"But I promise you, folks can make a lot more potentially with skilled manufacturing or the trades than they might with an art history degree," he continued, to some audience laughter. "Now, nothing wrong with an art history degree. I love art history. So I don't want to get a bunch of emails from everybody. I'm just saying, you can make a really good living and have a great career without getting a four- year college education, as long as you get the skills and the training that you need."
Obama also addressed the issue of equal pay for women, including more robust maternity and paternity leave for new families. When women succeed, men succeed, he argued, citing his own experience as an example.
"As I said on Tuesday, when women succeed, America succeeds. And by the way, when women succeed, men succeed. Because, you know, I don't know about all the guys here, but, you know, when Michelle's doing - doing good and happy, I'm happy too. I'm just saying."
Republicans reacted to the president's memorandum with skepticism. In a lette r issued Thursday morning, House Speaker John Boehner, R-Ohio, and the GOP leadership questioned why Biden would be given the education directive on the heels of a Government Accountability Office report out Tuesday covering similar ground. The GOP also renewed their call for the White House to endorse a tabled House education bill, the SKILLS Act, which was designed to consolidate federal training programs.
"In each area, a House-passed bill is already sitting in the Senate, so there is no reason for further delay," the letter reads.
Congressional Democrats had previously shunned the bill, passed in March, because they believed the cuts went too far, cutting programs targeted toward at-risk communities and without providing sufficient funding for existing programs.
The president's trip Thursday comes two days after he delivered his State of the Union address, and the president joked about one of the messages he left on the cutting room floor.
"At the State of the Union, I was going to start off by saying 'The State of the Union is cold,' but I decided that was not entirely appropriate," he said, referring to abnormally freezing weather in Washington and across much of the country.
When the president landed in Milwaukee, he was greeted by Republican Gov. Scott Walker, who thanked him for the White House's help with a propane crisis in Wisconsin.
"Greeted President & thanked him for his help with propane crisis. His team called me this am & helped with all our requests," Walker tweeted.
The president heads to Nashville, Tenn. this afternoon where he will speak at McGavock High School. Earlier this week, a student at the school allegedly shot and killed another teenager who also attended the school, and the president is expected to address the tragedy.
Reporting from ABC's Arlette Saenz in Wisconsin and Matthew Larotonda in Washington, D.C.