Obama Warns Europe About Russian Aggression
/>[/caption]BRUSSELS - Describing this as a "moment of testing," President Obama today rallied European support to stand up to Russia - portraying the Ukraine crisis as a threat to the order that has kept the peace in Europe for 70 years.
"Now is not the time for bluster," the president said. "This moment, we must meet the challenge to our ideals, to our very international order, with strength and conviction."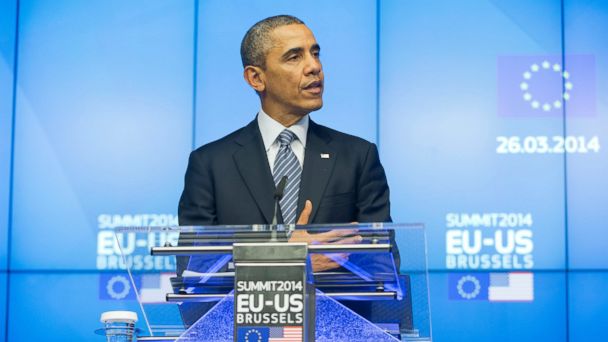 Suggesting Russian President Vladimir Putin's intervention in Ukraine is reminiscent of "darker forces of the past," Obama warned "once again, we are confronted with the belief among some that bigger nations can bully smaller ones to get their way -- that recycled maxim that might somehow makes right."
The speech at Brussels Palais des Beaux-Arts was intended as the capstone to the president's European tour, which has been dominated by the crisis in Ukraine.
Vowing the U.S. "will never waver" to defend its NATO allies, Obama said that "with time, so long as we remain united, the Russian people will recognize that they cannot achieve the security, prosperity and the status that they seek through brute force."
"America and the world, and Europe, has an interest in a strong and responsible Russia, not a weak one," he said. "But that does not mean that Russia can run roughshod over its neighbors. Just because Russia has a deep history with Ukraine does not mean it should be able to dictate Ukraine's future. No amount of propaganda can make right something that the world knows is wrong."
The president slammed Russia's justification for intervening in Ukraine and annexing Crimea, saying "it is absurd to suggest, as a steady drumbeat of Russian voices do, that America is somehow conspiring with fascists inside of Ukraine but failing to respect the Russian people."
In remarks aimed at European youth, the president cautioned the next generation of the consequences of complacency.
"I come here today to insist that we must never take for granted the progress that has been won here in Europe and advanced around the world, because the contest of ideas continues for your generation," he said. "And that's what's at stake in Ukraine today."