Christie Calls Accusations Office Culture Inspired Lane Closures 'Factless'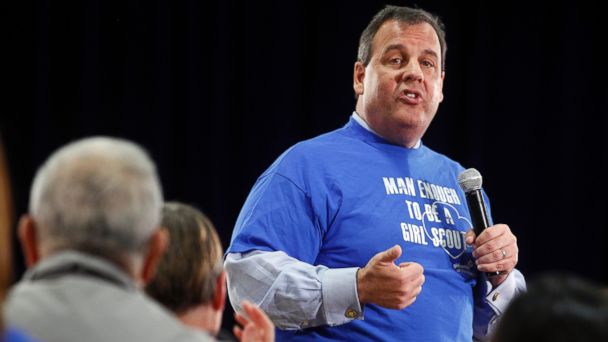 Chris Christie gave some advice to a constituent today and sent a message to his critics about how he views the George Washington lane closures scandal , calling the accusations that a culture is his office allowed it to happen "factless."
An attendee at his town hall today from Point Pleasant Beach asked Christie how he should "defend to my friends and relatives" allegations that say the New Jersey governor was behind a negative "culture" in his office that would have "approved of such behavior" that led to the lane closures known as "Bridgegate."
"I think the best way to defend against factless accusations is to answer it with the facts," Christie told the man at a middle school in Brick, New Jersey, adding that the same people who originally accused him of being behind the lane closures are now saying he "created the culture."
Christie then launched into a lengthy defense of the "culture" of his office saying it "produced unprecedented bipartisan cooperation."
"If in fact I created a culture where people were going after each other than how did we do all these things together with Republicans and Democrats?," he asked. "The allegation that somehow this was a culture that was created just doesn't have any basis in fact. These folks who are making these allegations are folks who couldn't get a political advantage out of one tactic so now they are trying to get a political advantage out of the other."
Christie even cited the over 60 mayors and other Democrats who endorsed him in his re-election bid as evidence that he did not create a "culture of divisiveness."
Emails released in January indicated top Christie aides closed down lanes leading to the world's busiest bridge as political retribution against the Democratic mayor of Fort Lee who chose not to endorse Christie in his re-election bid.
In an exclusive interview with ABC's Diane Sawyer last month he also stressed he "did nothing to create the environment" that prompted some of his former top aides to cause the traffic nightmare.
Wearing a bright blue t-shirt Thursday that read "man enough to be a Girl Scout" given to him earlier in the town hall by a Girl Scout leader, Christie told the crowd he expects the criticism though and they won't "hear me complain about it."
"I am a big boy and I understand this business and I understand when you are the guy, you are the governor, you are the guy carrying the ball, you are the guy they are going to try and tackle and I get that and I have to live with it, that's the way it goes," Christie said, noting sometimes it does not bother him, but acknowledging "some days it really gets me upset."
He said that he has taken responsibility for it happening on "his watch," but he won't "take responsibility for every fantasy that somebody who wants to be partisan is going to come up" with, promising again he had no prior knowledge of the closures and if he did he would have stopped them.
"We will cooperate with all the appropriate investigations anybody wants to do because in the end what I know is the truth which is it was a stupid thing to have done, I knew nothing about it, had nothing to do with it and if anybody had ever come to me and said to me they were going to do this I would have stopped it," he said.
He added that since the scandal broke concerned supporters have come up to him to ask if he is "OK," but despite the "bumps in the road" there has not "been a day I regret having the job I have."
"I never told you that I was going to be perfect or all the people who worked for me were going to be perfect," Christie said. "We are all human beings and that means inherently we are imperfect and mistakes will be made, what matters when mistakes are made no matter what they are is how do you react to them…we are always judged not by the fall, but how we get up."
A Christie-ordered internal review released earlier this month cleared him of any wrongdoing. Two other investigations: a state legislative panel and the U.S. Attorney's office are ongoing. The state investigation subpoenaed four current and former officials to testify next month.