The Enchanting World of Cinemascapist Aaron Hobson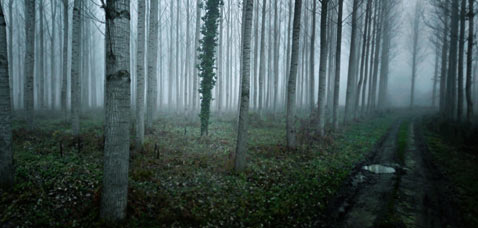 Saint-Nicolas-de-la-Grave, France
"Many people have described the photos as the loneliest places on earth but that's not really accurate," said photographer Aaron Hobson. "I mean if you look at a place like Hong Kong, that's not really lonely. The road might be remote…but the work is more enchanting, than lonely."  No matter how they are described, photographer Aaron Hobson's latest project of images photographed by Google Street View but discovered and given a bit of photoshop love and care by Hobson are absolutely stunning.
Hobson grew up in a rough urban section of Pittsburgh, but now dwells in a small town in the Adirondacks near the Canadian border.  "A lot of the places I can relate to because I live in a town of 4,000 people," he said. Though he would like to, he said that he doubts he will visit the locations he has incorporated into his project, as he has a fear of flying. "There's nothing like being there in real life–but that's what makes it's interesting in the street view, to imagine what it would be like."  He's been happily surprised, however, that others have gone to the locations and sent him back messages about their experiences.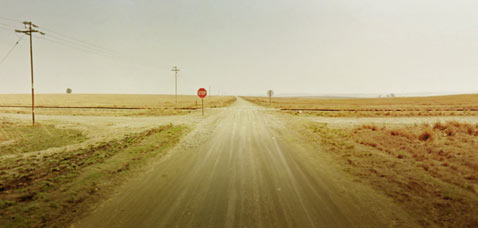 Route 17, South Africa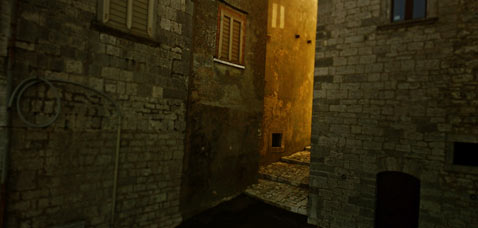 Morrone Del Sannio, Italy
Hobson fell into this work after it was suggested to him to used Google Street View to help scout location for a possible film shoot in Los Angeles. Much cheaper and easier than actually traveling across the country from the tiny town in the Adirondacks, in upstate New York, to LA, Hobson said he was impressed by the technology. He simply decided to drop down "the little yellow guy" in the open French countryside, for example, and then zoom into the street view and then, "As boring and tedious as it is, just drag that little guy from town to town–continuing North or South for hours and hours," until he finds something that catches his attention and draws him in. He has found Europe to be the easiest place to count on for high resolution images.   South Africa, Brazil, Hong Kong and Scandinavia are also good…much of Asia has yet to be documented. You can see Tokyo but rural Japan is a different story, he said.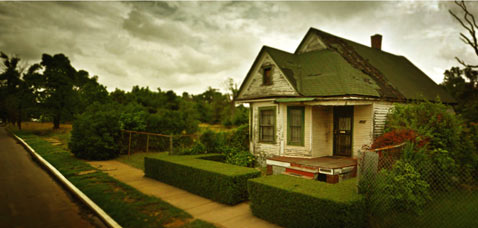 Detroit, Michigan, USA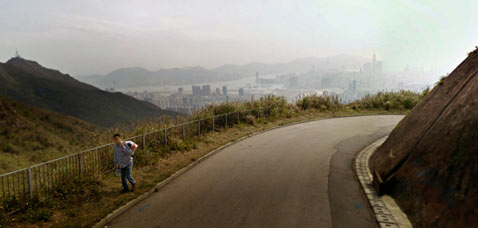 Hong Kong
The project for him, is the culmination of three years of personal work…this part encompassing 3 months.  Like the photos he takes himself,  the photos that make-up Hobson's Google Street View project are not just one photo, but actually two or three images stitched together in photoshop to create a panoramic view. Also, like the photos he takes himself, Hobson tones the photos using photoshop  to "dodge and burn" the photos—he may alter the color to give a more ethereal color scheme and adjust the light and shadows to show the mood and atmosphere he envisions and adjust the color hues to be a bit more surreal. This altering is what take the photos from being images captured by Google to works of art by Hobson. He hold the copyright to the images and said the feedback he has gotten from Google has been positive, "From what I've heard they are quite found and proud" (of the various artists' projects incorporating street view images). To see more of Aaron Hobson's work, visit:  aaronhobson.com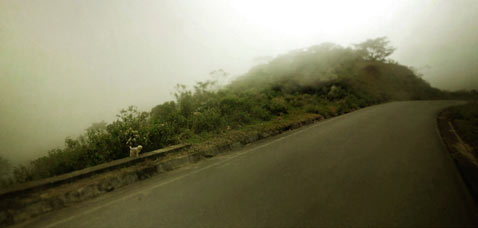 Huautla, Mexico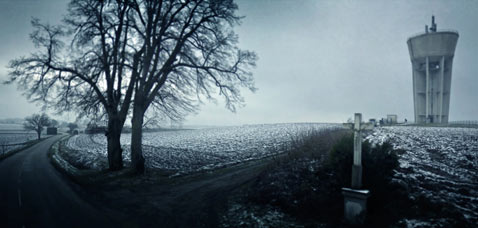 Wintzenbach, France