Apple Pushes Back on E-Book Pricing Charges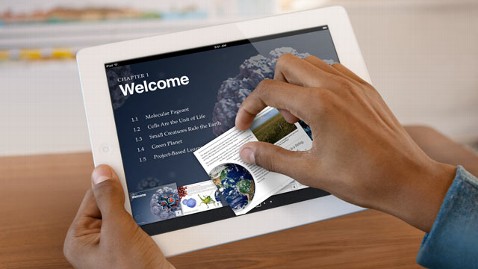 On Tuesday the Department Justice announced that it was suing Apple and major e-book publishers for collaborating and fixing e-books prices. At the time Apple did not have comment on the government suit, but late last night the computer electronics giant issued the following statement to All Things D.
"The DOJ's accusation of collusion against Apple is simply not true. The launch of the iBookstore in 2010 fostered innovation and competition, breaking Amazon's monopolistic grip on the publishing industry," Apple's Tom Neymaur told AllThingsD. "Since then customers have benefited from eBooks that are more interactive and engaging. Just as we've allowed developers to set prices on the App Store, publishers set prices on the iBookstore," he added.
Apple provided the same statement to ABC News but declined to elaborate.
While three publishers - Harper Collins, Hachette, and Simon & Schuster - settled with the Department of Justice after the suit was filed and has agreed to reimburse customers in some cases, Apple, MacMillan and Pearson's Penguin Group have not settled. If the statement is any indication, Apple plans to fight the suit.
The Department of Justice alleges that at the during 2009, executives at the highest levels of the named companies worked together to eliminate competition among stores selling e-books, namely Amazon and its $9.99 e-book pricing model.
However, Antitrust Division Acting Assistant Attorney Genera Sharis Pozen has been clear that this will be a ongoing fight. "We will pursue vigorously our claims against those companies to ensure that consumers get the full benefits of the competition they deserve. We are taking action to stop what was an illegal conspiracy," said Pozen.