Your Pets Are Responsible For $3B in Gadget Damage
Do you have a cracked iPhone screen because it fell on the sidewalk? Did you accidentally drop it in the toilet? Maybe your accident-prone self should have bought some insurance, or at the very least a protective covering.
But do you have a cat or dog? If so, you might have more to worry about than your own clumsiness breaking your stuff. A new survey conducted by the SquareTrade insurance company suggests that our four-legged friends are responsible for the destruction of over 8 million devices, totaling more than $3 billion in repair and replacement costs.
Ty Shay, the chief marketing officer for SquareTrade, said that the inspiration behind the survey came from the various types of claims SquareTrade got from its own customers. "We were getting a lot of calls from customers with broken devices saying, 'My dog chewed my tablet,' or 'My cat knocked my soda onto my laptop.' We found that almost 1 in 5 pet owners have had this problem," Shay told ABC News.
Some of the survey's observations seem obvious. Smartphones top the list of gadgets to break, accounting for approximately 30 percent of all reported accidents. Dogs are twice as likely to cause an accident than cats. Two thirds of the accidents occur when the pets are left unattended.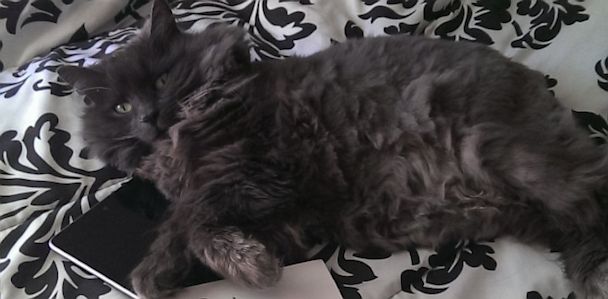 But there are also some subtle differences among pets that can ultimately determine whether your electronics will make it in the long run, such as:
Male pets were 50 percent more likely to damage the devices than female pets.
Overweight pets were 72 percent more likely to be involved in damaging a device.
People that allowed their pet to sleep in the same bed or ride in their lap while driving were two to three times more likely to have a problem with their gadgets that could be traced back to their pet.
Pet owners need not abandon all hope though. SquareTrade offers some suggestions to keep your electronics working despite your chaos-causing companions. The company's blog suggests putting the devices in areas out of their reach and avoid putting them near exposed liquids.
It also suggests giving your pet attention and exercise so that they'll be less interested in your gadgets. Not suggested? Getting your pets their own gadgets.