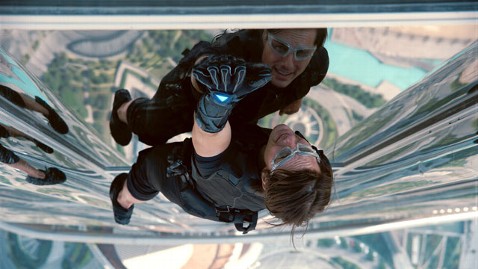 Perhaps what gets lost in the recent mythology of Tom Cruise is his desire to thrill and be thrilled. He's an adventure seeker of the highest order and for that, movie fans, we should thank him.   Cruise always attempts to achieve new heights, both literally (more on that in a bit) and figuratively.
And that makes "Mission: Impossible - Ghost Protocol" a special film.
When we first see Cruise's Ethan Hunt, he's biding his time in a Russian prison. This is when we're first treated to the vision that is Paula Patton, who's perfect as the tough but broken-hearted Jane Carter. Simon Pegg also returns as tech wiz and comic relief Benji Dunn. Patton and Dunn were part of a team with agent Trevor Hanaway (Josh Holloway, late of "Lost"), whose demise serves as the catalyst for the mission Ethan will choose to accept.
While a villain hell-bent on obtaining a nuclear missile in an effort to start a nuclear war - in this case by blowing up the Kremlin and shooting a missile at San Francisco - wouldn't win points for originality even at a Kardashian dinner party, bad guy Kurt Hendricks' (Michael Nyqvist) efforts to obtain the weapon and codes are formidable.
Speaking of the supporting cast:
Dear Hollywood,
Cast Jeremy Renner in everything,
Love, Your Friend,
David Blaustein
Renner adds humanity and believability to every role he plays and word he says.  As William Brandt, an IMF agent with a secret, Renner rounds out the best team this franchise has assembled to date.
Still, "Mission: Impossible - Ghost Protocol" is Tom Cruise's movie, and for good reason.  Cruise takes chances. He took a chance by having Oscar-winner Brad Bird direct the film.  The man behind the animated hits "The Incredibles" and "Ratatouille," Bird had never directed live-action before, and he does a swell job here. Then there's Cruise's desire to scale those new heights: in this case, Dubai's Burj Khalifa, the world's tallest building at 2,723 feet - yep, that's over a half a mile - all for adventure's sake, and for the sake of making a great set piece for an excellent action movie.
Mission (Impossible) accomplished!
Four out of five stars.