Apr 3, 2012 4:45pm
Welsh songwriter Cate Le Bon can't seem to shake the comparisons to the German singer Nico, who lent her famously deep chops to The Velvet Underground's early work.
It was that Nico-esque quality that first caught the ear of Gruff Rhys of Super Furry Animals, with whom she sung on their UK tour in 2007. "I think there's no escaping the fact that I have a very low voice," says Le Bon, who doesn't mind the association with the iconic artist so long as it's purely musical. (She mentions being misquoted in an Italian magazine as saying, "I, too, have a heroin problem like Nico.") Le Bon showcases a vocal range, simultaneously light and dark, on her new album, "Cyrk," released in 2012 on The Control Group.
Before kicking off her U.S. tour, Le Bon sat down with AudioFile at Basik, a bar near the band's rehearsal space in Williamsburg, Brooklyn. When asked if she has spent much time in the borough, Le Bon joked, "I've had terrifying experiences in Bushwick. But I won't go into that 'cause it was quite traumatizing."
She does, however, remember other American locales fondly from when she toured extensively with St. Vincent at the end of last year:
"It worked out quite well for me 'cause we traveled overnight on the tour bus—I was traveling with Annie [Clark] and her band—and so we'd wake up and we'd be in a new city. And I was not needed until last minute, before doors opened, so I'd have a whole day to go and explore. And I had a very lovely day in Portland."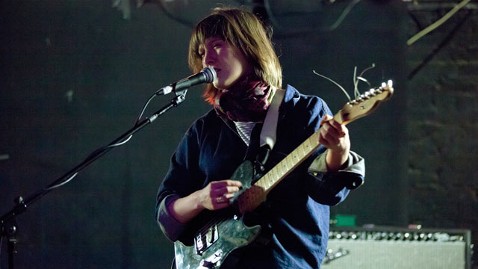 As well traveled as she is, it is the more provincial landscapes that tend to inspire Le Bon. A trip to a remote island in Scotland moved her to pen such songs as "Puts Me To Work" ("Come sea shore / We bought a feeling at night") and "Through The Mill" ("We stayed to watch the ships come in / And drank to when the chase felt good"). "The sea always creeps in some way," she said, describing the instrumentation in addition to the lyrics. Thematically, the countryside permeates much of Le Bon's songwriting. She likes recalling her idyllic childhood spent on a farm in Penboyr, Wales. The music video for the album's first single, "Fold the Cloth," features Le Bon and her niece, Greta, running around sand dunes for five and a half minutes.
Le Bon recorded "Cyrk" over the course of two weeks in Cardiff, with producer Krissie Jenkins, whom she also worked with on her debut "Me Oh My" (Irony Bored, 2009), as well as an unreleased record that she decided to scrap. Le Bon admits that her first experience in the studio—with "access to a lot of equipment, no time scale to get things finished by" and little planning—may have overwhelmed her:
"We went to town on everything to the point where I just didn't know what to do with the hundreds and hundreds of takes we had. So I had to call it a day for my own sanity and start again. It was actually quite cathartic to get a lot of stuff out of the way."
Le Bon said she now opts for very short recording sessions, "so that there's no room for meandering too much."