Sep 12, 2013 11:12am
Since the WNBA's inaugural season in 1997, women's basketball has catapulted in exposure to the public, introducing talented athletes to fans around the world. The ripple effect of this growing league has made an impression on female athletes and the WNBA continues to reap the benefits of its influence by continually welcoming outstanding players to their organization.
Diana Taurasi, a ten year veteran of the Phoenix Mercury has witness this evolution first hand.
"It's a credit to this country where basketball is so important – where at the youngest age we have the best coaches, the best facilities," said Taurasi, who welcomed standout rookie Brittney Griner to the team this season.
Without the WNBA, people wouldn't know the talents of Sheryl Swoops and Cynthia Cooper who paved the way for athletes making their way through the ranks of pro athletes. Likening this to never getting to see LeBron James play without the NBA caused uproar from Griner and Taurasi.
"That would be a shame. Can you imagine that?" said Taurasi as Griner shook her head in shame.
Check out more from In the Game at ESPN.
But the success does not come without the blood, sweat and tears. The all-star athletes of the WNBA work hard for their teams, and that effort is not lost on long time player Taurasi.
"A lot of players say, 'oh the coach doesn't have confidence in me' – well get back in the gym and work on it. I guarantee you'll come back the next day feeling better about yourself," said Taurasi. "It took me a long time to learn that from college to my first couple of years in the WNBA and overseas, everything is a learning behavior. You have to learn how to do it to be successful in your career."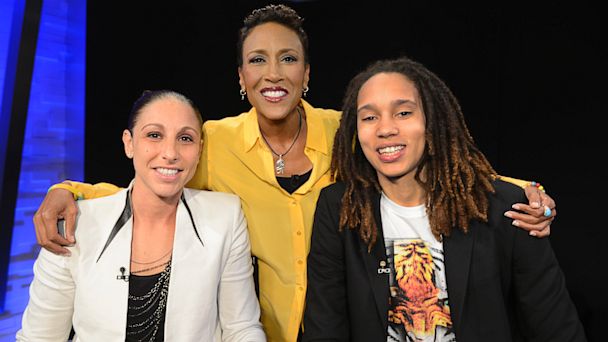 This is something that Taurasi says Griner is learning in her first year as a professional player. This is something she can share with fellow rookies Elena Delle Donne and Skylar Diggins who are referred as "The Three to See" and are sure to keep the momentum of the WNBA moving at full steam. And Taurasi agrees.
"I think the next five years are really important [for the WNBA]. I started in '04 and in that decade alone the skill set has just taken off. That comes from watching when you are ten," said Taurasi. "There is a chance that basketball can become a profession, you can make a living off it. It's up to Elena Delle Donne, (Skylar) Diggins and Brittney to make sure that the level of play stays there.
And as a first over-all pick for the Mercury, Griner is up the challenge on and off the court with a newfound confidence after overcoming years of bullying. As an advocate for anti-bullying, she hopes to work with the LGBT (lesbian, gay, bisexual and transgender) community to shed light on the bullying epidemic and help young people overcome challenges of adversity.
Her advice: "Surround yourself with a good support group. Don't be scared to say something, get help. Don't let that person have that power over your life. You should always have the power over your own life," said Griner.
With the support of teammates like Taurasi, Candice Dupree and Penny Taylor, Griner is bound to flourish in her first season and, along with WNBA players, continue to shine a light on talented female athletes and the opportunities for young women everywhere.