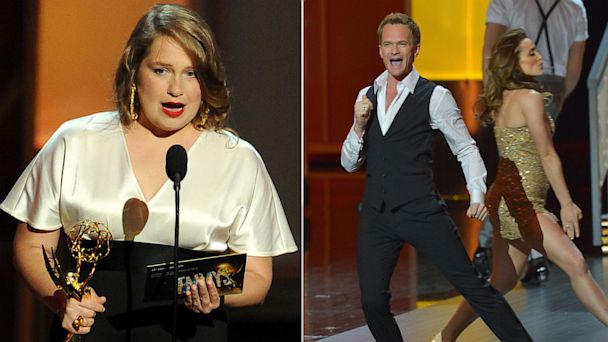 The 65th Primetime Emmy Awards were chock full of hilarity (Merritt Wever's nine-word acceptance speech anyone?) and poignant moments, but what was your favorite? We chose a few below, but tell us what you think in the poll.
1. Amy Poehler and Tina Fey dish out hosting advice: "Take your pants off! Work it!" Poehler screamed at host Neil Patrick Harris at the start of the show. "It might be degrading, but we would be de-grateful! … America wants to see what you're working with!" Their other words of wisdom? "Twerk it." Do these two women ever not steal the show?
2. Merritt Wever's acceptance speech: When Merritt Wever won the Emmy for Outstanding Supporting Actress in a Comedy Series, she kept her acceptance speech short and sweet. "Thank you so much," the "Nurse Jackie" star nervously said. "Um, I gotta go. Bye." Fans took to Twitter to show their love for the actress, many of whom declared her brief appearance on stage, "the best acceptance speech ever."
3. Neil Patrick Harris' song and dance numbers: Harris promised that the Emmys would have its fair share of razzle-dazzle, and he didn't disappoint. From "Number in the Middle of the Show" to the dance he put together with the best choreography nominees, Harris, a Broadway aficionado himself, certainly added an element of pizazz to the awards show.
4. A standing ovation for Bob Newhart: At 84, TV legend Bob Newhart finally - finally! - won his first Emmy, for his guest-starring role in "The Big Bang Theory." Though the award was presented before the televised show, when he took the stage with Jim Parsons to present outstanding writing for a variety series, Newhart got a standing ovation, making for one of the most touching moments of the evening.
5. "The Colbert Report" wins at last: Since 2003, Jon Stewart's "Daily Show" has won "Best Variety Show," but on Sunday, his good friend, Stephen Colbert, came out ahead. "The Colbert Report" not only snapped Stewart's 10-year streak, but also won Best Writing in a Variety Series. "As I said before, it's a cliché to say it's an honor just to be nominated, but it's more than that. It's also a lie," Colbert joked while accepting his second statue. "This is way better."