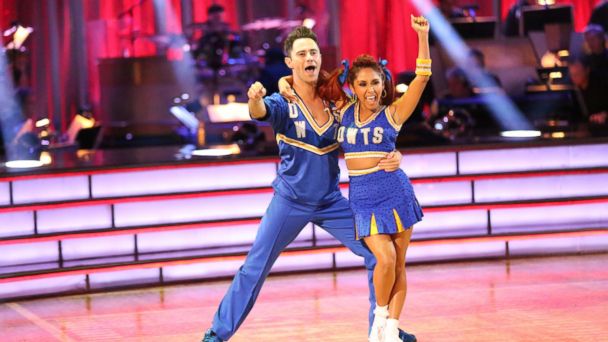 (Photo Credit: Adam Taylor/ABC)
UPDATE: ALL COUPLES ARE SAFE, NO ONE WAS SENT HOME - Full Week 6 Recap Here
______________________________________________________________________________________
At 8 p.m. tonight, the "Dancing With the Stars" cast enters week 6 and another inevitable elimination.
Last week was a shocker as Christina and Mark were sent packing even after scoring the first 10 of the season. They were barely edged out by Leah & Tony, who will still be on the chopping block this week after scoring just a 22.
Brant Daugherty won the fans' hearts last week as he paid homage to his father, who died in 2009, and scored a 27 for his efforts. Corbin and Karina lead the entire field with a 28.
Catch Up With Week 5's Live Blog
Things are only going to get more competitive as the weeks go on. Ariana Grande is set to perform tonight, so make sure to tune in!
We'll be liveblogging the show (at 8 p.m. ET) , so watch with us and tell us what you think! Even if you're not home to watch the show or don't have access, we'll keep you updated on the dances and judges comments.
You can check out our liveblog here or click the link below if you're on a mobile device. The module below will automatically update - no need to hit refresh. See you tonight!
If You're On A Mobile Device, Click Here
Make Sure to Check Out The Full Week 6 Recap Here
______________________________________________________________________________________
_